Russia's Rosneft Again Mulling LNG Exports
Publication: Eurasia Daily Monitor Volume: 17 Issue: 159
By: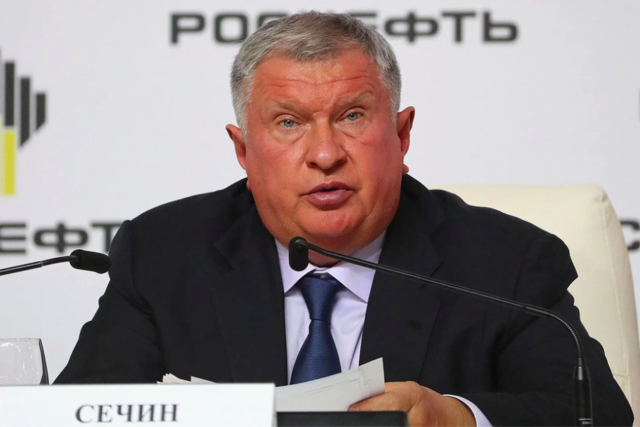 On October 22, Rosneft's CEO, Igor Sechin, revealed some new, previously unpublished details regarding the state-owned Russian petroleum giant's latest mega-project in the Arctic—Vostok Oil. Specifically, Sechin confirmed that Vostok Oil will include a natural gas liquefaction plant, which will ultimately enable Rosneft to ship significant volumes of liquefied natural gas (LNG) abroad via the so-called Northern Sea Route. The LNG export terminal is to be located on the Yenisey Gulf, just a few hundred kilometers from Novatek's LNG plants in the Gulf of Ob (see EDM, October 16). It will have a maximum capacity to handle 35 million–50 million tons of LNG per annum (Rosneft.ru, October 22).
Both Novatek and Gazprom already operate liquefied natural gas production facilities in the High North and Far East (see EDM, April 16, 2019), but Rosneft has been struggling to develop its own LNG export project for nearly a decade so far (Rosneft.ru, June 21, 2013). During this time, the company proposed to build an LNG plant in the Russian Far East together with ExxonMobil—Far East LNG—which was recently postponed again to 2028 (Finanz.ru, October 8). Another such initiative—Pechora LNG—was going to be constructed in the Nenets Autonomous region under a joint-venture with the privately owned Russian firm Alltech Group. However, Rosneft left that project back in 2018, after the government refused to grant its partner an LNG export license (RBC, November 2, 2018). To date, Rosneft is still limited to trade in LNG (the first delivery was performed in 2016); but the energy giant lacks the capabilities to produce this lucrative resource.
From Rosneft's perspective, the situation could dramatically change within a decade, thanks in part to the completion of Far East LNG, scheduled for 2028, but most of all due to the new oil and gas fields being developed in the Arctic under the Vostok Oil program. The company is presenting the latter as one of the biggest such projects in the world, expected to start producing as much as 25 million tons per annum of low-sulfur crude oil in 2024 and 115 million tons beginning in 2030 (Rosneft.ru, May 12, 2020). And apparently, Rosneft's idea for Vostok Oil development now also includes a monetization of the local natural gas resources via a brand-new LNG export terminal.
Bringing LNG production in the Arctic online will likely take Rosneft at least 6–8 years. For now, the company is focused primarily on trying to further expand the resource base for the possible future liquefaction plant. Reportedly, this past June, Rosneft applied to the Russian government to take part in an auction for three new natural gas fields on the Taymyr Peninsula (RBC, June 3). Later, in September, Russian media speculated about Rosneft's interest in another field, on the Gydan Peninsula (Kommersant, September 23). It additionally seems probable that the company's ongoing marketing campaign to bring in foreign investors for Vostok Oil (Reuters, December 11, 2019; Rosneft.ru, September 2, 2020) also includes a search for partners to develop the LNG portion of the project.
On the one hand, the circumstances for the realization of Rosneft's LNG plans look favorable at the moment: the company seems highly likely to benefit from the Kremlin's declared rush to proceed with development of the Arctic region (see EDM, November 9). The Vostok Oil project, as a whole, has already been granted far-reaching tax breaks, which might ultimately amount to as much as 60 billion rubles (around $760 million) per year, assuming crude oil prices continue to hover around $40 per barrel (RBC, September 17). Moreover, the proposed liquefaction plant would presumably also benefit from the recently established government preferences for new Russian LNG projects in the Arctic—namely, a 12-year exemption from paying the mineral extraction tax (Pravo.gov.ru, March 18).
On the other hand, however, Rosneft will still have to overcome a number of challenges if it wants to succeed with its new LNG project. First, it will need to attract foreign investors—a task likely made more difficult than its competitor Novatek faced in the past because of the current COVID-19 pandemic as well as the larger number of planned LNG mega-projects in the world today (and not only in Russia). Second, Rosneft will have to gain specific know-how to effectively operate a liquefaction plant in the Arctic. It may, thus, try to copy some of the solutions applied by Novatek before, such as building the plant raised on thousands of piles to mitigate risks related to thawing permafrost (Total.com, accessed November 10; see EDM, June 29). Third, despite recent changes in the wording of the Gas Exports Act, Rosneft must still secure an LNG export license (Kommersant.ru, June 26), and it might face counter-lobbying efforts coming from its domestic rivals: Novatek or Gazprom. The next several years will shed light on whether financially vulnerable Rosneft (see EDM, May 18, June 10) can succeed in overcoming all three of these potential stumbling blocks.