Russia's Union Shield Exercises—in Transition?
Publication: Eurasia Daily Monitor Volume: 16 Issue: 130
By: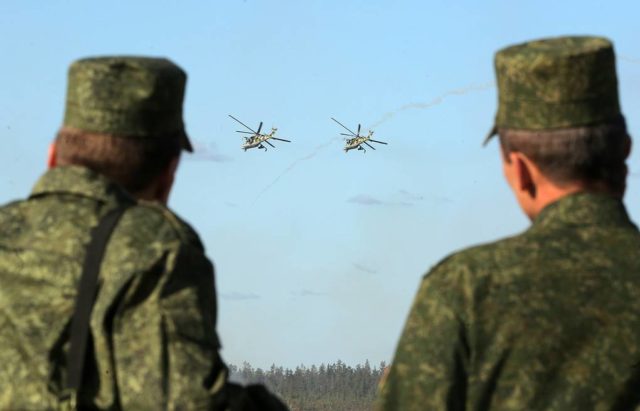 Amid speculation of mounting tensions in Russian-Belarusian relations (see EDM, September 9, 16), the two allies' militaries conducted their quadrennial Union Shield (Shchit Soyuza) exercise last week (September 13–19). Along with the better-publicized West (Zapad) strategic-operational exercises (see EDM, September 20, October 6, 10, 2017), Russia and Belarus execute large-scale joint trainings every other year. These events offer glimpses of recent military reforms in Russian and Belarusian planning for defense of their western borders abutting the North Atlantic Treaty Organization (NATO).
Whereas Zapad 2017 took place at multiple training sites (poligons), this year's Union Shield 2019 confined its activities to the Mulino poligon, near Nizhny Novgorod, east of Moscow. The Russian General Staff claimed the two militaries decided to conduct the exercise well away from the western border to avoid disturbing the West (RIA Novosti, September 12). In contrast, Union Shield 2015 occurred directly on the borders of the Baltic States, in Pskov and Leningrad oblasts (Mil.ru, September 10, 2015), adding to fears within NATO, at that time, of an impending Russian offensive.
Its geographic location notwithstanding, Union Shield 2019 nevertheless again exercised Belarus's northwestern strategic direction (Mil.by, September 19), employing units and tactics directed toward NATO members Estonia, Latvia, and Lithuania. This continues a recent trend. Zapad 2009 and Zapad 2013 notably both exercised Belarus' western strategic direction toward Poland and involved Russia pushing forces to poligons just shy of the Polish-Belarusian border (RIA Novosti, October 2, 2009; Mil.ru, September 20, 2013). But Union Shield 2015, Zapad 2017 and Union Shield 2019 have now all been framed on the northwestern strategic direction (Mil.by, September 13, 2017). None of these exercises were overtly directed at any third-party (non-fictional) country; yet, the typical complaints about NATO's military buildup on the Russian border were reiterated again this year as justification for the training (RIA Novosti, September 12).
Whereas Zapad 2017 was marked by many preliminary smaller training events, Union Shield 2019 began almost a full month before the formal exercise started with the arrival to Russia of the Belarusian 2nd and 188th Engineer brigades (Mil.by, August 17; Mil.ru, August 19). At the end of August, the engineers were joined by Belarusian special operations forces (Mil.by, August 29) and a northwestern Belarusian high-readiness airborne unit (Mil.by, August 31). The Russian side, meanwhile, only acknowledged the participation in August of a military police unit (Mil.ru, August 21) and the 112th Guards Missile Brigade, equipped with the Iskander short-range mobile ballistic missile system (Mil.ru, August 21). Later, starting on September 9, these Russian formations were augmented by maneuver units of the Russian 1st Guards Tank Army, presumably from the 6th Tank Brigade, based near Mulino (Mil.ru, September 9).
In total, Union Shield 2019 officially involved 12,000 service members: 8,000 Russians and 4,000 Belarusians (Redstar.ru, August 21). However, the exercise seemed to be of greater significance to the Belarusian side. Notably, Russian Major General Sergei Kisel, the commander of the 1st Guards Tank Army, alluded to preparations for the exercise as not exceeding the regimental level (Redstar.ru, September 6). And although it was eventually revealed that substantial Russian Aerospace Force assets from the 6thAir Force and Air Defense Army, including nuclear-capable Su-34 4++ generation fighter-bombers, were allocated to the exercise (Mil.ru, September 13), no Russian naval or Airborne Troops (Vozdushno-Desantnye Voyska—VDV) units appear to have been committed. This contrasts with a substantial maritime component (Mil.ru, September 14, 2015) and a battalion tactical group (BTG) from the VDV unit on the Estonian and Latvian border (Mil.ru, September 10, 2015) participating in Union Shield 2015. This year, in early September, that same Russian VDV unit practiced a parachute drop (desant) onto and capture of an "enemy" airfield near the Latvian border (Mil.ru, September 3); but this was not overtly connected to the preliminary activities surrounding Union Shield 2019.
The exercise proper divided into two phases: (1) finding and destroying "illegally armed formations" already within the country while deflecting enemy special forces' efforts to impede this "stabilization" operation and (2) command and control during a subsequent conventional defensive operation (Redstar.ru, August 21). This format echoed the Zapad 2017 scenario, in which military operations began not with an enemy offensive but a destabilization campaign. However, whereas the second phase of Zapad 2017 involved a counter-offensive possibly entering enemy territory, Union Shield 2019's official scenario strictly adhered to pure defense—the mission set was restricted to stabilization of the Russian-Belarusian Union State's territory (Mil.by, September 17). This again continues the Russian and Belarusian militaries' focus on training to counter Western influence operations, analogous to how Moscow perceives the events of the 2011 Arab Spring or the 2014 EuroMaidan "coup" in Kyiv.
Tactically, this entailed a more counter-terrorist approach in the first phase and significantly heavier fires in the second. Both before and during the first phase of the exercise, emphasis was placed upon urban warfare, specifically the "liberation" of a city from an insurrection (Mil.by, September 14; RIA Novosti, September 13). The Russian defense ministry's term "illegally armed formation" (nezakonnyye vooruzhennyye formirovaniya—NVF) is exceptionally vague, providing legal cover for countering any perceived Western incitement of a "color revolution." The second phase, by contrast, assumed an external conventional reinforcement of the NVF insurrectionists (e.g.: the United States' hypothetical military support for the Hong Kong protesters), thereby legitimizing a more conventional defensive operation (Mil.ru, September 18). This defense included anticipating enemy use of chemical, biological, radiological or nuclear (CBRN) weapons (Mil.ru, September 17) while Red (Russian-Belarusian) forces employed thermobaric weapons (Mil.ru, September 18). Incidentally, foreign military attachés were specifically invited to inspect this conventional phase of the exercise (Mil.ru, September 18).
Curiously, Belarusian authorities devoted great attention to Union Shield 2019 (Mil.by, August 15), while Russian officials largely ignored it. At the conclusion of the exercise, Belarus's two highest defense officials, Defense Minister Lieutenant General Andrey Ravkov and the chief of the General Staff, Major General Oleg Belokonev, visited Mulino, where they were met only by Russia's Western Military District commander, Colonel General Aleksandr Zhuravlev, and the new deputy defense minister for training (and former head of Ingushetia), Yunus-Bek Yevkurov (Mil.by, September 19). This diplomatic stiff occurred in no small part because of the near-simultaneous culmination of Russia's Tsentr 2019 strategic exercise, where Russian President Vladimir Putin, Defense Minister Sergei Shoigu, and Chief of the General Staff Valery Gerasimov made a joint appearance on September 20 (Kremlin.ru, September 20). Union Shield 2015 similarly ended with the Belarusian top brass meeting with lower-level Russian counterparts (Mil.ru, September 16, 2015). Thus, it appears that Minsk—though still heavily dependent on Russian security guarantees, remains a peripheral satrap in Moscow's strategic perception.