RUSSIA'S VIRTUAL MILITARY MIGHT SHIELD AGAINST U.S. CRITICISM
Publication: Eurasia Daily Monitor Volume: 3 Issue: 94
By: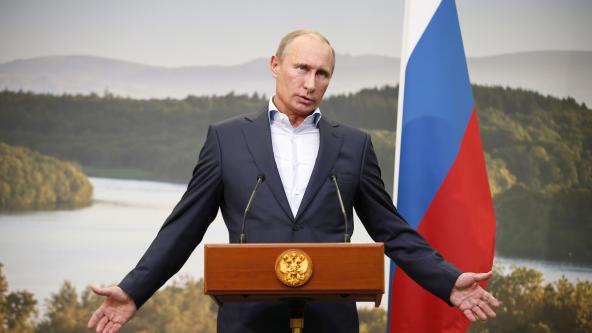 Russian President Vladimir Putin's address to parliament last week was perhaps less interesting in its "how-to-spend" content than in what was left out. The secrecy around the drafting of the speech had been tighter than around Stalin's war plans or Brezhnev's health bulletins, but observers with any amount of insight had expected two key themes: Russia's profile as an "energy superpower" and foreign policy in the context of the upcoming G-8 summit (Vedomosti, May 3; Moskovskie novosti, April 21). The reasoning behind those expectations had appeared solid indeed: energy is at the top of Putin's priorities, and his lieutenants have put much spin on the idea of "super-powerness." Furthermore, Kremlin analysts have touted the July St. Petersburg summit as the crowning moment of Putin's presidency (Expert, March 27). Yet in the actual address, the energy theme was reduced to technicalities, such as organizing markets for trading oil and gas in rubles and Russian territory, while the G-8 was not mentioned at all (Kommersant, May 11). There are several reasons that explain Putin's change of focus.
The energy topic has been depreciated by the escalating disagreements among European customers that have hesitantly forged a common position on the basis of the Energy Charter, and Russia strongly disapproves of that agreement. The long-awaited German "deal" finalized during Chancellor Angela Merkel's visit to Tomsk last month now hardly appears to signify a breakthrough but rather the apex of Moscow's plans for acquiring meaningful stakes in European energy distribution networks (Polit.ru, April 27). Putin mentioned proudly that Gazprom has become the third-largest company in the world based on its market capitalization, but this very well might be a rare case where size is a disadvantage. Indeed, a state-owned and heavily politicized giant cannot expect to be treated like a "normal" market actor, since its every acquisition is inevitably seen as an addition to the vast Kremlin property list (Expert, May 8). In essence, the proof of being a "super-power" of any kind is in the respect of peers, and the tightly centralized mismanagement of the Russian energy complex cannot command much of that.
As for the G-8 topic, it was effectively closed by U.S. Vice President Dick Cheney's speech in Vilnius earlier this month (Kommersant, May 5; EDM, May 5, 8). Organizers finally confirmed that the summit will happen on schedule, but they also clarified that instead of basking in the spotlight of the chairmanship, Putin would have to defend his corner on every issue from democratic freedoms to Belarus to Iran. The warning that the leaders of the West do not believe that "Russia is fated to become an enemy" was interpreted by Moscow's mainstream commentators as an "ultimatum" and "nasty provocation," and such misreading fits all too well into Putin's predisposition to see criticism as "enemy action" (Expert, May 8; Kommersant, May 12). Spelling out his indignation would have meant poisoning the summit atmosphere beyond diplomatically tolerable limits, so the whole foreign policy part of the address was reduced to a few rather unconvincing passages that relations with the Commonwealth of Independent States members would remain Russia's top priority. Cheney took the burden off President George W. Bush's shoulders to establish firmly that "Russia has a choice to make," but Putin has already made his choice and confirmed his unshakable commitment to it in the main part of his speech that dealt with military posture and programs.
Former presidential adviser Andrei Illarionov immediately spotted that Putin's comparisons of Russia's military expenditures with those of the United States, France, and the UK did not hold much water (Ekho Moskvy, May 10). Military experts pointed out that the assertion, "We have created a modern structure for the armed forces" was wishful thinking at best (Polit.ru, Ekho Moskvy, May 12). But perhaps the most remarkable feature of this lengthy rambling was the total absence of any new initiatives or directives. Putin confirmed that no shift to an all-volunteer force was envisaged, thus the draft system strongly defended by the top brass will remain in place despite mounting public objections (Kommersant, May 11). He enumerated the key items in the acquisition program, emphasizing particularly the strategic forces, but again said nothing that could have disproved the experts' conclusion about progressive shrinking and degradation of Russia's nuclear deterrent (Ezhednevny zhurnal, April 26).
In essence, the speech boils down to the paradoxical conclusion that Putin is not serious about beefing up Russia's military. All he needs is some virtual power that would remind the forgetful West that Russia cannot be treated as a subject for "democratization." Nuclear arguments always seem to carry weight, but in real terms it is hard to see how a strategic submarine that might become operational close to 2010 (if the test flights of the Bulava missile go smoothly) could be an answer to the criticism that the extermination of free media damages the efficiency of state leadership.
When speaking about a "new spiral of the arms race," Putin does not mean a return to the "Cold War" type of confrontation. What he means is that more "petro-rubles" would be distributed towards interest groups who believe that they were forgotten in the feeding frenzy controlled by the Kremlin. Following Putin's speech, Defense Minister Sergei Ivanov immediately convened a meeting of the newly created Military-Industrial Commission to elaborate on the president's promises and appoint key beneficiaries (Vremya novostei, May 12). A few dozen generals and directors of "strategic" enterprises could feel happy with being invited to join the "oil-and-gas" party — and Putin has assured that it would last beyond the threshold year 2008. He appears to know something that nobody else is privy to, but his "best case" planning quite possibly underestimates how quickly all the unearned money could be consumed and wasted.