Russia's War on Ukraine and China's '(Un)Friendly Neutrality'
Publication: Eurasia Daily Monitor Volume: 19 Issue: 38
By: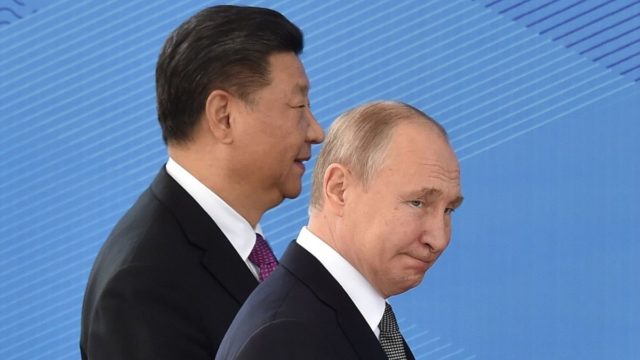 Commenting on Beijing's official stance on Russia's war on Ukraine, Li Keqiang, the premier of the State Council of the People's Republic of China, stated on March 11 that "China has always conducted an independent and peace-loving foreign policy developing its bilateral relations [with Russia and Ukraine] without hurting anyone's interests." He went on to say that "China will always develop relationships with other partners based on mutual respect, mutual profit, and mutually beneficial results" (RIA Novosti, March 11).
Earlier, Wang Wenbin, an official representative of China's ministry of foreign affairs, said that "China and Russia will continue normal trade cooperation, which complies with the spirit of mutual respect, equality and mutual benefit" (1prime.ru, February 28). A very similar sentiment came from the head of the China Banking and Insurance Regulatory Commission (CBIRC), Guo Shuqing, who affirmed that China is not planning to join any anti-Russian sanctions and aims to "maintain normal financial cooperation with all parties" (RIA Novosti, March 2).
Despite this friendly rhetoric, however, China's stance might not be as "friendly neutral" on Russia's actions as it may seem. China's actions present a very different picture, visible in four main ways.
First, Beijing's changing rhetoric. Instead of sticking with the "special military operation" term used by Moscow—the denial or questioning of which is now penalized by law in Russia—Chinese leader Xi Jinping for the first time openly called Russian actions "a war" (Nikkei, March 9). Even though small, this episode is highly indicative, potentially signifying a shift in China's official position.
Second, China's unfriendly measures in the financial and economic domain. In early March, the China-led Asian Infrastructure Investment Bank (AIIB), frequently viewed as an institution rivaling the World Bank, took a decisive step: having referred to the events in Ukraine as the "war in Ukraine" (South China Morning Post, March 3), the AIIB subsequently suspended all transactions and financial operations related to Russia and Belarus. In its statement, AIIB also announced it was putting all financial functions related to Russia and Belarus under review—no further explanation was provided (Rosbalt, March 4).
Third, China's unfriendly measures in the realm of technological restrictions. The Chinese government has refused to provide Russia's airlines with essential spare parts and components indispensable for its operations. This information was officially confirmed by Valery Kudinov, one of the representatives of the Federal Air Transport Agency (Rosaviatsiya). In his official statement, Kudinov expressed deep concern and disgruntlement with the situation, stating that Russia will try to approach other countries, such as India and Turkey (Rosbalt, March 10). Notably, about 80 percent of the currently operated Russian planes are of foreign origin (BBC—Russian service, February 26). Since the EU and the US have banned providing spare parts, components and aviation software to Russia, much of the Russian commercial aviation will soon be exhausted and flying in Russia will become dangerous (Svoboda.org, March 7).
Another notable blow came from the Chinese producers of advanced electronics. Specifically, Huawei and Xiaomi announced their decision to reduce supplies of smartphones to the Russian market, based on "related risks and uncertainties"—the announcement was made after Apple and Samsung banned sales of their products to Russia. According to a former top official of Xiaomi, China's decision to take this step is likely to be motivated by fear that the Russian market will lose attractiveness as a result of US sanctions (due to decreasing purchasing power among Russian consumers), with consequences becoming "much more grave than in the case of Iran" (Kommersant, March 10). Despite Kremlin's propaganda and import substitution rhetoric, the Russian market is heavily dominated by Chinese smartphone-producing brands, which hold a 60 percent share (Epravda.com.ua, March 9).
Fourth, China's evasiveness about imports of Russian natural resources. Russia, which has been increasingly tuning its foreign economic policy in line with its "Pivot to Asia" strategy, is confident that whatever happens, the export of natural resources will remain a bridge between China and Russia. Indeed, some Chinese moves corroborate this hope. Namely, on February 25, the Chinese media announced that Heilongjiang and Guangdong provinces are strengthening ties with regions in Russia's Far East in lumber and timber production (News.cn, February 27). Moreover, according to Russian sources, large Chinese companies, including, among others, Aluminum Corp. of China, China Petrochemical Corp., China National Petroleum Corp. and China Minmetals Corp., are now conducting talks with large Russian businesses and natural monopolies (such as Rusal and Gazprom) with regards to acquiring shares (Gazeta.ru, March 8).
However, there are reasons to believe that Russia could not fully exploit the much-hoped-for "natural resources" card, primarily because of the harsh Western sanctions. Under these circumstances, Russian goods and products—where natural resources occupy by far the most significant part—have become "toxic" and undesirable on the international markets. According to US Secretary of the Treasury Janet Yellen, harsh anti-Russian sanctions are likely to dissuade many Chinese financial institutions (operating with US dollars and euros) from conducting business with Russian partners (UNIAN, March 11). Noticeably, during the 13th National People's Congress of the People's Republic of China (ended on March 11), it was explicitly stated that to reduce risks, China must urgently make massive investments in "the development of its own deposits of oil and natural gas as well as other natural resources" (1prime.ru, March 5). Such a directive means that Beijing might have reservations about Russia as a steady supplier of natural resources.
In sum, the likeliest scenario in the Sino-Russian economic and business ties is the following: China will continue using Russia as a "useful partner" only in areas deemed lucrative for the Chinese side, capitalizing on its rapidly growing international isolation. Furthermore, Beijing will be cautious not to deepen confrontation with the US and the EU over an economically less attractive and isolated Russia.