Russia's WTO Membership On Track or Not?
Publication: Eurasia Daily Monitor Volume: 8 Issue: 58
By: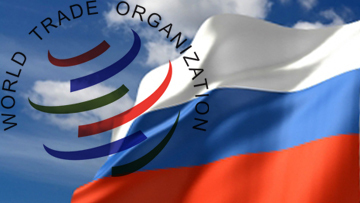 On March 10, Russia and Georgia held their first meeting in a new round of negotiations over Russia's World Trade Organization (WTO) bid. Maxim Medvedkov, Russia's chief negotiator, and Tamar Kovziridze, the Georgian prime minister's senior aide and long time negotiator over WTO issues, held discussions in Bern, Switzerland in an effort to "draw positions closer" (www.presa.ge, March 7).
Nino Kalandadze, Georgia's Deputy Foreign Minister, said on March 14 during a press conference in Tbilisi that the initiative for these talks came from Moscow, which shows that Russian authorities are serious about bringing the 17-year negotiations finally to a conclusion (www.civil.ge, March 14).
Russia has a large economy and is one of the most important countries, especially on a geopolitical level, that has not yet been granted WTO membership. Negotiations on Russia's WTO accession have been lengthy and full of discourse. Russia applied for WTO membership as early as 1993. It was expected to be finally admitted in the first half of 2007. The "Five-Day War" in August 2008 between Georgia and Russia and Moscow's recognition of Abkhazia and South Ossetia as independent states on August 26 placed WTO negotiations on the backburner.
As a member of the WTO since June 2000, Georgia has the right to veto the entry of any new applicant. Russia has been knocking at the door of the WTO for many years. It has been seeking membership for such an extended period of time that President Dmitry Medvedev said in May 2010 that Moscow is "tired of sitting in the WTO's waiting room."
The conditions set by Georgia have been known to Russia for a long time and Georgian negotiators in Bern just repeated them once again. Even before the August 2008 war and while Georgia was a member of the CIS (it officially withdrew from the Russian-led organization in August 2008), Tbilisi had requested that Russia should accept joint control of the customs and border checkpoints at Psou and the Roki tunnel in Abkhazia and South Ossetia respectively. Georgia and the West consider these territories as being illegally "occupied" by Russia following Moscow's refusal to respect the terms of the 2008 August ceasefire agreement, as negotiated by the French President Nicolas Sarkozy. The ceasefire stipulated that Russian armed forces had to return to their pre-war August 2008 position. Russia must also lift the trade embargo it imposed on Georgian agricultural products, which included wine and mineral water, Georgia's main exports to the Russian Federation.
On September 14, 2010, David Darchiashvili, ruling Party MP and Chairman of the Parliamentary Committee on European Integration, told The Messenger that Tbilisi's "conditions" not to block Russia's admission would be to "respect Georgia's state interests and the norms of the international law. In terms of strategy, this is the de-occupation of Georgian territories. However, tactically, this could be broken into several stages – letting international observers into the occupied regions, allowing the internally displaced persons (IDPs) to return to their homes and eventually withdrawing Russian troops from Abkhazia and the Tskhinvali region. Some dynamic should be seen in this respect," Darchiashvili clarified (The Messenger, September 14, 2010).
Darchiashvili was contradicted one month later by the Georgian Prime Minister, Nika Gilauri, in an interview with CNBC, saying that Georgia "supports Russia's WTO membership, but with one condition, that all the rules of WTO should be followed and that customs checkpoints between two countries must be transparent."
Russia's strategy in the final stages of the negotiations before fully-fledged accession is to emphasize the key role the US has to play in the final decision. A few days before a visit to the US in June 2010, President Medvedev said that the "the ball is in the US' court." In October 2010, Grigory Karasin, Russian Vice-Minister for Foreign Affairs, said that Moscow is counting on Washington and Georgia's "sponsors" (in other words the EU) in changing Tbilisi's "unconstructive" position." Then, on March 13, 2011, Russian Foreign Minister Sergey Lavrov added that the EU and the US should use their influence to convince Georgia to abandon its conditions (Kommersant, March 13).
The Kremlin calculates that Georgia's relationship with the US is of such importance that it will eventually back down to Washington's demands. Moreover, it is expected that this will be the outcome even when Georgia's conditions are not first fulfilled. Another argument buttressing Moscow's strategy is that Washington might sway Georgia by insisting that under WTO rules Russia will have to comply with international trade rules and the trade embargo on Georgia will be lifted. In June 2010, during President Medvedev's visit to Washington, US President Barack Obama assured him that he would support Russia's ascension into the WTO on the condition that Russian legislation is brought into compliance with WTO rules.
Washington's leverage on Georgia could be associated with the package of grants and conditions (tradeoffs) that both countries are currently negotiating. The grant may be provided under the Millennium Challenge Corporation (MCC), which is operated by a US foreign assistance agency. Daniel W. Yohannes, MCC chief executive officer, announced on March 17 that for the renewal of the aid program the MCC is making an offer ranging from $100 million to $150 million.
Georgian Prime Minister, Nika Gilauri, said during a visit to the US in February 2011 that he was confident Tbilisi would receive at least $150 million and as much as $250 million in the framework of the MCC. The second round of negotiations over Russia's entry to the WTO will be held in April 2011.