Russo-Norwegian Treaty Paves Way for Joint Energy Projects in the Arctic
Publication: Eurasia Daily Monitor Volume: 7 Issue: 167
By: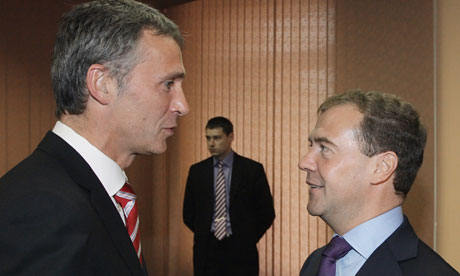 On September 15 in Murmansk, the Russian and Norwegian foreign affairs ministers, Sergei Lavrov and Jonas Gahr Store, signed a bilateral treaty on delimitation of maritime jurisdictions and cooperation in the Barents Sea and the Arctic Ocean. Russian President Dmitry Medvedev and Prime Minister Jens Stoltenberg witnessed the signing (www.regjeringen.no with maps attached, September 15).
The treaty puts an end to disputes over seabed and maritime borders between Russia and Norway, opening up a wide area for joint development of oil and gas deposits. The Norwegian government also feels that the treaty safeguards Norway's fishing rights. Both sides intend to rush the treaty's ratification by the two parliaments during the remainder of 2010 (Barents Observer, September 15).
The signing caps almost 40 years of intermittent negotiations over the delimitation of maritime borders and jurisdictions between Russia and Norway. By the same token, the treaty (pending ratification) ends the moratorium that has been in place since 1982 on development of mineral reserves in those disputed areas. The breakthrough in the negotiations occurred during Medvedev's April 2010 visit to Norway. At that point, both sides agreed on the delimitation lines, as well as the principle of joint development of overlapping hydrocarbon fields. Known as "unitization," this principle forms the treaty's main raison d'être.
The treaty creates a legal basis for Russo-Norwegian joint development of vast oil and gas resources, believed to lie in hitherto disputed areas of the Barents Sea and Arctic Ocean. This promises to boost Russia's positions and leverage as an energy exporter, thanks to the expected influx of Norway's world-leading technology and managerial experience into Russian or jointly operated Arctic offshore fields. Reciprocally, Russo-Norwegian projects and mineral reserves in the newly opened territories should maintain Norway's standing as a major oil and gas exporter in the medium term and beyond, even as Norway's proven reserves are declining outside the areas opened by this treaty.
Further under the treaty, "unitization" can apply to hydrocarbon fields that are shown to extend from the delimited area to the continental shelf of a signatory party. Moscow may then construe Norway's participation in such projects as acceptance of Russia's claim to the Lomonosov Ridge on the seabed. This could in turn strengthen Russia's case to extend its maritime jurisdiction far out into the Arctic Ocean, mainly at Canada's expense. Russian experts and Minister Lavrov alluded to this possibility when Canada's Foreign Affairs Minister, Lawrence Cannon, held talks in Moscow on border disputes in the Arctic, just one day after the treaty signing in Murmansk (Russia Profile, September 15; Russian MFA press releases, September 16).
Russo-Norwegian agreements on exploration and development of offshore fields are expected to follow after the treaty's ratification. With this, Norway and its companies are securing priority access to Arctic projects by agreement with Russia, ahead of other European or American companies.
The treaty stipulates that all mineral deposits that straddle the newly agreed lines can only be explored and developed jointly by Russia and Norway. Each one of these deposits is to be regarded as an indivisible whole. Medvedev obliquely explained Russia's interest in this arrangement, at the signing event in Murmansk: "We actually want our Norwegian friends to apply all of their best technologies, all of their best designs, to promote the modernization of our oil and gas sector" (Interfax, September 15).
Medvedev expressed "serious preoccupation with an escalation of NATO's presence" in the Arctic, including this "zone of cooperation" between Russia and Norway. Stoltenberg replied that Norway's membership in NATO, and the Alliance's presence in the High North, encourage such cooperation and are compatible with the development of bilateral Russo-Norwegian relations.
Russia's Natural Resources Minister Yurii Trutnev assessed the treaty's implications in a separate press conference during the Murmansk signing event. He characterized Norway's Statoil as "our pre-determined partner ["partnyor po opredeleniyu"] for oil and gas development in the Arctic offshore. Once such bilateral agreements are made, "other" [non-Norwegian] companies might later negotiate their participation. According to Trutnev, offshore Arctic projects will require at least 12 to 15 years "as an optimistic forecast" for the exploration and development phases, before reaching commercial production (Interfax, September 15).
Citing previous experience with Russian Arctic projects, such as Shtokman and Prirazlomnoye, Trutnev lamented the "long drawn-out," ultimately unsuccessful development efforts. (Prirazlomnoye never materialized and Shtokman failed outright while in Russian hands). Given this track record, Trutnev argues for involving Norwegian and other Western companies in Russia's Arctic offshore.
The Ministry of Natural Resources proposes changing Russia's legislation, so as to incentivize foreign companies to join projects in the Russian Arctic. At present, only Gazprom and Rosneft may engage in exploration and development of strategic projects. The Arctic offshore deposits are all categorized as strategic. This ministry has submitted draft legislation for the consideration of the Russian government, with a view to "de-monopolizing" the offshore exploration and production. According to Trutnev, his ministry is the only agency in the Russian government thus far to support such changes (Interfax, September 15).
The treaty and the resulting relationship looks like a win-win solution on a bilateral basis. Boosting Russia's status as an energy superpower, it also enables Norway to remain a major player despite the feared decline in its proven offshore reserves. The basic trade-off involves Norwegian know-how in return for access to resources via joint projects with Russia.
In the broader perspective, such an arrangement corresponds with Russia's strategy to create joint production complexes, cross-investments, and interdependencies with key business sectors in European countries, on a bilateral basis. The trend is incipient and the strategy is geared for the long term, seeking to draw European countries into an economic and security space with Russia as the center of gravity.