SAAKASHVILI DECLARES BUSH VISIT "A HUGE POLITICAL VICTORY"
Publication: Eurasia Daily Monitor Volume: 2 Issue: 92
By: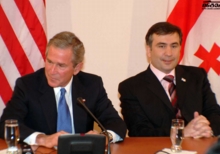 U.S. President George W. Bush paid an unprecedented visit to the republic of Georgia on May 9-10. His warm reception in Tbilisi contrasted with Moscow's frosty view of the trip, which one Russian analyst described as "a fly in the ointment" of Russian-American relations. Some analysts argue that Bush did his best to persuade the Kremlin that the Georgian trip was not meant to undermine Putin, but rather to support the spread democracy in the post-Soviet space. This need to tread lightly may explain why his remarks about closing Russian military bases in Georgia and resolving the secessionist conflicts in Abkhazia and South Ossetia were more cautious than the Georgian political establishment might have expected.
Russian politicians had their own take on Bush's statements in Tbilisi. Konstantin Kosachev, chair of the Russian State Duma Committee on International Affairs, argued that Bush had clearly signaled Tbilisi that the United States considers the Russian military presence in Georgia to be strictly a bilateral issue. This point of view, according to Kosachev, indicates, "The period of mutual anxiety between Russia and the United States regarding their plans in Georgia is likely over."
Novosti news agency quoted a high-ranking American diplomat as saying, "There is an opportunity for concrete assistance in transporting the equipment [from the military bases] if Georgia and Russia achieve an agreement." The diplomat reportedly said that the main U.S. contribution to the Russian pullout from Georgia would be "friendly advice to both countries."
President Bush and his Georgian counterpart, Mikheil Saakashvili, held face-to-face talks on May 10, followed by a joint news conference. One of the four questions raised at the news conference concerned the role of the United States in the removal of Russian troops from Georgia. Bush limited himself to general remarks on the issue in line with previous U.S. statements. Based on the initial reactions to the visit, the Georgian establishment had hoped for stronger and more decisive U.S. support.
During his news conference Bush clearly communicated to Tbilisi that the United States supports Georgia's territorial integrity and wants to see the conflicts in Abkhazia and South Ossetia resolved solely by peaceful means. Saakashvili, in his comments, reiterated that Tbilisi would follow a peaceful agenda. However, his desire for a diplomatic resolution was undermined when the Abkhaz and Ossetian separatist leaders flew to Moscow during Bush's visit rather than meeting Bush and Saakashvili in Tbilisi, as scheduled. Abkhazia's "president," Sergei Bagapsh, told Russian media in Moscow that, although Abkhazia is ready to solve outstanding issues with Tbilisi peacefully, the independent status of Abkhazia — supported by a popular referendum in Abkhazia — is non-negotiable.
In his remarks about the secessionist regions of Georgia, Bush welcomed Tbilisi's offer to grant wide autonomy to the breakaway regions and promised assistance.
Georgian Parliamentary Chair Nino Burjanadze reported that Georgia's energy independence was one of the central topics of the talks between Bush and a group of Georgian parliamentarians. The Georgian side attempted to dispel U.S. concerns by reaffirming that Georgia's trunk pipelines would not be sold to the Russian energy giant Gazprom.
Bush and Saakashvili also addressed an enormous crowd people gathered on Tbilisi's Freedom Square on May 10. According to Saakashvili, "Our cooperation is about more than strategic oil pipelines or any economic cooperation — it is about our shared values of democracy and liberty."
This politically significant message suggests that the United States may consider Georgia not only ally in the war against terror, but also a potential breeding-ground for the "democratic popular revolutions" that the Western community hopes will spread throughout other former Soviet republics still burdened by Russia-leaning authoritarian regimes.
Bush's visit, which cost Tbilisi at least 500,000 Lari ($275,000), according to the city government, also touched upon domestic issues. In his "frank discussions" with Saakashvili and during the joint news conference, Bush particularly underlined the importance of having a vibrant political opposition, rule of law, and media freedom in Georgia — the same issues that are often raised by local political and civic groups.
While Bush and Saakashvili held their press conference on Freedom Square, some 2,000 followers of the opposition Labor Party rallied at Republic Square, only a few kilometers away. The protest rally, under the motto: "Welcome Bush – Down with Dictator Saakashvili," disintegrated into a brawl when punches began to be thrown. Labor officials insisted that activists from the ruling National Movement party had deliberately provoked the conflict.
Saakashvili missed no opportunity to extract maximum political mileage from the visit. "This is a huge political victory," he told media after Bush's departure.
(Itar-Tass, Newsinfo, rian.ru, Interfax, TV-Rustavi-2, TV-Imedi, CNN, Civil Georgia, May 9-10)