SAAKASHVILI OFFERS TO GO TO KYRGYZSTAN AS MEDIATOR
Publication: Eurasia Daily Monitor Volume: 2 Issue: 57
By: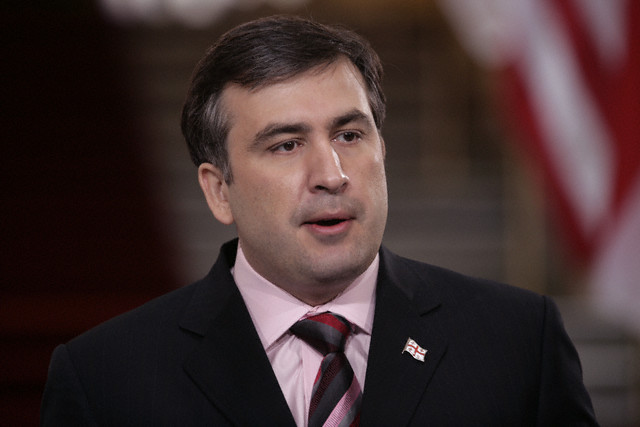 On March 22, as post-election violence and anarchy engulfed large parts of Kyrgyzstan, Georgian President Mikheil Saakashvili wrote an informal, personal letter to his Kyrgyz counterpart, Askar Akayev, offering to mediate between the Kyrgyz authorities and the opposition. "Based on my own personal experience, I have come to learn that there is not a more noble cause than to support and embrace the forces of democracy, which in itself is a guarantee of stability," Saakashvili wrote. "I am ready at any moment to visit Kyrgyzstan to serve as a negotiator, moderator, or friend, to take part in constructive discussions with the opposition."
Three points stand out in Saakashvili's letter. First, a realistic acknowledgment of Akayev's role as an enlightened leader within the existing context of Central Asia: "Under your guidance, Kyrgyzstan has become a responsible member of the international community. It is in our shared interest that Kyrgyzstan preserve its role as democratic leader in the region." Second, the imperative of stability: "[It is] my desire to help establish constructive dialogue so as to prevent instability, chaos, and unrest. I am confident that by working together, we can achieve that outcome." Third (unlike some other international messages to Kyrgyzstan), Saakashvili's letter does not mention any causal link between alleged election rigging and the violent protests, thus implicitly declining to excuse the latter.
Speculations on a Kyrgyz "Rose (or Orange) Revolution" were rife in Kyrgyz opposition circles, Western media, and among Russian observers, in the run-up to Kyrgyzstan's parliamentary elections and in their immediate wake. As leader of that revolution in Georgia and its strong supporter in Ukraine, Saakashvili knew that those processes were not repeatable in the wake of parliamentary elections just held in Moldova and Kyrgyzstan. Two features distinguish Georgia's policy regarding those two situations. The first feature, revolutionary in itself, is that Georgia has decided as a matter of national interest to support democratic processes in post-Soviet countries. The second feature is Saakashvili's strategy, capitalizing on his international prestige as Rose Revolution leader, to encourage evolutionary democratization in countries such as Moldova and Kyrgyzstan, where any other approach carries risks of destabilization and Russian intervention.
According to Georgia's presidential spokesman, Gela Charkviani, "Considering that the president acted successfully in Moldova as mediator between the authorities and opposition, he could do the same in Kyrgyzstan" (Rustavi-2 TV, March 22). Visiting Moldova on February at the height of the electoral campaign, Saakashvili threw his support behind the European-oriented President Vladimir Voronin (a communist in name only), signed joint documents with him on democratic values and on facing up to Russian-armed separatism, demonstratively snubbed the pro-Moscow "centrist" bloc in Chisinau, and held an amply publicized meeting with opposition Christian-Democrat People's Party leader Iurie Rosca, who then renounced his intention to stage post-election "orange" demonstrations (see EDM, March 2). Shortly afterward, Saakashvili received Rosca in Tbilisi and held an effusive joint news conference with him, while at the same time treating Voronin's government as a long-term partner to Georgia. With this, Saakashvili has helped the ongoing search for a pro-European national consensus among otherwise unlikely partners in post-election Moldova.
The OSCE's Bishkek Office has offered to act as impartial "moderator" between the Kyrgyz government and opposition. In Moscow, Federation Council Chairman Sergei Mironov has offered to arrange round-table negotiations between the Kyrgyz sides under the auspices of both chambers of Russia's parliament. On March 22, the Federation Council's International Affairs Committee chairman, Mikhail Margelov, similarly proposed to host and mediate inter-Kyrgyz negotiations in Moscow, on condition that the opposition ceases violent actions (Interfax, RTR Russian TV, March 22).
Saakashvili's offer is immediate, unconditional, and clearly carries the greatest credibility, based on his record.