Scandal Mars Launch of Ukrainian LNG Terminal Project
Publication: Eurasia Daily Monitor Volume: 9 Issue: 221
By: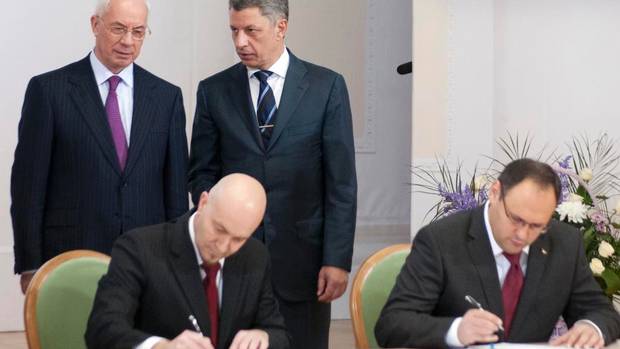 Ukraine has started construction of a liquefied natural gas (LNG) terminal designed to process 10 billion cubic meters (bcm) of gas per annum out of some 55 bcm the country consumes. After the start of gas imports from Europe last month (see EDM, November 20), this is another practical step to diminish Ukraine's dependence on expensive Russian gas. However, the initiation of the project was marred by a scandal when it turned out that a person who signed an agreement to invest in the terminal on behalf of the Spanish company Gas Natural had not been authorized to do so. This is likely to spoil Ukraine's chances to find investors for the project. And there are suspicions in Ukraine that Russia interfered.
Kyiv officially launched the LNG project on the Black Sea near Odessa on November 26, beginning construction of a $145 million 65-kilometer link from the terminal to the national gas network. The chief of national projects, Vladyslav Kaskiv, said that gas from the terminal would be at least 20 percent cheaper than the gas Ukraine receives from Russia via pipelines (Interfax-Ukraine, November 26). The current price of Gazprom's gas for the Ukrainian national gas importer Naftohaz Ukrainy equals $430 per 1,000 square meters, and Kyiv claims this is one of the highest prices in the world, especially taking into account the short distance Russian gas covers to reach Ukraine.
The total project is estimated at $1.1 billion, which the cash-strapped Ukrainian government cannot afford. Ukraine, therefore, decided it would contribute only seven percent of the total cost, and the rest would be borrowed from investors. Kyiv expects foreign investors to contribute at least 75 percent of the cost. The government from the start pinned hopes on Gas Natural whose subsidiary Gas Natural Fenosa Engineering (previously SOCOIN) prepared a feasibility study for the project early this year. Kyiv was sure that Gas Natural would invest in the LNG project and announced on November 26 that the Spanish company had signed an agreement with the Ukrainian government (UNIAN, November 26).
However, Gas Natural said that the person who signed the document with Kaskiv, Jordi Sarda Bonvehi, had exceeded his authority and that Gas Natural did not plan to invest in the project (Ukrainska Pravda, November 30). The Spaniard confirmed this, saying that he had misunderstood Gas Natural's intentions (UNIAN, November 28). The terminal project chief, Vitaly Demyanyuk, said Bonvehi was only a lawyer representing Spanish companies in Ukraine (Interfax-Ukraine, November 28). Kaskiv, on the other hand, said he had had no doubt that the Spanish lawyer did represent Gas Natural because he accompanied the head of the German office of Gas Natural at a meeting of potential investors in Yalta last September (Ukrainska Pravda, November 29).
The fiasco with Gas Natural will raise legitimate doubts about Kyiv's intentions. Some may suggest that Kyiv is bluffing and that the LNG terminal is only part of a plan to spook Gazprom into cutting gas prices out of fear of losing its large customer. However, a lack of professionalism seems to be the real reason for the misunderstanding. There are few people with a good Western education among Ukrainian top officials and very few of them speak fluent English let alone Spanish. This impairs their ability to communicate with foreign partners and understand their intentions. Nevertheless, Kyiv is determined to proceed with the project.
Along with the dubious document signed with a Spanish lawyer, Kyiv on November 26 also signed an agreement with the US company Excelerate Energy to lease a floating LNG terminal. As a temporary solution before the launch of a land terminal scheduled for 2017, Kyiv wants to start receiving five bcm of LNG at a floating terminal from 2017, after which the terminal may be tugged to Georgia to liquefy Azerbaijani gas (Kommersant-Ukraine, November 26). Apart from the non-binding agreement with Excelerate, Ukraine has not yet secured any contract with foreign partners, either potential investors or suppliers. Kaskiv at the November 26 ceremony said only that Ukraine had been in talks with several countries to choose the best prices and conditions (Interfax-Ukraine, November 26).
Azerbaijan, on whose gas Kyiv pinned its hopes, has made it clear that it would not deliver gas to Ukraine at least until 2017. Azerbaijani Ambassador Eynulla Madatli said his country planned to deliver two bcm of gas to Ukraine only in 2017 and to increase deliveries later to five bcm per annum (Uryadovy Kuryer, November 23). Ukrainian President Viktor Yanukovych who discussed LNG deliveries in Qatar last week said that LNG deliveries to Ukraine would begin in 2015 and that Qatar would be one of the main suppliers (Segodnya, November 29). However, no specific agreements have been reached thus far with Qatar either.
The blunder with Gas Natural will not ease the task for Kyiv. Renowned local expert Ihor Burakovsky believes this has been a blow to Ukraine's reputation, after which it will be more difficult to establish contacts with potential investors and creditors (Kommersant-Ukraine, November 29). Ukrainians are eager to blame their troubles on Moscow's behind-the-scenes machinations. Kaskiv said that he had expected a campaign to discredit the project and he said, obviously hinting at Russia, that European companies had been under pressure and struggled with conflicts of interest (Interfax-Ukraine, Ukrainska Pravda, November 26). Mykhaylo Chechetov, a senior member of the ruling Party of Regions, said Gazprom had been interested in undermining the LNG terminal project from the start (ugmk.info, November 29).