Russia is Pushing Georgia into Accepting More Concessions
Publication: Eurasia Daily Monitor Volume: 9 Issue: 221
By: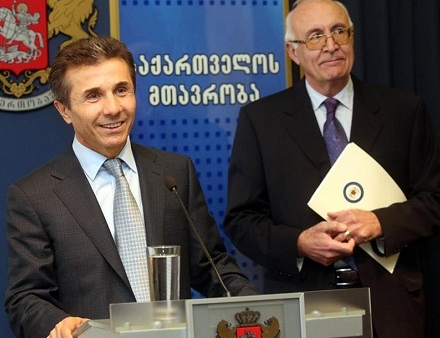 On November 29, Russian Prime Minister Dmitry Medvedev, in response to the new Georgian government's attempts to normalize ties with Russia, declared that Moscow was ready for dialogue with Tbilisi. However, the talks would progress on the condition that Georgia takes into consideration new geopolitical realities and the decision of Russia to recognize the separatist Georgian regions of Abkhazia and South Ossetia as independent states (www.kommersant.ru, November 29). In plain language this means that Georgia should deal with the fact that Russia does not recognize Georgia's territorial integrity and accept its de-facto territorial dismemberment. In fact, Moscow once again took any possibility of negotiations over the status of the breakaway regions off the table, up front pushing Georgia into accepting a hard concession. Tbilisi needs a normalization of ties with Moscow mostly for the sake of solving the problems of its breakaway regions and reintegrating them back into Georgia. Without this prospect for reintegration, any effort by Georgia to normalize its bilateral ties with Russia loses much of its goal.
Georgian Prime Minister's Special Representative for Relations with Russia Zurab Abashidze responded to Medvedev's statement, urging Russia to restore dialogue between the two sides and find common interests without putting forward any preconditions (www.regnum.com, November 30). So far, there is no indication that Moscow intends to do so. Quite to the contrary, Russia is actually attempting to wrench more concessions from Georgia. As talks over the return of Georgian agricultural products to the Russian market are underway (www.regnum.ru, November 22), Russia, according to some unconfirmed information, is demanding transit rights to Armenia in exchange for readmitting Georgian exports. So far, Georgian government officials and media sources have been silent about the probability of any such swap.
If such a precondition exists, it violates the World Trade Organization's (WTO) Most Favored Nation (MFN) rule. The MFN rule "means that every time a country lowers a trade barrier or opens up a market, it has to do so for the same goods or services from all its trading partners…" (http://www.wto.org/english/thewto_e/whatis_e/tif_e/fact2_e.htm, Principles of the Trading System). In other words, Russia (a WTO member) cannot block Georgia's (another WTO member) products, while allowing other WTO members' products to enter its market. Russia formally joined the WTO in August 2012 after long negotiations with Georgia (RIA Novosti, November 7, 2011), the last country to block Russia's membership.
Also, granting Russia transit rights to Armenia would not play well with Azerbaijan, which along with its ally Turkey blockade Armenia as a result of the Armenian-Azerbaijani War over Karabakh (1988–1994). Such a development may in fact have a negatively effect on Azerbaijani-Georgian relations.
According to a number of Russian experts, it is actually Georgia, not Russia that needs to normalize bilateral ties. They list several capitulating and humiliating concessions for Georgia, ranging from rejecting integration with the North Atlantic Treaty Organization (NATO) to the closure of the Museum of the Soviet (Russian) occupation in Tbilisi, which Georgia should accept if it truly wants to restore relations with Russia and return Georgian products to Russian markets (www.medianews.ge, November 1; www.regnum.ru, November 4, 16). Moscow's official policy toward Georgia does not seem to diverge much, if at all, from the Russian experts' ideas.
In another related development, the Georgian Minister of Reintegration Paata Zakareishvili stated that the question of the restoration of Georgia's railway link with Abkhazia is closed because of a lack of interest from the Abkhazian side (www.georgiantimes.info; www.interpressnews.ge, November 28). It is highly unlikely that Abkhazia torpedoed the Georgian government's much talked about project independently, without Moscow's urging. However, the question of the Abkhazian railway link becomes even more puzzling: Moscow initially strongly supported its restoration (www.regnum.ru, November 16) as it provided Russia with a direct rail link to its ally Armenia and the Russian 102nd Military Base in Gyumry.
Some experts argue that Tbilisi ended the railroad project on its own to avoid conflict with Azerbaijan (www.regnum.ru, December 1) and its ally Turkey, both of which strongly opposed the restoration of the railway link that would connect Russia with Armenia via Georgia. Azerbaijan was concerned that this railway link would increase Russian arms supplies to Armenia, and hence to Armenian-occupied Karabakh. Some officials in Azerbaijan even threatened, should the rail link be opened, to retaliate by instigating political instability within Georgia (www.regnum.ru, November 6, 11, 12; www.commersant.ge, November 28; www.vestnikkavkaza.net, November 29). Georgia is notably also largely dependent on imports of natural gas and petroleum from Azerbaijan. In addition, Georgia hosts the Baku-Tbilisi-Erzurum natural gas, Baku-Supsa and Baku-Tbilisi-Ceyhan oil pipelines that transport Azerbaijani energy resources to Turkey and further to the West.
Replying to Baku's reaction about the railway restoration project, Reintegration Minister Zakareishvili stated that Tbilisi would never take a decision that would damage Georgian-Azerbaijani strategic relations and undermine Azerbaijan's national interests (www.regnum.ru, November 8, 11). In any case, terminating plans to restore the railway link aimed at engaging Abkhazian separatists and mending ties with Russia leaves the new Georgian government with fewer cards to play in its negotiations with Moscow.
Georgia's already weak bargaining position vis-à-vis Russia may diminish even more if Western criticism of the Georgian government for its ongoing arrests of Saakashvili-era government officials escalates into some kind of isolation of Georgia (see EDM, November 15, 29). This can benefit Russia, as international isolation may compel the abandoned Georgian government to accept more Russian concessions.
Since the "Georgian Dream" coalition government began its efforts to normalize Russian-Georgian ties, an observable trend in Russo-Georgian negotiations is already emerging: Russia attempts to gain as many concessions as possible, conceding nothing in return. It is yet to be seen if this trend will change or which direction it will take in general. What exactly the new Georgian government can and will be willing to concede is also still unclear. So far, Georgia does not have much to be hopeful about in its negotiations with Russia.