Security Service Suspects Moscow Behind Explosions Shaking Ukrainian Cities
Publication: Eurasia Daily Monitor Volume: 12 Issue: 67
By: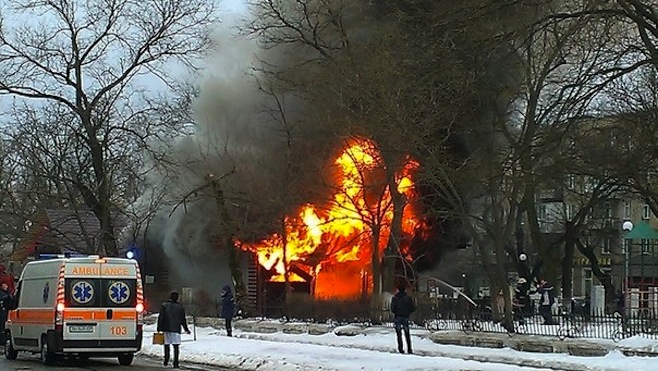 Although, for now, the ceasefire agreements reached in February 2015 appear to be mostly holding in eastern Ukraine, nationwide feelings of anxiety and stress persist. This is not only due to the fear that Vladimir Putin may restart the war in May, but also due to the growing challenge of petty terrorism. In various cities across the country, incidents of small explosive devices unexpectedly going off at night have sowed uncertainty and panic.
The targets are most frequently the offices of volunteer organizations helping the Ukrainian army, as well as military installations, railway infrastructure and banks. And the target cities—most notably Kharkiv, Odesa, Zaporizhya and Dnipropetrovsk—tend to be located in Ukraine's eastern and southern majority-Russian-speaking provinces that have not been directly affected by the war, but where pro-Russian sentiment is traditionally strong. Those areas were included by Putin in his concept of "Novorossiya" ("New Russia"—a tsarist-era term for southeastern Ukrainian lands conquered or colonized under Catherine the Great) in his famous statement justifying intervention in Ukraine a year ago (Kremlin.ru, April 17; YouTube, April 18). Ukrainian authorities and commentators naturally suspect that agent provocateurs and mercenaries from Russia are behind the terrorist acts.
Russian extremist politician Eduard Limonov, who spent his youth in Ukraine's second largest city of Kharkiv in the 1960s, complained last October that Kharkiv and Odesa were not as "revolutionary" as Donetsk and Luhansk. He said Kharkiv should "explode" (S-narodom.ru, October 24). A series of explosions shook Kharkiv last November. Eight people were wounded in a blast at a local bar on November 9. Explosions were also reported near a military hospital on November 20, and near the airport and a railway depot on November 21. Another blast was reported near military barracks in Kharkiv on November 25 (Rian.com.ua, November 28).
Blasts have also been frequently reported in Odesa since last July. The first targets included a military enlistment office and several offices of Privatbank (Liga.net, July 4; Timer-odessa.net, July 13). Privatbank, Ukraine's largest bank, is co-owned by Ihor Kolomoysky, one of the few oligarchs who supported the Maidan uprising in 2013. Kolomoysky has a personal feud with Putin—in March 2014, he called him crazy, while Putin said Kolomoysky was a "crook" (Forbes.ru, March 4). The frequency of explosions increased in Odesa last winter (News.bigmir.net, accessed on April 9).
Explosions continued to shake Kharkiv and Odesa after the February 12 ceasefire agreements. Most recently, on March 28, an explosive device went off near an Odesa volunteers' office (Pravda.com.ua, March 29), and a flagpole in central Kharkiv was badly damaged by an explosion in the early hours of April 7 (UNIAN, April 8). In the rest of Putin's imaginary Novorossiya outside of the war-torn areas, terrorists have been generally less active. Nonetheless, separate blasts were reported last month in Zaporizhya and Dnipropetrovsk provinces (Rian.com.ua, March 25; Lenta.ru, March 26). The pattern has been, more or less, the same: Small bombs go off in the middle of the night, leaving almost always no casualties, obviously intended to scare rather than kill.
Ukraine's security services, thus far notoriously helpless in the fight against Moscow-backed insurgents and Russian intervention, recently began to report achievements. The Security Service of Ukraine (SBU) announced that three saboteurs, sent from the so-called Donetsk People's Republic (DPR), were detained over an explosion in Zaporizhya (Sbu.gov.ua, April 6); a local Communist suspected of planning terrorist acts in Dnipropetrovsk was arrested (Sbu.gov.ua, April 7); and a Russian citizen who is a member of the DPR was detained over the Kharkiv flagpole blast (Sbu.gov.ua, April 7).
In Odesa, the SBU apprehended a group of ten saboteurs, saying that they prepared handmade explosive devices and planned anti-government rallies for the anniversary of the May 2, 2014, fire in the Odesa trade unions building, in which dozens of pro-Kremlin activists perished. The group was headed by a former member of the Ukrainian riot police service Berkut and guided by a Ukrainian citizen who had fled to Moscow after involvement in terrorist acts in Odesa, according to the SBU (Sbu.gov.ua, April 8). The SBU said, on April 9, that it detained a further 29 "saboteurs" in Odesa who were preparing another "people's republic," and that an operation to uncover more was continuing (Sbu.gov.ua, April 9).
SBU spokesperson Markiyan Lubkivsky briefed journalists, on April 8, that former prime minister Mykola Azarov and former people's deputies Oleg Tsaryov and Volodymyr Oliynyk were paying unemployed, retired and homeless Ukrainians to participate in pickets aimed to "destabilize the socio-political situation in Ukraine." Lubkivsky said that Azarov, Tsaryov and Oliynyk were operating from Moscow (Sbu.gov.ua, April 8). Lubkivsky also said members of the Ukrainian Communist Party were suspected of involvement in terrorism in Odesa (UNIAN, April 8).
Outside of southeastern Ukraine, similar tactics of low-scale terrorism aimed to stir up fear may be increasingly used in the capital Kyiv, which has attracted thousands of refugees from war-torn Donbas (eastern Ukrainian region encompassing Donetsk and Luhansk provinces). Most recently, handmade bombs went off near the offices of Sberbank of Russia, not far from central Kyiv, in the early hours of April 2. As in similar previous incidents in the country's east and south, there were no casualties, and damage to the buildings was limited (Pravda.com.ua, April 2). The post-Maidan government failed a crucial test a year ago, when it did not arrest the quickly escalating insurgency in Donbas. Now, it will be important that the authorities not underestimate the growing phenomenon of small-scale terrorism across the country.