Semtex or Stability? The Conflict in Libya and its Impact on Security in Niger
Publication: Terrorism Monitor Volume: 9 Issue: 30
By: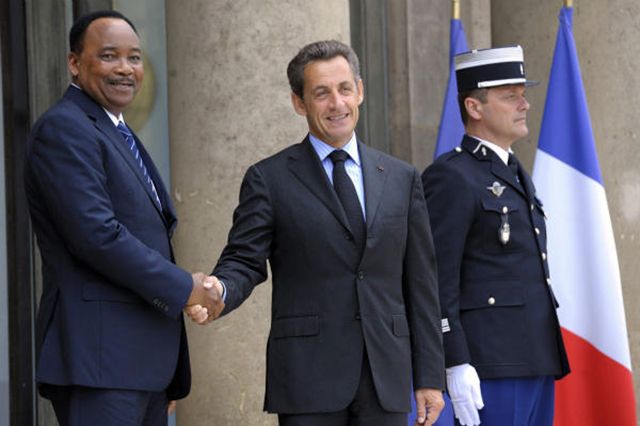 Libyan stability is critical for Niger's security as well as for its economy. The on-going crisis complicates the already demanding task that the new democratic government of the country faces in strengthening the Nigerien economy and securing its domestic stability (see Terrorism Monitor April 14; February 17).
Niger's president, Mahamadou Issoufou, recently flew to Paris to meet French President Nicolas Sarkozy in the first bilateral meeting between the two presidents. Given its economic ties and colonial links, France is Niger's most important ally. As is well known, France is at the forefront of the international coalition that, under the NATO banner, supports the Libyan Transitional National Council (TNC) in its efforts to depose Libyan ruler Mu'ammar Qaddafi. On this issue, the perceptions and the interests of the two countries are rather divergent (Le Nouvel Observateur, July 6).
Issoufou has defined the effect of the Libyan crisis on his country as "catastrophic" (L'Expression, July 6). The main fear is that Libya will turn into a sort of "Mediterranean Somalia," with a tremendously damaging impact on the stability of several Sahelian and Maghreb countries. Issoufou is concerned that Islamist extremists could seize power in Libya (Reuters Africa, July 17).
The potential of a crisis in Niger is greater in the case of a Qaddafi defeat than a rebel loss, as the Colonel was a key Nigerien partner. Qaddafi's role in negotiations with the Tuareg groups of north Niger and Tripoli's economic links with Niamey are considered fundamental by the new civilian government in Niger. In his meeting with the French president, Issoufou stressed the need to find $13 billion over the next few years to develop the country (PANA, July 7). Niger relies heavily on external powers for its economic needs as well as for its security. These circumstances do not allow Niamey to have a truly independent position on the conflict. However, Niamey's announced neutrality is somewhat of a courageous step and an indication that Niger's government considers stability – which could be defined as a situation close to the pre-conflict status quo – the optimal result in terms of Nigerien interests.
The main issues that Niger must face in the wake of the Libyan conflict are:
• Domestic Stability and Security: In late June, Nigerien security forces intercepted three vehicles in a fire-fight, seizing 640 kg of Semtex (plastic explosive), 435 detonators, RPG-7 grenade launchers and a large number of Kalashnikov assault rifles believed to originate in Libya (RFI, June 24; Le Figaro, July 1). Niger, like many other of its Sahelian neighbors, suffers from porous borders and an inability to control its territory effectively due to a lack of appropriate financial and military resources. Algeria and Chad share Niamey's fear that Libya could turn into a major safe haven for AQIM affiliates and emerge as a major weapons market for Islamist militants and local Sahelian criminal gangs cooperating with AQIM in kidnappings and other activities. One of the main issues Issoufou must tackle is how to increase domestic security in Niger. A more secure and stable domestic environment will strengthen Issoufou politically, reducing the possibility of the military's return to power, which is always an option given Niger's troubled political history. Moreover, a boost in domestic security is needed to increase the economic attractiveness of the country for foreign investors, a fundamental step in pursuing the new government's ambitious economic development goals.
• A Food Crisis and Economic Blows: According to the International Organization for Migrations (IOM), about 90,000 Nigeriens have returned to Niger from Libya since the beginning of the rebellion (Jeune Afrique, July 7). A few days earlier the Nigerien president had provided an even direr figure of 211,000 returnees (Reuters, July 2). This assessment is likely rather pessimistic, but the substance of Issoufou's claims is real enough; Niger must now face an intimidating wave of people coming back from Libya without having the means to employ, feed or care for the returnees. Over the past few years thousands Nigeriens have escaped drought and famine in southern Niger, particularly in the regions of Tahoua, Zinder, Tillabéry and Maradi, making food security a major political and social issue in the country (IRIN, May 19). The Nigerien workers in Libya were also a major source of income thanks to remittances, estimated to be $70 million in 2010. Now, these workers have returned to unemployment in Niger.
Moreover, Niger has suffered a major economic blow through the loss of Libyan development funds. In 2010, Libya announced a plan to invest $100 million in Niger to increase its presence in the country (Gulf News, August 8, 2010). The Libyan rebellion also means a strong decline in revenues for Niger as trade between the two countries has ceased. The war in Libya is now discouraging the flow of tourists in the region, which was already affected by the presence of AQIM and the frequency of European tourist kidnappings. All these elements have negatively impacted the already weak Nigerien economic structure.
• The Tuareg Issue: In 2009, Qaddafi mediated a peace deal which guaranteed an amnesty for 4,000 Tuareg rebels who disarmed in return for a promise of jobs. Although many of them did not find employment, Qaddafi's popularity among Tuareg people in the region remains strong. Some have even joined Qaddafi's loyalists against the rebels. Major political question-marks for the future of Niger are the fate of these agreements and how the Tuareg rebels will act if the Qaddafi regime collapses. A dissident Libyan official, Abdurahman Shalgham, recently claimed that Qaddafi plotted to create a Tuareg state in the Sahara at the expense of Algeria, Mali and Niger (Echorouk [Algiers], June 18). These allegations, however, were likely an attempt to reduce the hostility of these three governments to the rebel forces. Tuareg rebels with new weapons grabbed in Libya but without employment or their former political patron could once more represent a major threat to Niger's security.
Niger is experiencing an uneasy geopolitical situation. A stable, secure and Sahelian-oriented Libya would represent the perfect state of affairs for Niamey. In reality, Libya is turning into an unstable playground for militants and the prospect of a Libya led by the rebel forces is perceived as a problem for Niger, as a rebel-controlled Libya will likely have a completely different geopolitical orientation. Moreover, as the conflict goes ahead, Niger's security, economy and social balances will continue to suffer from the factors listed above. This explains why Niger is still so cautious in abandoning Qaddafi, playing the card of neutrality and pushing for a political solution that will (even partially) save the Qaddafi regime.