Sergei Shoigu: Putin's Point Man in the Ukraine Conflict
Publication: Eurasia Daily Monitor Volume: 12 Issue: 97
By: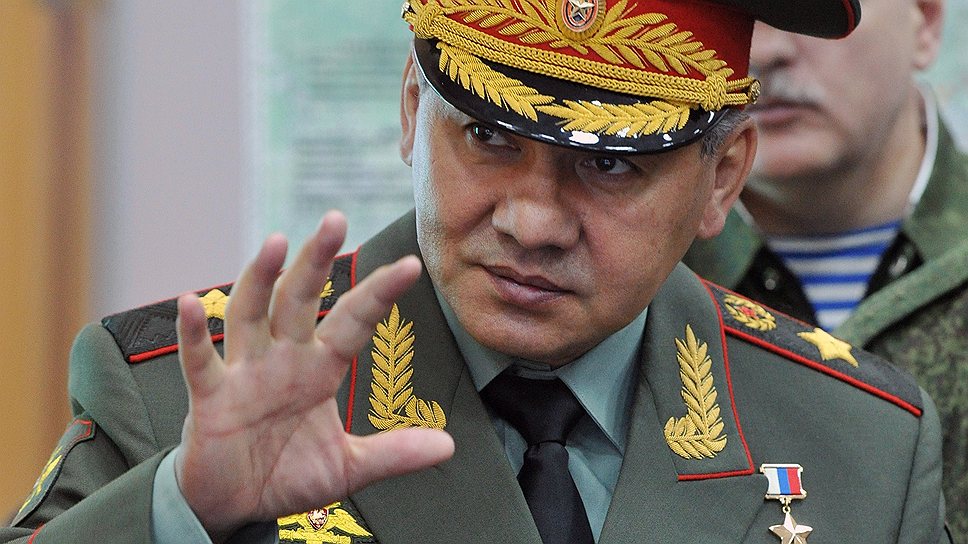 Since the Russian military became a policy tool in the Kremlin's conflict in Ukraine, Defense Minister Army-General Sergei Shoigu received surprisingly little attention from observers of Russia's defense policies. Shoigu offered broad support for the operation to "restore" Crimea to Russia, while emphatically denying the presence of Russian military personnel in southeastern Ukraine. Recent articles in the Russian media celebrating the defense minister's 60th birthday offer high praise for his abilities and illustrate that Shoigu has played an underestimated role in overseeing and facilitating these events (Rossiyskaya Gazeta, May 21).
His biographical information stresses his credentials as a crisis manager, given his background as the head of the emergencies ministry (MchS), as well as his survivability as a politician. He is also known to have a particularly close friendship with President Vladimir Putin, including frequent holidays and hunting trips together (Peoples.ru, accessed May 25). As defense minister since November 2012, he has staked out a reputation for managing the transformation of the Armed Forces in ways that maintain good relations with the officer corps; his coverage on the presidential website seems consistent with the image of Shoigu as a team player and close ally of Putin (Kremlin.ru, accessed May 25).
Other more critical articles highlight ongoing weaknesses in Russia's "reformed" Armed Forces, and argue that the conflict in Ukraine has exposed continued problems with logistics and combat service support. These issues have been the subject of workarounds in the sense that rather than deploying larger units, or entire units and rotating these after given periods, the approach has been to send smaller groups drawn from bigger units and constantly rotating these personnel; that "system" is also a product of Moscow's desire to maintain "plausible deniability" (Voyenno Promyshlennyy Kuryer, April 29).
Regional officials as well as military analysts took the unusual step of extolling the virtues of the incumbent defense minister to mark Sergei Shoigu's 60th birthday on May 21. Such articles may have been more fitting earlier in the month, assessing his role as the head of the Ministry of Defense since 2012, in the context of the May 9 Victory Parade. Nonetheless, the apparent flattering of the defense minister was reserved for his more personal celebrations (Rossiyskaya Gazeta, May 21).
One such appraisal of Shoigu was authored by Mikhail Khodarenok, the editor of Voyenno Promyshlennyy Kuryer. He frequently writes on Russian military history and more rarely on the modernization of the Armed Forces. Khodarenok reminded his readers that on the eve of Shoigu's appointment as defense minister, the Russian officer corps had lost confidence in his predecessor, Anatoly Serdyukov; the officer corps was effectively disillusioned after several years of the "New Look" reform. Shoigu set about successfully restoring morale among the Russian military leadership and this, in Khodarenok's view, is his single greatest achievement. In so doing, he markedly boosted overall levels of morale in the Armed Forces. Part of this process meant that unlike previous Russian defense ministers, Shoigu was not limited by being too "Soviet" in his approach, which had resulted in inertia among his predecessors. And, unlike Serdyukov, he was able to avoid an impression that novel ideas were being imported into the Russian Armed Forces from abroad. Khodarenok believes that Shoigu has tried to reinvigorate the "best traditions" of the Imperial Russian Army and the Soviet Army, which contributes to his popularity among the officer corps (Voyenno Promyshlennyy Kuryer, May 18).
According to Khodarenok, Defense Minister Shoigu stands out in his ability to master detail and apply complex solutions to existing problems. In comparison to his purely civilian predecessor Serdyukov, the new defense minister appears perfectly well qualified to lead the military through a difficult period of transition. Shoigu displays a "creative mind" as well as "a remarkable memory" and "composure and courage." Russian officers tell the author that they are impressed by his leadership, often very demanding, and his ability to listen to their concerns. This represents, in the author's opinion, a "military miracle." Nonetheless, in order to avoid the role of mere sycophant, Khodarenok explains that despite Shoigu's popularity and achievements to date, there remains much to be done to strengthen Russia's defense. Notable, in the context of the Ukraine conflict and recent reforms, he states: "In particular, decisions on military development cannot be based on the basis of short-term planning. The military potential that Russia has today and will have over the next few years is largely a result of decisions made a decade or more ago. Most of the operational and combat capabilities, which were the result of mistakes and thoughtlessness lost in prior periods may not be restored for a short time" (Voyenno Promyshlennyy Kuryer, May 18).
If Khodarenok's assertion is correct, then the Russian military's involvement in Ukraine cannot be seen as a test of reform in recent years; rather, much of the activity of Russian units is an outcome of decisions taken long before the "New Look" reforms were conceived. However, taking his main thesis, namely the improvement of relations with the officers' corps, and his assertion that Shoigu is gradually changing their culture to promote on the basis of merit, some of these more recent experiments no doubt marginally influence the performance of the Armed Forces in Ukraine. Khodarenok then stresses that the main challenges facing Russian military development lie in the following areas: strengthening combat potential and numbers in the southwest strategic direction; reviving the Black Sea Fleet; resuming serial production of strategic bombers; reforming and modernizing the Air Force; and increasing attention to automated systems, intelligence and electronic warfare capabilities (Voyenno Promyshlennyy Kuryer, May 18).
Given the highlights in the various commentaries on Shoigu's achievements, his role in promoting and conducting Putin's war in eastern Ukraine can be divided into several areas: his restoration of the confidence of the officers' corps in the defense ministry leadership, which enabled many to lay aside their concerns about conducting operations for which they may never receive full recognition; Shoigu's constant experimentation with training and approaches to military development, including his penchant for snap exercises that cultivated an atmosphere of a busy and industrious organizational system within the military; as well as his skills and background in emergency management, which lend well to organizing and overseeing the "controlled chaos" unleashed in Ukraine, while in practical terms he has given senior Russian officers much more scope for planning and contributing to operations. Shoigu, in this sense, appears to be emerging as the "brains" behind the best features of the Russian military's performance in Ukraine.