Setting the Right Tone on Belarus: A Sequel
Publication: Eurasia Daily Monitor Volume: 11 Issue: 31
By: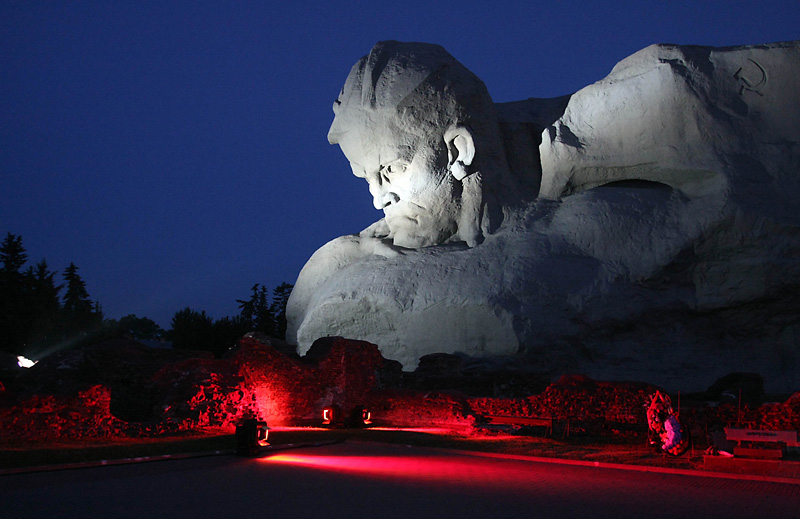 Not a single book about Belarus omits the issue of Belarusians' deficiency in the area of national consolidation/identity and of perilously close (in a sense of undermining a separate identity) ties with Russia. Yet, recently, two national identity boosters have come along. First and foremost, the Olympic gold medals won by Darya Domrachova (biathlon), Alla Tsuper and Anton Kushnir (freestyle skiing) are in that category. In turn, President Alyaksandr Lukashenka invited the members of the Belarusian Olympic team to his Sochi residence for what "looked like more of a family celebration than an official reception" (https://ont.by/news/our_news/00114085).
The second identity booster could not possibly be more different. Specifically, on January 23, the cable news channel CNN contrived to include the sculptural composition "Courage," central to the Brest Fortress World War II Memorial, in its list of the world's ugliest monuments and made a series of—what many Belarusians considered—blasphemous remarks about it. World War II is pivotal to Belarusians' collective historical memory, and the Brest Fortress was subjected to a Nazi attack on June 22, 1941, as Germany invaded the Soviet Union. A heroic defense of that fortress is a glorious, if tragic, page in the history of the war for Belarusians and Russians. Predictably, therefore, widespread indignation in Belarus over the CNN remarks followed. After the Belarusian Embassy to the United States as well as groups of World War II veterans protested, CNN issued an apology and excluded the monument from the aforementioned list (https://naviny.by/rubrics/society/2014/02/06/ic_articles_116_184501/; https://lenta.ru/news/2014/02/06/cnn/; ria.ru/world/20140207/993563953.html?).
It is unclear, though, if instructive lessons were drawn from the mishap. Since, in the Western media, the image of Belarus is cliché-ridden (Europe's last dictatorship, the last Soviet Republic, etc.), there is a feeling that almost anything can be said about the country, thus helping to sustain a niche for irresponsible and poorly researched journalism. Consequently, setting the right tone on Belarus (see EDM, October 2, 2012) remains a worthwhile task, and it does not require embellishing its record on human rights, elections, political prisoners, etc. It just calls for a refreshing departure from the Manichean, black-white sort of outlook.
In this regard, an unusually well-attended January 30 reception at the Embassy of Belarus in Washington deserves mentioning. More than a hundred guests came to the reception, organized by the embassy in cooperation with the Eurasia Center and the Eurasian Business Coalition. Gerard Janco, president of the Eurasia Center; Matthew Rojansky, director of Kennan Institute; Glen Howard, president of The Jamestown Foundation; and David Baron, chairman of the US-Belarus Business Cooperation Council all spoke about the significance of developing interpersonal and business contacts and heaped praise on Belarusian computer programmers. In his reception speech, Oleg Kravchenko, Charge D'Affaires and Belarus's top diplomat in the United States, assured the guests that although Belarus will continue to be close to Russia, it is interested in the normalization of its relations with the West. He invited attendees to Belarus. The best opportunity to visit, according to Kravchenko, will come along on May 9, when the Belarus-US ice hockey match is scheduled as part of the World Cup that Belarus will be hosting—an event that will no doubt strengthen Belarusians' national pride even more (https://russiandc.com/news.php?id=2542).
In conjunction with the increasing frequency of high-level contacts with the European Union and with the resumption of businesslike contacts with the US, Belarus's Ministry of Foreign Affairs issued a statement in which it welcomed positive developments in Belarus's relations with the West and suggested that "there are opportunities to make the bilateral dialogue constructive" (https://news.belta.by/en/news/politics?id=739876).
For this to happen some changes in thinking about Belarus and Ukraine, two countries squeezed between the EU and Russia, will need to materialize. Samuel Charap's Foreign Policy piece on Ukraine (https://www.foreignpolicy.com/articles/2014/02/07/ukraines_false_choice_russia_eu) is spot on. In it, Charap observes that the crisis in Ukraine has resulted from a "20-year tradition of geopolitical one-upmanship" which also allowed "a parasitic political economic system to bargain its way out of reform." But it is futile to believe that the "U.S. can unilaterally create sustainable political outcomes in Ukraine while keeping Moscow in the dark." However, because Belarus is so much more compact, orderly, manageable, and not pervaded by the inter-regional antagonisms characteristic of Ukraine, mending relationships with Belarus may be a real possibility—without Russia's resistance or mediation.
Be that as it may, Kravchenko's mentioning of close ties with Russia was on target. Just during the first nine months of 2013, Belarusians working in Russia remitted $679 million back home. Considering their frequent trips across a customs-free border, it is likely that Belarusians traveling to Russia and back also brought home quite a bit of cash. Also, behind-the-scenes negotiations continue regarding the Russia-centered Eurasian Union, which should be ushered in on January 1, 2015. At this point, Kazakhstan wants to ensure access to Russia's pipeline network and Belarus wants Russia to annul export tariffs on Russian oil sold to Belarus. In exchange, Russia wants both partners to dispose of protectionist barriers for Russian goods.
The fact that Belarus remains one of the most industrialized countries of Europe (i.e., with a heightened share of manufacturing in employment and GDP) may make it a natural connector between the two integration projects in northern Eurasia: the Eurasian Union and the European Union. Indeed, economic development in Belarus is in line with the American Reshoring Initiative devoted to bringing back the industrial jobs to the US and with the European Commission's Report "Towards Knowledge Driven Industrialization"—significantly more so than any East Central European country loyal to Western geopolitical interests but radically deindustrialized and utterly deficient of endeavors not sponsored by Brussels or Washington (https://cytadel.org/articles/reindustrializatsiya-pole-dlya-obshchikh-strategij-es-i-belarusi). In this regard, Belarus is indeed different—something for once to appreciate, not sanction or spurn.