Shah Deniz Consortium Members Signal Conflicting Priorities (Part Two)
Publication: Eurasia Daily Monitor Volume: 9 Issue: 38
By: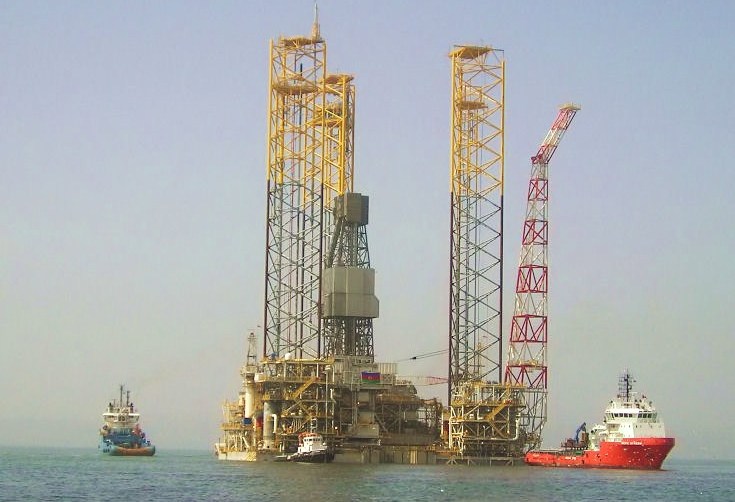 In their comments released on February 20-22 (see EDM, February 22), unnamed representatives of the Shah Deniz producers' consortium postponed from mid-2012 to mid-2013 the selection of a pipeline route for Azerbaijani gas to Europe. Whether they spoke for the multinational consortium or for their individual company (or companies) seems far from certain. Postponing the choice of a transportation solution would correspondingly postpone the final investment decision in developing the Shah Deniz gas field, Phase Two of production.
That investment is valued at $20 billion for the lifetime of the Shah Deniz gas extraction project. The consortium's time-table envisages selecting the transportation solution and approving the final investment decision (in that sequence) during 2012, aiming for the first commercial gas flow by 2017 (barring the delay alluded to). The consortium intends to export 6 billion cubic meters (bcm) of natural gas annually to Turkey and 10 bcm per year to Europe from Shah Deniz. The consortium has yet to choose a European export destination for those 10 bcm: either to southern Europe (mainly Italy) through the TAP pipeline project, or to central Europe via one of three possible routes: a downsized Nabucco project, British Petroleum's concept of a South-East Europe Pipeline (SEEP), or the Azerbaijani-Turkish, Trans-Anatolia pipeline project.
The consortium's unnamed representatives failed to mention the Trans-Anatolia project; expressed a preference for BP's SEEP, implicitly over Nabucco; and stated that the winning transportation option to central Europe "will be assessed against the TAP [route to Italy]." They said that "people in the Shah Deniz consortium are satisfied with SEEP since technical studies and commercial discussions with the [destination] countries are proceeding successfully" (Interfax, 1News.AZ, February 20).
Thus far, BP's SEEP is a concept, not yet a project. Submitted as recently as September 2011, its first rationale is to save on pipeline construction costs. SEEP would use existing, nationally owned pipelines, pipeline sections, and interconnectors along the entire route from eastern Turkey to central Europe (Nabucco's route). It would build some new sections and upgrade some others in half-a-dozen countries, instead of building a new, dedicated pipeline. Thus, BP's proposal would eliminate the Nabucco project in its entirety. SEEP has been described as a "Nabucco-killer" but this is not accurate. Rather, BP's SEEP proposal is one consequence of Nabucco's slow succumbing to its own inherent problems, in an unfavorable European environment (see EDM, January 31).
Apart from a general outline, very little is known publicly about SEEP at present. It looks attractive as cost-effective; but on the downside it is limited to 10 bcm of gas annually, a non-strategic volume. This would not be a game-changer in the Gazprom-dependent countries of southeastern and central Europe. As project operator at Shah Deniz, BP – and possibly other Shah Deniz consortium members – seek a quick, narrow fix for those 10 bcm per year of Shah Deniz Phase Two gas. This is the other rationale behind SEEP (as well as eliminating most of the pipeline construction costs).
BP maintains that SEEP's capacity is scalable, i.e., it can be increased later on, if and when additional gas volumes become available. This is not immediately convincing, however. A patchwork of pipelines, pipeline sections and inter-connectors, all with varying ownerships, and each with its own parameters, characteristics, wear-and-tear degrees, capacity limitations, and legal-regulatory regimes, SEEP does not look easily scalable. By contrast, a linear and dedicated pipeline under one ownership regime can easily have its capacity scaled up. The Trans-Anatolia project is one such example.
Using the nationally-owned pipelines, SEEP would run from eastern Turkey to Bulgaria, Romania and Hungary, with further connections from Hungary to Austria and to Croatia. Under this concept, Hungary could become a storage and distribution center (hub country). Austria would apparently become merely an importer country. By contrast, Nabucco (an Austrian-initiated and led project) designates Austria as a hub country, with Baumgarten as the storage and distribution center.
A Nabucco downsized to one half of its design capacity (i.e., from 31 bcm to some 15 bcm annually), and starting from the Turkish-Bulgarian border (instead of starting in eastern Turkey) has recently been proposed by the project's Austrian management as one option (Dow Jones, February 20; Trend, January 26, February 20, 21). This could keep Nabucco alive as a continuation pipeline, from the planned Trans-Anatolia pipeline into the Nabucco countries on EU territory. However, according to Nabucco Managing Director Reinhard Mitschek, the initial project "whereby the pipeline runs from Turkey's eastern border to Baumgarten in Austria continues to be our preferred option, as a comprehensive solution for all parties involved" (Today.AZ, Trend, February 22). Preference for starting the pipeline from Turkey's east (despite utter lack of funding and the budget overruns) reflects long-standing hopes of accessing gas from northern Iraq. According to Nabucco's official spokesman, "Why should we not pipe gas from northern Iraq. We should explore that as an option" (Dow Jones, February 22). Indeed why not.
The Azerbaijani-Turkish, Trans-Anatolia pipeline (Turkish acronym TANAP) would replace Nabucco across Turkey's territory, with a scalable capacity of up to 30 bcm per year (revised upward from 24 bcm), fully comparable with the initial Nabucco in strategic significance. Under the Azerbaijan-Turkey intergovernmental MOU (December 26, 2011), TANAP would run from the Georgian-Turkish border to the Turkish-Bulgarian border. This would necessitate one or more continuation pipelines into south-eastern and central Europe. TANAP is planned to be built from 2012 to 2017, at an estimated cost of $5 billion to $6 billion, mainly to be covered by Azerbaijan. Under the MOU, the project consortium would include Azerbaijan's State Oil Company with 80 percent, Turkey's Botas with 10 percent, and Turkish Petroleum with another 10 percent of the shares. Linear, dedicated, and under one ownership for its entire length, TANAP's capacity would be eminently scalable.
Gas extraction in Azerbaijan is expected to reach 50 bcm annually by 2025, as new fields come on stream in addition to Shah Deniz. The lion's share of that production will be available for export to points west, mostly to Europe. As TANAP's majority owner, Azerbaijan would be keenly interested in scaling its capacity up. TANAP would allow for volume increments from Turkmenistan, if and when Turkmen gas crosses the Caspian Sea. TAGP is self-financed, with Azerbaijan drawing on its oil revenues to finance up to 80 percent of TAGP's construction costs.
TANAP's core rationales are the same as Nabucco's: transporting Azerbaijani and, potentially, Turkmen gas to Europe (rather than to Russia) through a dedicated transit pipeline, on a route outside Russian control. Unlike Nabucco, however, TANAP is backed up by gas and funding, thanks to Azerbaijan. And unlike SEEP, the TANAP project is strategic in nature, potentially a game-changer for diversification of supplies in southeastern and central Europe (see EDM, January 4, 5, 6; February 2, 3; Trend, February 21).