Shared Threat Perceptions Begin Renewal of Sino-Russian Arms Trade
Publication: China Brief Volume: 13 Issue: 4
By: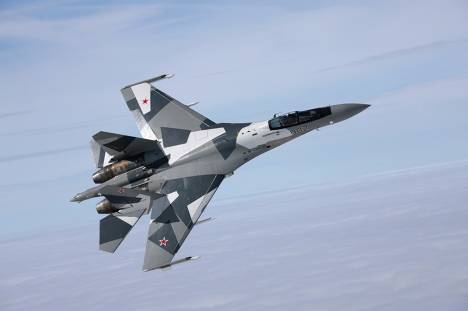 Despite the fulsome exchanges between Russia and China concerning their bilateral relationship, Sino-Russian military ties have, in recent years, been quite volatile. It now appears, however, that those ties are once again moving forward, largely due to shared perceptions of a U.S. threat. One key threat perceived by both Moscow and Beijing is the U.S. missile defense system ("China Steps Up Rhetoric Against U.S. Missile Defense," China Brief, October 19, 2012). On January 14, Gu Guoliang, director of the Center for Arms Control and Nonproliferation Studies at the Chinese Academy of Social Sciences, stated China is "greatly concerned" about the enhanced development of the United States-led ballistic missile defense (BMD) program. He voiced concern in particular for the planned expansion of the system into the Asia-Pacific region—a concern echoed by Russian counterparts—especially as U.S. plans announced last fall include the Philippines as a possible location for BMD elements in addition to Japan and South Korea (Japan Times, January 28; China-U.S. Focus, January 14; Vzgliad Online, September 7, 2012).
Commenting on the planned expansion, Gu also noted the BMD program "has implications for the credibility of China's limited number of nuclear weapons." He added, "If the United States continues its development of the BMD program, China will have to take measures to secure the credibility of its nuclear second-strike capability" (Japan Times, January 28; China-U.S. Focus, January 14). This Chinese response echoes the warnings by Western analysts like Lora Saalman who believe that even if U.S. missile defenses were limited, unsuccessful, or ultimately incomplete, China would deem it necessary to take preemptive measures to ensure the security of its nuclear deterrent [1]. Other commentators have noted the growing chorus of Chinese voices calling for an open alliance with Russia against the United States. Both sides see the other's "comprehensive development" as being in their interest and as a strategic opportunity. Thus there are "endogenous forces" on both sides bringing the two countries closer together (People's Daily January 25). The Chinese government, however, has already begun to act.
On January 8, China's incoming president, Xi Jinping, said strengthening relations with Russia was a priority for China and told the secretary of Russia's Security Council, Nikolai Patrushev, that China would work toward a comprehensive bilateral strategic partnership with an emphasis on coordination and mutual political support. Patrushev noted both sides share a common concern about U.S. missile defenses, particularly those elements in the Asia-Pacific region such as the United States' second planned X-band radar in Japan (Russia Today, January 9; RIA Novosti, January 9; Xinhua, January 8). Following Patrushev's call to coordinate actions, China's senior legislator, Wu Bangguo, told Russian officials on January 28 that China would prioritize the development of a strategic partnership with Russia (China Daily, January 28). Since both sides agree on Syria, North Africa, Korea and other contentious issues, as well as the rising threat from U.S. missile defenses, these outcomes should hardly come as a surprise.
Those announcements signaled not just enhanced future cooperation but also a green light for new Russian arms sales to China of advanced weapons systems that Beijing has long coveted. Despite the long-standing Russian mistrust caused by China's piracy of Russian weapons and technology, "broader geopolitical considerations are at play that may trump the strong reservations that the Russian defense industry would have in selling their advanced arms to China," according to Tai Ming Cheung, director of the Institute on Global Conflict and Cooperation at the University of California – San Diego (Defense News, January 21). These new sales comprise both submarines and aircraft. One example is the deal for Russia to sell China Amur-class submarines and gradually shift to co-production, involving technology transfer and allowing China to be the first to import these systems, announced in December 2012. While these submarines will add to China's existing anti-access and area denial strategy (A2AD), they also add to the country' conventional capabilities beyond the A2AD mission. The Amur 1650 Lada-class submarine is a "radically new submarine with new power plant, new automated command-and-control system, new weapons control systems and new acoustics." This deal will also be the first Sino-Russian venture in co-producing a submarine. Meanwhile, the contract will supposedly address long-standing Russian grievances about intellectual piracy (Defense News, January 21; Jane's Defence Weekly, December 27, 2012).
Perhaps the most significant sales, however, are of aircraft. Although China has just unveiled its Y-20 military transport aircraft that will significantly enhance its power projection capabilities, Russia is selling Il-76MD military transports under a new contract for ten aircraft, replacing a 2005 contract that fell apart. Since Russia is building a new version of a transport, the IL-476, China may well express an interest in that when it comes online (Interfax, January 25). Yet it does appear that this purchase corroborates a Taiwanese article indicating that despite the Y-20—which apparently will not be ready till 2017—China might need to buy up to 100 large transports from Russia (Central News Agency, December 28, 2012). In addition, China has recently bought over 100 AL31F/FN engines and 52 Mi-171 helicopters from Russia and is discussing a plan to build jointly in Beijing up to 30 Ka-32 A11 BC helicopters annually. China, however, will not be getting the new IL-476 with its multi-role transport technology anytime soon (Kanwa Asian Defense Review, January 1). Instead, it is likely to go to India first.
Still more importantly, it now appears that Moscow is selling the Su-35 fighter to Beijing. There is a tangled story behind this sale. In late 2009 during bilateral meetings, Chinese officials angrily denounced Russia for not abiding by several agreements to sell China weapons it wanted, thereby causing significant delays to the PLA's development plan. The weapons in question were the Il-76, S-400 air defense system and the Su-35 fighters (Kanwa Intelligence Review Online, February 28, 2010). By 2011, due to Russia's mounting anger at China's "cloning" of Russian weapons, an apparent decision was reached not to sell China "strategic weapons, including arresting wires for aircraft carriers, nuclear submarines and nuclear technologies (Kanwa Intelligence Review Online, October 10, 2011). In 2012 China strongly denied any interest in the Su-35 despite Russian rumors of a deal that had fallen apart due to Russian concerns about China's reverse engineering of the Su-35 ("Beijing Denies Russian Rumors of Su-35 Purchase," China Brief, March 15, 2012). Yet, now it appears that China had all along, as in 2009-10, been eager to acquire the Su-35 and that Russia is now prepared to sell them to China. China evidently returned to Russia for these systems because it still cannot manufacture competitive engines for its own fighters (South China Morning Post, December 7, 2012). By buying this fighter it will be able to acquire as well Saturn AL-1178 engines that it can then use for its fifth-generation stealth fighter, the J-20. Russia also was able to induce China to sign a document saying it would not reverse engineer the Su-35. Enforcing this agreement, however, will be quite problematic once the planes are in Chinese hands. In addition, Russian sources are claiming that the ultimate purchase will not be for 24 Su-35s but for a figure closer to 40 of the aircraft (OSC-FBIS, January 23; Want China Times, December 10, 2012).
Finally, perhaps the most interesting sale or potential sale relates to bombers. Obviously, if Moscow and Beijing are cooperating on strategic systems, bombers may figure as a reliable second-strike platform against U.S. missile defenses or other targets. Just as Russia is working on its PAK-DA fifth-generation bomber, so too does China seek to develop a bomber with sufficient range to strike the continental United States—as might be predicted from Gu Guoliang's remarks above. China apparently now argues the main requirement for such a bomber is that it carries more long-distance cruise missiles. China's bomber requirements are unclear, even murky, but it is clear that China is seeking to modernize and extend the lifespan of its existing bombers. In some cases, as with the H-6, for example, Russian influence on the construction seems visually apparent. It is also unclear what Russian bomber systems China might seek to acquire, although it is reported that Russia has been marketing the Su-34. China, however, has not indicated a desire to buy that system yet (Defense News, January 28; Want China Times, December 31, 2012).
Thus, it is interesting that apparently for the third time, Russian recently resurfaced the rumor that Moscow was selling China the TU-22M3 (Backfire) bomber. Despite its outdated design, if China were to acquire the Backfire, it would enhance China's power projection capabilities and enable it to strike into the South China Sea. It would also enhance its limited capability to launch aerial strikes against U.S. carrier battle groups. China would supposedly rename it the N-10 and use it for attacks from the sea against low-altitude targets, making radar detection difficult. As a predecessor of modern stealthy systems with an extended range, this could be a formidable strike weapon. Furthermore, if Moscow supplied the Kh-22 (NATO designation: As-4 Kitchen) supersonic air-delivered cruise missile, this long-range anti-ship cruise missile could change the balance in the South China Sea (OSC-FBIS, January 26; China News Center, January 24; Vzgliad Online, January 22). Certainly, it would add to China's long-range air strike capabilities around China's periphery. Nevertheless, these stories once again proved to be premature, if not patently false. Rosoboroneksport, Russia's official arms seller, promptly and categorically denied the story the very next day (ITAR-TASS January 24). It is noteworthy that in this connection China did not comment at all, suggesting perhaps that it did seek the system unofficially but was turned down before it could even negotiate the terms of a deal.
It is clear that the arms sales that have been made and that are in the pipeline suggest a higher degree of Sino-Russian strategic military cooperation than has been the case in the recent past. They also confirm that Russian arms sales, despite the claims of Russian analysts, are not just business but highly political affairs. These sales are clearly aimed at not only garnering profits for the Russian defense industry and Russian elites, but also signaling a strong political intent despite the well-known difficulties in arms sales to China (Global Times, January 17). We have yet to see concrete and specific examples of the sale of strategic systems that would nullify the aforementioned Russian ban on selling such systems. Nor have we seen specific examples of cooperation other than in political and diplomatic fora. This does not, however, mean that analysts should relax their vigilance or simply dismiss declarations of bilateral anti-U.S. strategic collaboration. In the past, observers frequently have been surprised, often quite nastily, by either Russian or Chinese progress in military affairs and weapons development. Neither is it only a question of developing a weapons system. Rather, analysts constantly must be on the lookout for novel and imaginative operational concepts using systems already in existence. The sales listed here suggest analysts should be prepared for more bilateral strategic and military cooperation against U.S. interests—even if they cannot now pinpoint the exact nature of that cooperation.
Notes:
Lora Saalman, "China and the US Nuclear Posture Review," Carnegie-Tsinghua Center for Global Policy, February 28, 2011, available online <https://www.carnegieendowment.org/files/china_posture_review.pdf>.