Shifts in Beijing's Afghan Policy: A View From the Ground
Publication: China Brief Volume: 12 Issue: 21
By: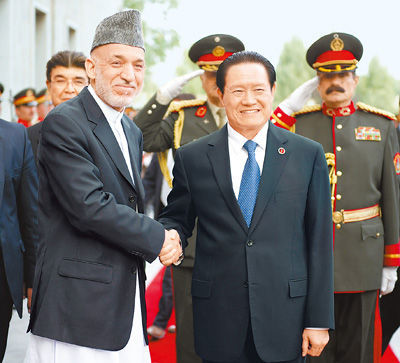 In a clear but still gradual shift over the past year, Chinese policymakers have changed their stance on Afghanistan from cultivated disinterest to growing engagement. As the potential security vacuum left by Western withdrawal in 2014 comes into sharper relief, Beijing has come to realize that it will have to play a role in encouraging a more stable and developed future for Afghanistan. As with China's engagement in Central Asia as a whole, Chinese activity in Afghanistan is less a part of a grand strategy for the region and more the sum of number of disparate parts. Nevertheless, the sum of these parts could have major consequences for Afghanistan and the region's trajectory as it signals a growing realization by Beijing of the role it will find itself playing in the future.
The most visible and significant element of China's renewed focus on Afghanistan was marked by the visit in late September of Politburo member and security supremo Zhou Yongkang to Kabul (Xinhua, September 24; China Daily, September 24). This was the first visit by a Politburo-level Chinese official to the country since 1966 when President Liu Shaoqi visited the country just prior to being purged during the Cultural Revolution. It marked, however, the latest in a growing series of high-level visits and meetings marking China's more focused attention on Afghanistan. This attention dates back to February 28, 2012, when Beijing hosted the first Afghanistan-China-Pakistan trilateral dialogue. Held at the level of foreign ministry director-general positions (or rough equivalents), the meeting was given a senior stamp of approval when the group was met by Chinese Foreign Minister Yang Jiechi a day after the discussions (Afghan Ministry of Foreign Affairs, February 28). Then in June, as China was hosting the Shanghai Cooperation Organization (SCO) Summit in Beijing, President Hu Jintao signed a bilateral "strategic and cooperative partnership" agreement with President Karzai as well as welcoming the country to becoming an official SCO observer (Xinhua, June 8). President Karzai thanked President Hu for helping facilitate the SCO upgrading, saying "without your support, we cannot do this" (Xinhua, June 8). Just over a month later on July 27, this was followed by a further high level meeting between China's Central Military Commission Vice Chairman General Guo Boxiong and Afghan Defense Minister Abdul Rahim Wardak. The focus of the meetings was to "enhance strategic communication and strengthen pragmatic cooperation in order to contribute to bilateral strategic cooperation" (Xinhua, July 27). The full impact of relationships established during this visit, however, may have been undermined by Wardak's resignation after a no confidence vote in Kabul just over a week later (Reuters, August 7). Whatever the case, the growing importance China accords to the bilateral relationship would have been emphasized again in late September by Zhou Yongkang's visit.
The importance of Zhou's visit was not only the symbolism of a senior Chinese visitor to Kabul, but also the emphasis that his presence casts on China's interests in Afghanistan. Within the (now outgoing) Politburo, Zhou is responsible for security matters, primarily domestic, something that highlighted China's interest in Afghanistan's potential as a safe haven for militants. With an eye toward the withdrawal of U.S. and NATO combat forces in 2014, China increasingly has expressed concern about the possible spillover of militancy from Afghanistan into China's western Xinjiang province. Notwithstanding its proximity to Kashgar—a city China is trying to develop into a regional trade hub—China keeps its border with Afghanistan tightly closed, with locals in Xinjiang reporting that authorities encouraged them to help monitor any movements across the border [1]. Afghanistan has asked repeatedly for China to open the Wakhan Corridor that links the two countries, but been rebuffed by Chinese security concerns (China Daily, October 16, 2010). When the authors visited earlier this year, there was little evidence the border was about to be opened.
Chinese security concerns are further visible in announcements made during Zhou's visit about China agreeing to train some 300 Afghan police officers over the next four years ("Zhou Yongkang's Trip Highlights Security Diplomacy," China Brief, October 5). Previously, China has provided training for various Afghan technical personnel and officials with Foreign Minister Yang declaring in July 2010 they had trained some 781 Afghans so far with a further 200 trained that year. In May, China and the United States jointly hosted a two-week training session for a group of some 15 young Afghan diplomats (Chinese Ministry of Foreign Affairs, May 17; July 21, 2010). China's current willingness to explore training security personnel also highlights the growing importance of this aspect of their relationship.
Judging from the June SCO Summit in Beijing, China clearly is aware of the potential implications of deterioration in Afghan security and the implications for the broader region and within this context. During the summit, Beijing focused heavily on persuading Russia and Central Asian member states to coordinate commitments (at least those within the SCO) toward Afghanistan to some degree, and provide aid to contribute to Afghanistan reconstruction and stabilization. As is usual with SCO endeavors, this looked more like a multilateral vehicle for Chinese bilateral activities. The "strategic partnership" signed was between Beijing and Kabul and the 150 million yuan ($23 million) in aid promised to Afghanistan came from China, not the SCO as an organization (Xinhua, June 8). Nevertheless, Afghanistan will benefit from an increased profile and upgraded role to observer within the SCO. It may be asked to contribute information on militants to the SCO's Regional Antiterrorism Structure (RATS) in Tashkent and presumably also will be able to benefit from others' contributions. Overall, the summit was symbolically important for both China and Afghanistan. Beijing announced it will be engaged in Afghanistan's future and Kabul gained commitments from a regional power to bolster its post-2014 prospects.
To examine Afghanistan from a broader perspective, China's main concern with Central Asia is the importance of the region in helping Xinjiang develop by providing trading partners as well as routes to Russian, European and Middle Eastern markets. Security concerns emanating from Afghanistan are clearly a major potential obstacle to this. Thus, Zhou's visit and China's attention more generally can be said to have both a security and economic dimension that links Xinjiang and the broader region. This economic dimension for Afghanistan in particular was emphasized by the fact that pictures of Zhou's visit showed him being met at his plane by Afghan Commerce and Industry Minister Anwar ul-Haq Ahady (Xinhua, September 22). Furthermore, Zhou is a graduate of the Beijing Petroleum Institute and spent most of the 1960s and 1970s working in the oil sector, including a period as General Manager of China National Petroleum Corporation (CNPC)—a company that has made a number of investments in Afghanistan and that has encountered problems in the country as well. It seems probable that these topics would have been on Zhou's agenda in Kabul.
In mid-October, CNPC started extracting oil from its field in Afghanistan's northern Amu Darya basin. At 1,950 barrels per day, the project is a relatively small one, but is being promoted by the Afghan government as a model for how Kabul can raise revenues and wean itself off of foreign aid (Reuters, October 21). Completed at CNPC's signature blistering speed, plans call for the Amu Darya project's oil to be refined across the border in Turkmenistan until the Chinese state-owned enterprise (SOE) builds a refinery close to the site in two to three years. CNPC won the tender for the project partly due to its very generous terms: 50–70 percent of profits will go to the Afghan government together with a 15 percent royalty on top of a 20 percent corporate tax (Reuters, October 21). While Chinese aid to Afghanistan is relatively low—partly due to domestic intolerance of sending funds abroad—projects such as the oil extraction in the Amu Darya basin appear to be an indirect form of "corporate aid."
The relatively small oil project, however, may well be a foot in the door for access to major natural gas deposits in northern and northwestern Afghanistan. It was CNPC geologists from Turkmenistan with the world's fourth largest natural gas reserves that scouted out the Amu Darya oil project and they have their eye on gas formations that straddle the border [2]. With possible recent major gas finds close by in Tajikistan, CNPC is positioning itself to reap the natural resource benefits of a long-neglected area. In June, it announced plans to run a fourth string of the Central Asia-China pipeline from Turkmenistan to Xinjiang through northern Afghanistan (Eurasia Daily Monitor, June 19). CNPC also reportedly expressed interest in the Turkmenistan-Afghanistan-Pakistan-India (TAPI) gas pipeline at the project's Singapore roadshow event in September [3].
Whether or not CNPC moves forward with these projects, the prominent Chinese SOE is signaling that they see northern Afghanistan as a stable area going forward (Cnpc.com.cn, June 7). Until a few months ago, militias loyal to Afghan Army Chief of Staff and local warlord Abdul Rashid Dostum harassed Chinese workers in the area, but a deal seems to have been struck where these incidents have ceased (Reuters, June 11). Should CNPC move forward with its announced plans for a natural gas pipeline, it will likely find itself working closely with Dostum and other warlords.
In contrast to the opportunities blossoming in northern Afghanistan, just southeast of Kabul in Logar province the once highly touted Aynak Copper mine project is languishing. Described by President Karzai as "one of the most important economic projects in Afghan history," the project led by Chinese SOEs Metallurgical Corporation of China (MCC) and Jiangxi Copper was valued at around $4 billion and was the largest investment project in Afghanistan (Xinhua, May 22, 2011). It, however, has been beset by problems, including an archeological dig atop the site, security concerns and now financial troubles at the parent company MCC. One report from late September stated Chinese workers had been spooked by security concerns and had left the country with only a skeleton crew left to watch over equipment (Reuters, September 27). This state of affairs seems to have reinforced skepticism of Beijing's commitment to the project—and possibly even to Afghanistan itself—among Kabul-based officials and experts [4].
A final element that has not been sufficiently analyzed are the implications of China's growing relationship with Kabul and its interactions with historical ally Islamabad. Whilst it is clear that China sees the importance of Pakistan in any long-term solution in Afghanistan, it is also increasingly clear that Beijing is concerned about how security in Pakistan continues to deteriorate. It thus seems likely that China's growing focus on Afghanistan is at least in part out of recognition that it can no longer simply abrogate its strategy toward Kabul to Islamabad—a default setting Beijing previously employed. As the security situation in Afghanistan (and Pakistan) continues to muddle along in a negative direction, Beijing now has realized that it must do more to stabilize its restive neighbor. Zhou Yongkang's visit is merely the culmination of this new focus on Afghanistan that is going to continue to develop as the 2014 deadline approaches. Whether this new attention translates into new policy resources, however, remains to be seen and probably will have to wait until after next March's National People's Congress, when China's leadership transition will be completed.
Notes:
The authors visited Tashkurgan, Xinjiang (near the Sino-Afghan border) in May 2012.

Authors' Interviews in Kabul, May 2012.

This is a key topic of conversation with interviewees with whom the authors spoke, including local analysts, foreign diplomats, international donors and journalists who all reached similar conclusions. Author Interviews in Kabul, May 2012.