Shoigu to Build Office and Command Center Separate from General Staff
Publication: Eurasia Daily Monitor Volume: 10 Issue: 195
By: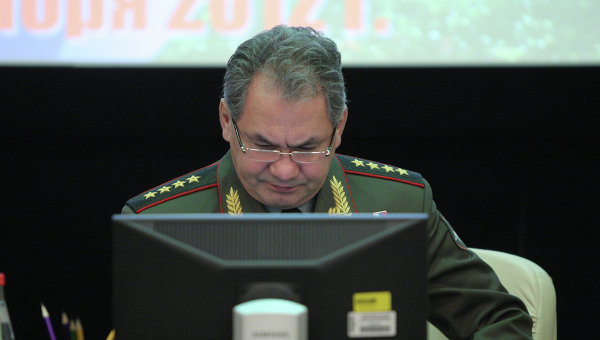 Next week will mark one year since Sergei Shoigu replaced Russia's previous defense minister, Anatoly Serdyukov, who was disgraced by an inquiry into alleged corruption in the defense ministry–controlled holding company Oboronservis (see EDM, October 29). Before this appointment, Shoigu had served for less than half a year as governor of the Moscow region and clearly did not have any prepared plans of what to do with the Russian military in the midst of a radical and agonizing modernization. Serdyukov's reforms were hated by many in Russia and Shoigu was expected to roll them back, but President Vladimir Putin was not ready to sanction an entire rollback (RIA Novosti, December 4, 2012).
For a year, Shoigu was performing an intricate balancing act, using different public relations stunts to demonstrate that he is continuing the reform process and rolling it back at the same time. Unlike Serdyukov, a reclusive businessman turned top state official through family connections, Shoigu has been in public politics since 1991 and well understands the need and the potential power of PR. Shoigu continued Serdyukov's policy of the so-called "humanization" of military service. Under Serdyukov, conscripts were allowed to use mobile phones in barracks to connect with their families and were granted two days off on Saturdays and Sundays. Shoigu went further, announcing that by the end of 2013 the Russian military will terminate the use of leg-rags known as "portyanki" and some 50,000 showers will be installed in barracks, so that soldiers may wash more frequently than during the traditional once-a-week "washing day" or "banny dien." Vacuum cleaners and washing machines will be also introduced to the barracks. By the end of 2013, soldiers will be able to pick their meals from buffet tables (https://ria.ru/defense_safety/20131028/973188710.html#ixzz2jIwDcejc). All this "humanization" is intended to improve conditions, making service more attractive to curb massive draft dodging by hundreds of thousands of potential draftees. But to date, the effect has been marginal. According to the General Staff, in 2013, the number of draft dodgers was almost 250,000 (Interfax, April 1).
To demonstrate his willingness to restore a Soviet-style military, Shoigu reinstated the divisional status of the Kantemyrovskaya tank division and the Tamanskaya motor-rifle division that were reformed into brigades of the same name under Serdyukov. The Kantemyrovskaya and Tamanskaya armed formations are based in the outskirts of Moscow and have traditionally served as showcase guard units of the rulers of the Kremlin. On May 9, on Red Square, the reinstated Kantemyrovskaya and Tamanskaya divisions paraded, Soviet-style, together with boy cadets that were banned from marching by Serdyukov—the former defense minister believed it was better they study than spend half a year training to march (Interfax, May 9).
Shoigu has also ordered a return to an ideological indoctrination of soldiers, who will be instructed to regularly sing patriotic songs and study a specially prepared "shortened course of Russian military history" that will be specially written and published by the defense ministry next month (https://ria.ru/defense_safety/20131028/973180005.html#ixzz2jJ9SyLSw). Shoigu has announced plans to create by the end of 2013 a defense ministry film company that will be "filming documentary, fictional and animated patriotic films to restore our history and patriotism" (https://top.rbc.ru/society/17/09/2013/877504.shtml).
This is the rhetoric many in the military and in the military-connected expert community wanted to hear, but Shoigu's bite was not as decisive as his bark. Serdyukov began outsourcing defense ministry servicing and maintenance to the now disgraced Oboronservis company. Shoigu in some respects went further in dismantling the defense ministry feudal realm, which had included ship, armor, aircraft repair and maintenance facilities, farms to produce food, retail stores and so on. During his first year, Shoigu has disposed of almost all of that, handing over unneeded bases together with farmland to regional governments, and the maintenance and repair facilities and factories to state corporations. Oboronservis has been effectively dismantled and given away (Kommersant, September 19).
Shoigu has announced that one-year serving conscripts cannot possibly form a battle-ready force and that there is no sense "chasing each conscript." According to Shoigu, "either conscripts must serve five years, at least, to master modern weapons, or we must recruit contract soldiers" (Interfax, September 17). Shoigu's reputation, supported by constant patriotic rhetoric, allows him to aim to dismantle the conscript military in Russia—something Serdyukov and his team would have been decimated for.
It is historically a normal procedure in the Russian military defense bureaucracy: each defense minister in the last 20 years has spent up to a year or more after appointment cleansing the top military echelon of former top brass and bringing in his own men. The process virtually paralyzes all long-term strategic decision-making and often undermines day-to-day management—high- and middle-rank officials do not know their own career future or what political guidelines may soon be prioritized and, consequently, they tend to dodge responsibility for any decisions. Now the time seems good for Shoigu to make a major move: a radical rearrangement of Russia's top command structure. For many decades, Russian defense ministers and their personal staffs occupied a relatively small office space within the massive building of the General Staff on Arbatskaya street in central Moscow. The Central Command Post (TsKP), which maintains online command of the nuclear deterrent, is in the same building. Backup command posts, of course, exist in secret destinations. Shoigu has announced that a different command structure will be created: the National Center of State Defense Management (NTsUOG), while being part of the defense ministry, will connect all ministries and departments connected to defense with the president. Furthermore, the NTsUOG will command military operations in war and coordinate different military and paramilitary activates in peacetime. The NTsUOG will be in a different part of town—on the Frunsenskaya embankment, where a renovated Central Office of the Ministry of Defense is being erected together with the NTsUOG. It is planned to be operational by the end of 2014 (https://www.vpk-news.ru/articles/17976).
Apparently, Shoigu wants to leave the dominating General Staff institution and create his own separate command structure using new information technologies of command and control. If actually implemented, this could be a revolutionary change, diminishing the General Staff, which has dominated the Russian military and often political decision making in the Kremlin, for almost a century. Shoigu does not seem to wish to serve as a figurehead for some generals—rather, he wants to create a vehicle of power that could potentially take over control of the entire state.