Shootouts in Dagestan Claim Lives of Police and Militants
Publication: North Caucasus Weekly Volume: 9 Issue: 34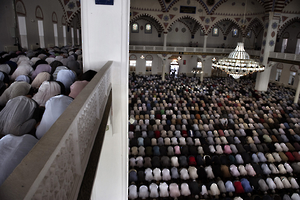 A policeman and two militants were killed near the village of Mutsalaul in Dagestan's Khasavyurt district on September 10, Kavkazky Uzel reported. According to the website, the incident occurred when gunmen opened fire on a car that was being driven by a policeman, who was wounded and died on the spot. A police unit arrived at the scene a short time later and cornered the two militants, who were killed during an exchange of fire that lasted two hours.
One of the slain militants was identified as Zalimkhan Batyrov, who was accused of a number of murders, including the killing of an official of the Khasavyurt City Mosque, the director of a Khasvyurt middle school and law-enforcement officers. According to Dagestani law-enforcement sources, both militants were members of the group headed by Askhab Bidaev, who was killed in a counter-terrorist operation in Khasavyurt on September 4. In addition to Bidaev, four other militants—Kamal Ustarkhanov, Suleiman Adzhiev, Murad Gadzhimuradov and Tagir Dadaev—were killed in that operation along with a local resident. Two Federal Security Service (FSB) commandos were wounded in the operation.
On September 9, two policemen were killed and one wounded in Dagestan's capital, Makhachkala, when their patrol car came under fire. On September 8, three policemen were killed while carrying out a counter-terrorist operation in Dagestan's Tabasaransk district that targeted members of the group headed by Ilgar Malachiev, an Azerbaijani citizen who is a leader of Dagestan's rebel underground. Malachiev was killed in Dagestan's Magaramkentsk district on September 7 along with two associates, who were subsequently identified as Shikhaibek Zagirov and Emirbek Ragimkhanov.
On September 8, Dagestan's branch of the FSB claimed that Ilgar Malachiev had close connections with al-Qaeda. According to Azerbaijan's National Security Ministry and Prosecutor General's Office, Malachiev and his associate Samir Mekhtiev were behind the August 17 bombing of the Abu-Bekr Mosque, the largest Sunni mosque in Baku. That bombing killed two people and wounded 13. Kavkazky Uzel reported that an operation conducted on September 5 by special units of Azerbaijan's Internal Troops in Azerbaijan's Gusar district, which borders Dagestan, killed three members of the "Lesnye Bratya" (Forest Brothers), a terrorist group to which Malachiev reportedly also belonged (see Andrei Smirnov's article in this issue).