Sino-Indian Competition in the Maritime Domain
Publication: China Brief Volume: 17 Issue: 1
By:
The naval build-up of the world's two most populous nations, China and India, will contribute to a new era in the importance of naval power. Owing in part to a collapse in relations in the late 1950s and early 1960s which culminated in the China-India Border War of 1962, relations between China and India continue to be marked by distrust. In the past, geopolitical tensions between China and India were largely confined to the Himalayas, where the border dispute between the two nations remains unresolved. In this century, however, the geopolitics of China-India relations are increasingly defined by the maritime domain. The Himalayan territories of the disputed China-India border were once considered a "life-line" by Chinese leaders, important to the CCP's consolidation of control over Tibet following the founding of the PRC. Today, Chinese interests and activities have expanded significantly beyond the regions that defined China-India relations in the past. As the world's leading nation in trade, surpassing the United States in 2013, owning the fourth largest commercial shipping fleet, and many of the world's largest deep water ports, including Shanghai and Shenzhen, the Chinese economy, and the imperative for Chinese leaders to sustain economic growth, is defined by maritime engagement with the globe. With this comes great vulnerabilities, and a new dimension to China-India relations in which naval power will be paramount.
Both China and India are dependent on sea-borne trade and shipping routes. Hemmed in by the Himalayas to its north and gaining little economically from its neighbor Pakistan, India's natural geography is maritime. The South Asian nation depends on the sea for 90 percent of its trade by volume and for 90 percent of its oil imports, with the majority of its imported oil coming from the nearby Persian Gulf (MEA, March 20, 2015). India's maritime geography is hospitable as the nation dominates the Indian Ocean region with easy access to some of the world's most vital sea lanes. China's economic life-lines, by contrast, pass through much more difficult terrain.
China's Indian Ocean Dependency: the "Malacca Dilemma", the South China Sea, and China's Growing Presence in the Indian Ocean
As China's global economic footprint increases, its Indian Ocean dependency is increasing in kind. Chinese access to vital African resources, Persian Gulf oil and gas, and sea-borne trade with Europe all depends on the passage of these goods across the Indian Ocean. To reach the People's Republic, all of this must then pass through the Straits of Malacca, a narrow, pirate-infested waterway which is less than two miles across at its narrowest point. The Straits of Malacca is one of the world's most significant maritime chokepoints: 25 percent of the world's traded goods and 25 percent of all sea-borne oil pass through it. According to the US Energy Information Agency, roughly 80 percent of China's imported oil passes through the Straits, leading President Hu Jintao to label this strategic bottleneck the "Malacca Dilemma" (马六甲困局), in 2003. [1] The phrase encapsulates two problems: on one hand the fact that the lifeblood of China's economy must pass through a two mile wide channel after transiting the Indian Ocean, and on the other hand, the concern that, as President Hu phrased it, "certain powers" could control the Straits and put China at risk with comparative ease.
Importantly, China's dependence on the Indian Ocean is likely to be long-standing. As Professor Zhang Li, director of security and diplomatic studies at Sichuan University's Institute of South Asian Studies explained to this author in 2014, the Indian Ocean would be the region which most of China's energy imports would transit "for the next forty years", also explaining that "There is a very strong fear in India about China's intentions in the Indian Ocean" (China Brief, June 19, 2014). Indeed, as China takes steps to offset its Malacca dilemma by building both military and industrial infrastructure in the Indian Ocean region, frictions with India are likely to increase.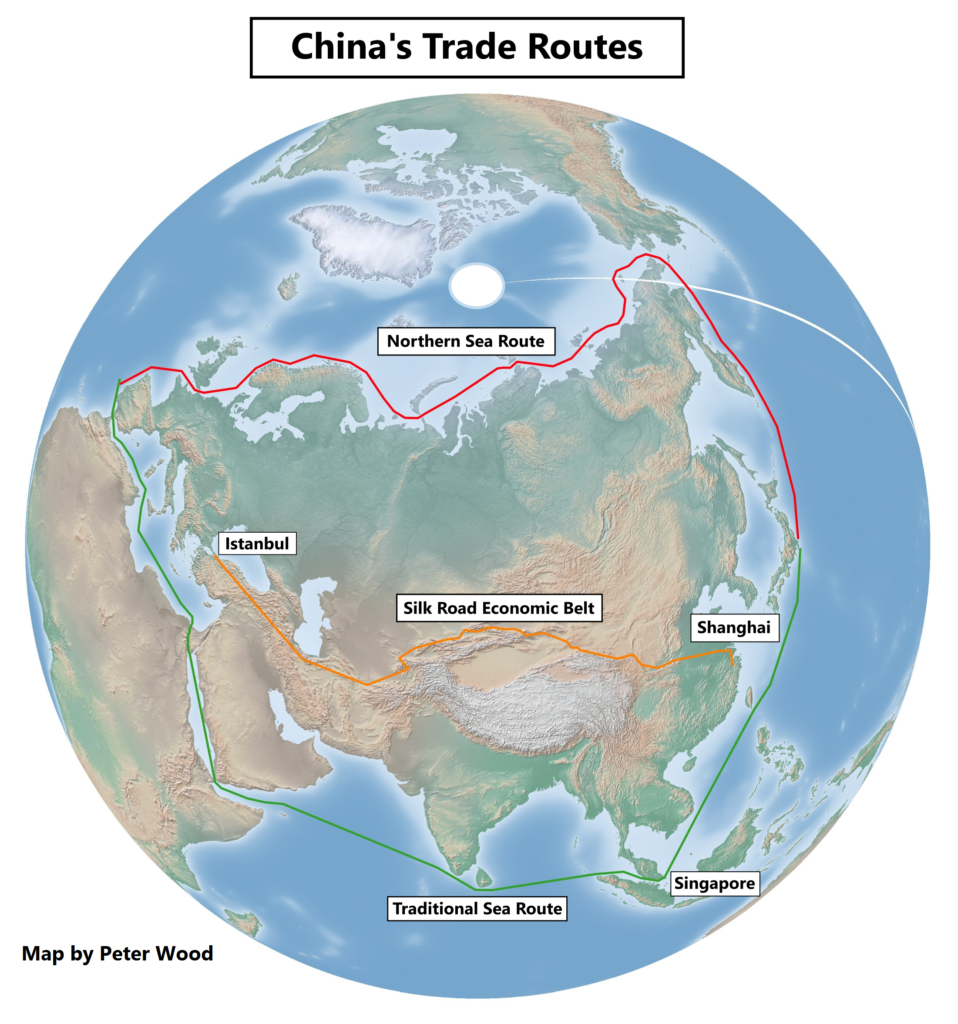 Chinese infrastructure building in the Indian Ocean region is taking place under the framework of "One Belt, One Road", (OBOR) an initiative to build up ports, pipelines, roads and railways that will link Eurasia, Africa, and the Indian Ocean more closely to China, facilitating the transport of goods and natural resources to and from the People's Republic. Chinese or Chinese-funded port building is underway or under contract in Sri Lanka, Pakistan, Myanmar, and along the East African coast. The heart of OBOR's Indian Ocean initiatives is arguably the China-Pakistan Economic Corridor, (CPEC) a $46 billion investment plan by the PRC to build port and overland infrastructure links that would give China access to the Arabian Sea just to the east of the Persian Gulf. Along with existing port-to-rail facilities in Myanmar that link the Bay of Bengal to China's southern Yunnan province, CPEC provides a major potential offset to the "Malacca Dilemma". Importantly for India, however, China's infrastructure building in the Indian Ocean is not purely for economic purposes.
China's 2015 Defense White Paper, made clear that "[T]he security of overseas interests concerning energy and resources, strategic sea lines of communications (SLOCs), as well as institutions, personnel and assets abroad, has become an imminent issue" (SCIO, May 29, 2015). The document tasks the People's Liberation Army with "safeguard[ing] the security of China's overseas interests" and tasks the PLA Navy (PLAN) with "gradually shift[ing] its focus from "offshore waters defense" to the combination of "offshore waters defense" with "open seas protection" (China Brief, June 19, 2015). The first signs of this shift in naval focus are taking place in the Indian Ocean region. While the PLAN has been participating in multi-national anti-piracy operations off the Horn of Africa since 2008, signs of a more permanent Indian Ocean presence, as well as the use of China's OBOR architecture and relationships for military purposes have emerged. In 2016, the PRC began construction on its first overseas military base, in Djibouti. In 2014, a PLAN nuclear submarine and military support ship docked in Colombo, Sri Lanka, alarming New Delhi, and in 2015, a Chinese submarine docked in Karachi, demonstrating that the long-standing China-Pakistan partnership also has value for the projection of naval power (Times of India, June 27, 2015).
Chinese island building in the South China Sea should also be viewed in an Indian Ocean context. Taken together with a new overseas military base in Djibouti, China is effectively building up military infrastructure at both ends of the Indian Ocean, on both ends of the sea-lanes which the Chinese economy has come to depend on. Additionally, military infrastructure in the South China Sea offers China protection for its major submarine base at Sanya on Hainan island. South China Sea military infrastructure also offers China an advantage in the event of any military blockade of Malacca such as that which concerned President Hu in 2003.
A pattern may therefore be emerging, of South China Sea military infrastructure as a basing point for PLAN patrolling in the Indian Ocean Region. While OBOR-related infrastructure has been used militarily, China is also expanding its Indian Ocean naval presence by proxy, supplying Pakistan with eight diesel electric submarines, and thus giving India's neighbor a transformative boost in its undersea capabilities (Tribune [Pakistan], August 31, 2016). Chinese rhetoric has likely done little to allay Indian concerns about either China's growing Indian Ocean presence or China's use of strategic relationships in the region. As Professor Shen Dingli of Fudan University stated earlier this year: "China actually has many ways to hurt India. China could send an aircraft carrier to the Gwadar port in Pakistan. China turned down Pakistan's offer to station military units in the country. If India forces China to do that, of course we can put a navy at your doorstep." Gwadar port, of course, is at the heart of the "One Belt, One Road" initiative.
China's Maritime Power and India's Growing Navy
The Indian Navy, in its 2015 maritime security strategy, shows that India's "Primary Areas of Interest" cover the entire Indian Ocean, from the Cape of Good Hope to Indonesia's Lombok Straits, including the Straits of Malacca (see map).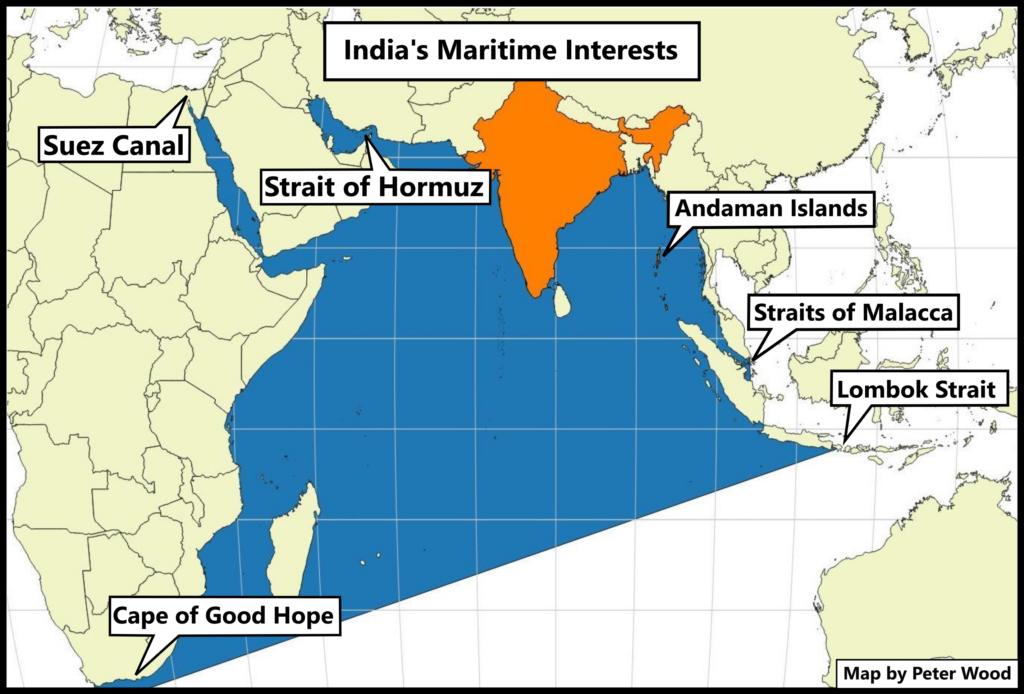 Chinese fears of Indian naval capabilities are subtle, but long-standing. While Indian analysts and planners have long had their concerns about Chinese port building in the Indian Ocean, fearing encirclement by a "string of pearls", Chinese analysis has pointed out a further complication to the "Malacca dilemma" presented by India's Andaman and Nicobar islands, just west of Malacca. One Chinese naval analyst has suggested that India could fortify these islands into a "metal chain" (铁链) that could blockade Malacca, and others have suggested that the Andamans could be used as a "strategic springboard" (战略跳板) for India's "Look East" policy, or for forward basing to reach into the South China Sea. [3] Chinese strategic concerns aside, India is engaged in a significant naval build up, aiming to have a 200 ship navy by 2027 (Economic Times [India], July 16, 2015). Moreover, the South Asian nation is actively coordinating with other major democracies that are embroiled in maritime disputes due to Chinese claims in the East and South China Seas in the West Pacific.
In 2015, the annual Malabar naval exercises between India and the United States were upgraded to include Japan as a permanent member. India and Australia also began conducting bilateral naval exercises in 2015. India and the US have established a Joint Working Group on Aircraft Carrier Technology, and India may receive advanced carrier technology from the United States, including use of the Electromagnetic Aircraft Launch System (EMALS) created for America's Gerald R. Ford class carriers, on its second indigenous aircraft carrier (The Diplomat, February 24, 2016). This year, India and the United States discussed cooperation on anti-submarine warfare, and also signed the Logistics Exchange Memorandum of Agreement (LEMOA) which allows India and the US to use each other's military facilities for supplies and repairs, all of which demonstrates that US-India defense cooperation is moving forward (Indian Express, August 31, 2016). The two nations issued a statement called "Joint Strategic Vision for Asia-Pacific and Indian Ocean Region" in 2015, which mentioned "safeguarding maritime security and ensuring freedom of navigation…especially in the South China Sea" (Whitehouse.gov, January 1, 2015). The joint vision also mentioned "support for regional economic integration" and "accelerated infrastructure connectivity", suggesting that it could be further developed as a counter-point to China's OBOR initiative.
Sensitive technology sharing, establishment of new naval partnerships, and assistance in the build-up of India's naval capacity all show an embrace of Indian aspirations as a naval power by major maritime democracies. However, India's naval presence goes beyond the U.S.-Japan-India trilateral. Indian naval outreach in Southeast Asia has also intensified. In 2015, India signed the Joint Vision Statement on Defence Cooperation with Vietnam, and this year two Indian warships, a stealth frigate and a corvette, visited Cam Ranh Bay (Indian Navy, May 30, 2016). India inaugurated naval exercises with Indonesia in 2015, and the Indian Navy has trained Vietnamese submariners at Visakhapatnam (Indian Navy, May 10, 2015; Times of India, October 28, 2014). Indian maritime security outreach in the Indian Ocean itself is also underway, with Modi's visit to the Seychelles, Mauritius and Sri Lanka in 2015, where an Indian-led initiative on maritime surveillance has begun, which is meant to establish radar stations in these Indian Ocean island nations.
Conclusions
China's geopolitical challenge is breaking out of what it sees as encirclement or containment, both by foreign militaries and by geography itself. As the country is economically dependent on global sea-borne trade, and as its interests proliferate to every continent, the importance of naval power will be paramount. Liu Huaqing, China's most influential naval strategist, envisioned a Chinese navy capable of reaching the First Island Chain by 2000 and the Second Island Chain by 2020.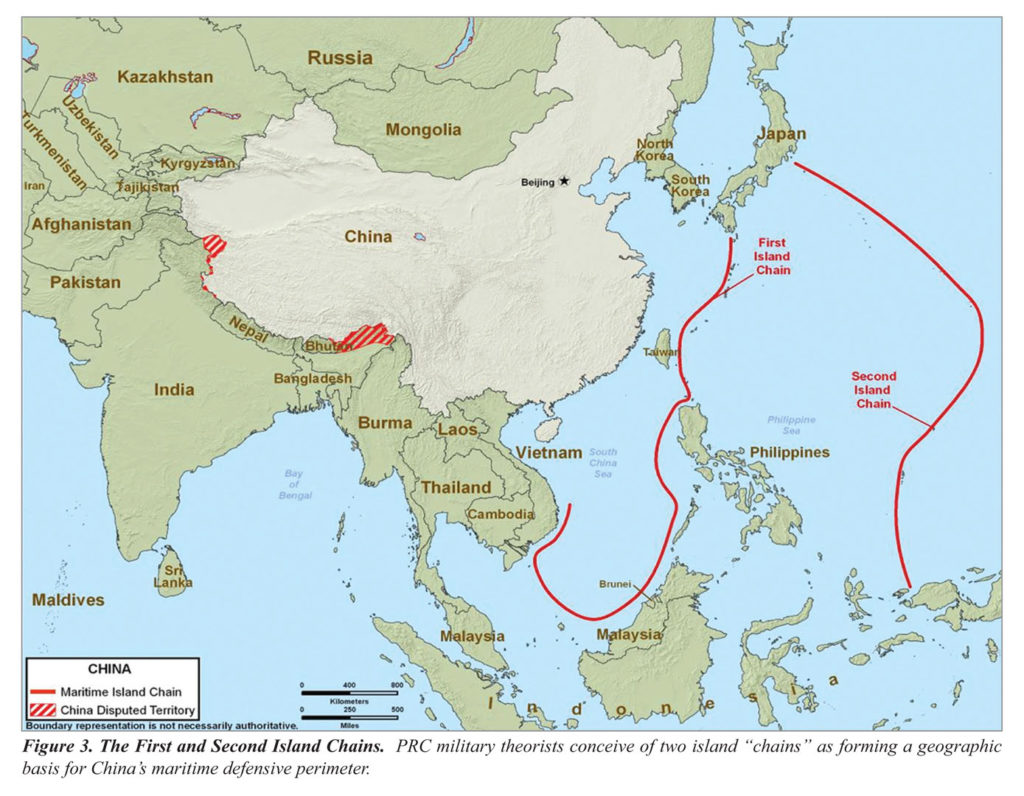 The corresponding rise of the Chinese navy and the proliferation of anti-access/area-denial capabilities that threaten the US Navy in the West Pacific continues to occupy the attention of the US defense and policy-makers. However, China's most vital economic interests may in fact lie in the Indian Ocean Region, and here, China expands its military footprint both at far greater risk geographically than it does in pursuing "near seas" operations, and also in the presence of another major power engaged in its own determined naval rise. The PRC will continue to do all it can to circumvent its confounding geographical puzzle in Malacca, including showing great interest in a future waterway—the Arctic's Northern Sea Route.  As Chinese leaders employ the full range of the nation's resources: diplomacy, financial power, engineering capabilities, and of course the building of a substantial blue-water navy and submarine fleet, China's strategic presence in the Indian Ocean will continue to grow, contributing in turn to India's own emphasis on naval power. There is little doubt that sea power in this century will be defined by the rise of the Chinese and Indian navies.
Jonathan Ward has recently completed his DPhil at the University of Oxford, specializing in China-India relations, with a dissertation on the China-India Border War of 1962. He studied Philosophy, Russian and Chinese at Columbia University in New York City as an undergraduate, and continued his language studies at Beijing University in China and St. Petersburg State University in Russia. From 2006 – 2011 he lived and traveled extensively in Russia, China, Latin America, and the Middle East, and speaks Russian, Chinese, Spanish and Arabic. He consults on China-India relations, the Indian Ocean Region, and Maritime Asia for Oxford Analytica, and is a Research Associate at Oxford's Changing Character of War Programme.
Notes
Marc Lanteigne Asian Security, China's Maritime Security and the "Malacca Dilemma", 4:2, 2008. pp.143–161.
Holmes, Winner and Yoshihara, Indian Naval Strategy in the Twenty-first Century, Routledge 2009.