Sino-Nepali Relations: Scaling New Heights
Publication: China Brief Volume: 18 Issue: 6
By: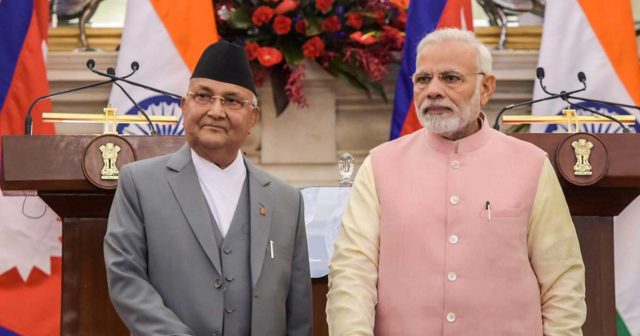 In his very first interview after taking office in February 2018, new Nepali Prime Minister Khadga Prasad Oli said his government would seek to revive a US$2.5 billion Sino-Nepali hydropower project on the Budhi Gandaki River (South China Morning Post, February 19). The project's fate has become tied with the country's rapid turnover of governing coalitions, as well as a bellwether for the struggle for supremacy between pro-PRC and pro-Indian factions in Nepali politics. In May 2017, a government led by the Communist Party of Nepal (Maoist Centre) (CPN-MC)—now a junior partner in the governing coalition led by Oli's Communist Party of Nepal (United Marxist Leninist) (CPN-UML)—awarded the contract for the 1,200 MW hydropower project to the China Gezhouba Group, to be built as part of China's Belt and Road Initiative (BRI).
In November 2017, however the contract was cancelled by a new 'pro-India' Nepali Congress government (Indian Express, November 20, 2017). Oli's proposed revival of the Budhi Gandaki project is both a setback to India, and an indication that the Sino-Indian tug-of-war for influence in Nepal continues to swing increasingly in the PRC's favor. This is much to the concern of policymakers in New Delhi, who have traditionally enjoyed a great deal of sway over their smaller neighbor.
The Elephant in the Room
India wields vast influence over landlocked Nepal. It surrounds the mountainous country on three sides and provides it with the shortest and most convenient routes to the sea. India is Nepal's largest trade partner. It accounts for two-thirds of Nepal's merchandise trade and meets all of its fuel requirements. Almost all of Nepal's trade with other countries passes through India (Ministry of External Affairs, India, November 2017). If its geography makes Nepal dependent on India, the Treaty of Peace and Friendship signed by the two countries in 1950 cements the unequal relationship. For instance, under the treaty, Nepal can only purchase military hardware from India or through India's territory, with the Indian government's "assistance and agreement." [1]
Despite this, the PRC, Nepal's neighbor to the north, has steadily chipped away at Indian influence in Nepal since the 1960s. While geography has historically limited China's role in Nepal, Beijing is now seeking to raise its traditionally low profile in Katmandu.
Nepal's Importance to China
Nepal shares a 1,236-km-long border with the PRC, dominated by the Himalayan mountain range. In the past, interaction between the two was minimal given the difficult terrain separating them. For centuries, it was with Tibet rather than successive Chinese dynasties that Nepal engaged.
Nepal took on much greater significance to the PRC in the 1950s after Beijing's annexation of Tibet made Nepal an immediate neighbor. Tibetans fleeing PRC repression took sanctuary in Nepal and India. There are around 20,000 Tibetans living in Nepal; controlling  Tibetan activism there is a priority for Beijing. To this end it seeks close ties with the Nepali government to secure its co-operation in stamping out anti-PRC activism (The Hindu, March 10, 2014).
To both India and the PRC, Nepal is a valuable buffer. India's dominating presence in Nepal irks the PRC, as it complicates the latter's control of Tibet—India is home to over 300,000 Tibetans, including the Dalai Lama and the Tibetan government-in-exile. After Sino-Indian relations deteriorated in the wake of the 1962 border war, Beijing became increasingly apprehensive that India would use Tibetan exiles living in India and Nepal to foment trouble inside the PRC.
The PRC is also interested in Nepal's vast and still largely unexploited water resources. Hydropower is among the priorities on its Nepal agenda (Times of India, April 23, 2013). Additionally, it is keen on boosting trade with Nepal, with one eye towards the "bigger opportunities" that the giant Indian market offers (The National, March 29, 2016).
Building Bridges
Recognizing that building influence in Nepal would be possible only by reducing Nepal's dependence on India for trade, since the 1960s the PRC has invested in road and railway projects to improve Sino-Nepali connectivity. For example, in 1963, China began construction of a 67-km-long highway linking Kathmandu to Kodari, on Nepal's side of the Sino-Nepal border. The PRC later built a friendship bridge linking Kodari with Khasa/Zhangmu, a trading town across the border in Tibet. [2]  Later on, Khasa was tied into the PRC's national road network after it was made the western terminus of China National Highway 318, which runs all the way to Shanghai, passing through Lhasa and Chengdu along the way.
The PRC is also developing railway lines in the region. Its Golmud-Lhasa railway line, which is being extended through Xigaze up to Gyirong on the Nepal border, is expected to be completed by 2020. The Nepali government is in talks with Beijing to extend the line to Kathmandu, Pokhara and Lumbini in Nepal. The three lines, which would be part of CCP General Secretary Xi Jinping's signature Belt and Road Initiative, are estimated to cost around $4 billion. They would boost Nepal's overland connectivity with the PRC as well as with Eurasia, which would correspondingly reduce Nepal's dependence on India for trade and transit, and its vulnerability to Indian pressure. Not surprisingly, Nepali politicians and its people view BRI with much optimism (The Wire, July 11, 2017).
Also much to India's chagrin, Sino-Nepali military co-operation is growing. Beijing has skillfully exploited India's political tensions with Nepal to supply the latter with weaponry. In 2005, India halted military supplies to Nepal in the wake of King Gyanendra's power grab (The Hindu, March 2, 2005). The PRC stepped in to provide his government with weapons, and in 2008 announced a $2.6 billion package meant to aid Nepal's military modernization. Beijing has also expanded military-to-military co-operation with Nepal; joint military exercises were held for the first time ever in April 2017, and the PRC has increased the number of seats for Nepali soldiers in its military academies. Such co-operation has enabled Beijing to build a pro-PRC constituency within the Nepali armed forces (Institute for Defense Studies and Analyses, March 31, 2017).
Indian Influence on the Wane
The cumulative effect of the PRC's efforts to build connections with Nepal has been an erosion of Indian clout in Katmandu. Although New Delhi has played a decisive role in Nepali politics in the past, it was unable to stop the CPN-UML and the CPN-MC from contesting the November 2017 general elections together under the banner of the Left Alliance. Nor could it prevent the Alliance's victory in that election or its formation of a new government (Hindustan Times, March 8). The failure was all the more painful to Delhi as the Alliance's victory was also the PRC's: Beijing is believed to have played a behind-the-scenes role in convincing the CPN-MC and the CPN-UML to cooperate (The Tribune, Jan 12).
China is also eroding India's economic dominance, overtaking India as Nepal's largest source of foreign direct investment in 2013 (Global Times, August 21, 2013). A soft Indian economic blockade of Nepal in 2015 exacerbated this, as it forced the Oli government to turn to Beijing for help. This in turn allowed the PRC to break India's long-standing monopoly over fuel supply to Nepal (China Brief, November 16, 2015), and paved the way for Beijing and Kathmandu to sign 36 agreements, including a transit trade deal under which China agreed to provide its Tianjin seaport for transit of Nepali goods imported from third countries (Himalayan Times, March 21, 2016).
India is increasingly concerned that the cumulative effect of these and other PRC policies add up to the use of economic projects to further China's strategic goals in the region. Indian analysts have pointed out that growing indebtedness to China has made many of India's neighbors vulnerable to Beijing's pressures. Unable to repay loans these countries are having to hand over control over strategic assets to China, as in the case of Sri Lanka's Hambantota Port. The concern is that this could culminate in China's military use of these assets, leading to increased Chinese military presence in India's periphery (Nikkei Asian Review, February 20). Were this to happen in Nepal, it would place Chinese forces on the far side of the Himalayan barrier, and leave the Indian heartland vulnerable to a Chinese attack. In the event of conflict, a PRC foothold in Nepal would also place at risk the Siliguri Corridor, a narrow sliver of land that links the Indian mainland to its insurgency-wracked Northeast. If China were to attempt to take control of the corridor, it could do so through Nepal.
To some extent, India has itself to blame for its difficult situation: Its 2015 blockade turned the Nepali people against it. The blockade resulted in severe shortage of fuel, food and medicines and caused enormous hardship for the Nepalis. Anger with India snowballed during the crisis (The Hindu, December 27, 2015). The Nepalis have not forgotten that experience, and see China as a benign power that comes to Nepal's help in times of crisis (Business Line, January 17, 2016). The extent of anti-India sentiment in Nepal today can be gauged from the fact that the Left Alliance campaigned on an anti-India platform last year and won a landslide victory (Spotlight, Dec 8, 2017).
While expectations in Nepal are high that its integration into the BRI will reduce the country's dependence on India for transit trade, the treacherous terrain to Nepal's north will make trade through the PRC expensive, and India still retains important geographic advantages: India's Haldia port, which Nepal currently uses is just 1,000 km away, while Tianjin is 3,000 km from Nepal. Robust road and rail links to Tianjin are still not in place and it will be several years before this transit route becomes functional. The Tianjin option may prove useful in the event of a blockade of routes through India. However, it may not be an economically viable option for Nepal or the PRC, as building infrastructure and transporting cargo across the mountains is enormously expensive  (The Hindu, March 28, 2016). And because of its position on the periphery of the BRI, Nepal may stand to gain relatively little from its involvement in the initiative.
No Easy Road Back
Despite this, the PRC's efforts to weaken India's grip in Nepal have paid off. India has only itself to blame for its loss of position. Its high-handed treatment of Nepal, especially its insensitivity to Nepali sovereignty, stoked deep resentment that bubbled over during the 2015 blockade. In contrast, the PRC has projected itself as a friend of Nepal, one that is mindful of Nepal's status as a sovereign country and interested in its economic development.
But there may be limits to how far Nepal is willing to take realignment. While Nepali Prime Minister Oli is keen to explore ways to build leverage in his dealings with India (South China Morning Post, February 19), in his recent interview he said his government does not "want to depend on one country or have one option." This could indicate a willingness to turn to third countries such as Japan or Singapore. In any event, the Sino-Indian contest for influence inside of Nepal remains far from over.
Dr. Sudha Ramachandran is an independent researcher and journalist based in Bengaluru, India. She has written extensively on South Asian peace and conflict, political and security issues for The Diplomat, Asia Times and Geopolitics. She is a Fellow at the Takshashila Institution in Bengaluru
Notes
[1] "Treaty Of Peace And Friendship Between The Government Of India And The Government Of Nepal," July 31, 1950. Indian Ministry of External Affairs (MEA). https://mea.gov.in/bilateral-documents.htm?dtl/6295/Treaty+of+Peace+and+Friendship.
[2] Sangeeta Thapliyal, "Nepal's Trans-Himalayan Linkages with China", Scholar Warrior (New Delhi: Centre for Land Warfare Studies), Spring 2017' available at https://www.claws.in/images/journals_doc/945177134_06_chap.pdf