Social Unrest in Kazakhstan Turns Violent, Ends Nazarbayev Era
Publication: Eurasia Daily Monitor Volume: 19 Issue: 3
By: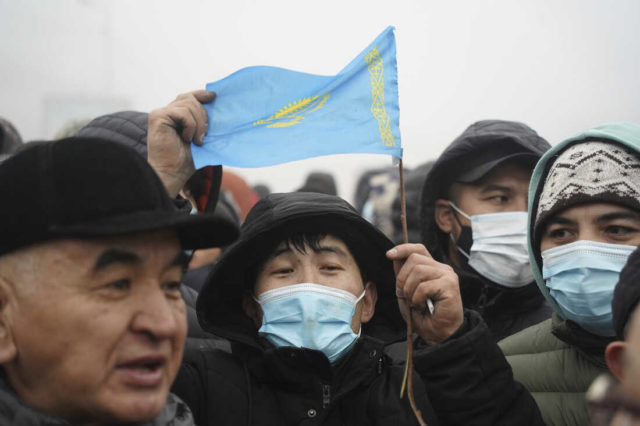 The inaugural week of the new year ushered in a period of unprecedented instability for Kazakhstan, Central Asia's largest economy. The country has long been considered an island of stability in a chronically unstable region where, for instance, neighboring Kyrgyzstan went through three revolutions since 2005. The turbulence in Kazakhstan began on January 2, when peaceful protests broke out in Zhanaozen, the cradle of the 2011 protest wave that ended in bloodshed on Independence Day (December 16); within days, the latest turmoil spread to other cities of western Kazakhstan. Popular anger was sparked by an overnight doubling of the price of liquefied petroleum gas (LPG), from 60 to 120 tenge ($0.14 to $0.28) per liter, in line with the government's plan to fully liberalize the LPG market that went into effect on the first day of 2022. Unlike other regions of the country, western Kazakhstan is a major market for LPG, which is widely used for both domestic heating and private transportation (Tengrinews.kz, Kapital.kz, Informburo.kz, RIA Novosti, January 2–4, 2022).
A government commission dispatched to the region by President Kassym-Zhomart Tokayev offered a new subsidized price of only 50 tenge ($0.11) per liter to the protesters, in the hope that, upon hearing the news, people would go home. Contrary to those expectations, the demonstrations progressively grew more violent, resulting in clashes with law enforcement. Meanwhile, protesters began to put forward additional demands, including of a political nature, such as the resignation of the government, the dissolution of parliament, and direct elections of regional governors, who are currently all appointed by the president. A growing number of voices also began calling for the complete withdrawal of former president Nursultan Nazarbayev from Kazakhstani politics, using the well-worn slogan "Shal, ket!" ("Old man, out!" in Kazakh). Since leaving the presidency in 2019, Nazarbayev had retained significant personal prerogatives in his capacity as chairperson of the ruling Nur Otan party and lifelong chair of the Kazakhstani Security Council (Vlast.kz, Sputnik.kz, Inform.kz, Tengrinews.kz, January 2–5, 2022).
President Tokayev ended up dismissing the government headed by a Nazarbayev loyalist, Prime Minister Askar Mamin, whom he had repeatedly tried and invariably failed to sack for nearly three years (Mamin was appointed head of the government by Nazarbayev in February 2019, a month before Tokayev's accession to the presidency as Nazarbayev's constitutional successor). What ensued will remain a subject of heated debates as well as speculation for many years to come. Rather than dying down, the protests escalated and started proliferating in practically all parts of the country. Clashes with police became particularly violent in the former capital of Almaty, where, over the next few days, thousands of men—armed first with rubber sticks and shields confiscated from the riot police and later with firearms—burned down the imposing headquarters of the city government and the former presidential residence. Moreover, rioters seriously damaged and looted thousands of administrative buildings and private businesses (Tengrinews.kz, Zakon.kz, Gazeta.ru, Inbusiness.kz, January 2–5, 2022).
On January 5, President Tokayev made a brief televised address saying that he was going to act with determination against "bandits" and "terrorists." Crucially for himself and the entire country, he announced that from that moment on he would be chairing the Security Council, effectively sidelining Nazarbayev. The latter had kept silent from the beginning of the protests; Nazarbayev only emerged from isolation on January 18, when he delivered with a five-minute video address to the nation. Also on January 5, Tokayev appealed to the Collective Security Treaty Organization (CSTO) to intervene. Comprised of only six members (Kazakhstan, Russia, Armenia, Belarus, Kyrgyzstan and Tajikistan; Azerbaijan, Uzbekistan and Georgia withdrew from the treaty in 1999, while Uzbekistan rejoined but withdrew for a second time in 2012), the Moscow-dominated CSTO can be called in to respond to external aggression or a credible threat thereof among any of its members. Perhaps to legally justify his request for help, Tokayev claimed that Almaty alone had come under attack from over 20,000 well-trained radicals coordinated from a single center located abroad (Akorda.kz, RBC, Kommersant, Vedomosti, January 5, 2022).
On January 6, Kazakhstan's president dismissed the long-time head of the National Security Committee (KNB) and Nazarbayev confidant, Karim Massimov, who had previously served twice as prime minister and as chief of staff to then-president Nazarbayev. It subsequently emerged that two of Massimov's deputies had also been arrested on suspicions of high treason. Tokayev and his advisors have openly indicated that Kazakhstan's security services leadership could have been directly implicated in the Almaty unrest, with later official reports suggesting they may have been plotting to overthrow the Tokayev administration by destabilizing Almaty and other large cities. In particular, senior KNB officials had allegedly not shown up at work on January 5, thus enabling protesters to seize a large quantity of firearms from the local KNB office. Massimov's first deputy and, incidentally, a nephew of Nursultan Nazarbayev, Samat Abish, was initially reported arrested, but the KNB promptly disavowed the allegation (Tengrinews.kz, Informburo.kz, Orda.kz, Gov.kz, January 6, 2022).
The security situation in Kazakhstan largely stabilized by January 11, when Tokayev addressed parliament via video-link. In his speech, the Kazakhstani president introduced the candidacy of deputy prime minister and finance minister Alikhan Smailov for head of government (it was unanimously approved), and he announced a raft of emergency measures to normalize the socio-economic situation. The latter included price regulation for all major types of fuel, including LPG, and a freeze on utility tariffs, both valid for six months. As an early indication of a break with his predecessor and mentor, Tokayev made a rather sarcastic remark about a multitude of wealthy Kazakhstanis who had grown rich, "sometimes rich even by international standards," under Nazarbayev and whom he expected to return to the country. For that purpose, his administration has established a new fund, called Kazakhstan Halkyna ("For the People of Kazakhstan" in Kazakh), which will receive private donations and use them to fund domestic socio-economic projects (Vlast.kz, RIA Novosti, Tengrinews.kz, Nur.kz, Kapital.kz, January 10–11).
Despite consolidating power in his own hands as a consequence of the January crisis, President Tokayev faces a number of significant challenges. Among them, on the political front are: how fast and how deeply to reform the political system inherited from Nazarbayev; how to deal with the Nazarbayev family and the significant assets they hold at home and abroad, whether directly or through a web of cronies, etc. On the economic front are questions of: how to restore trust in government, which reforms to prioritize, how to revitalize the provinces, and so on. Though quiet was restored to the streets, much hard work remains ahead for the Kazakhstani authorities.