South Lebanon's Shiites Clash with French Peacekeepers – A Hezbollah Strategy?
Publication: Terrorism Monitor Volume: 8 Issue: 29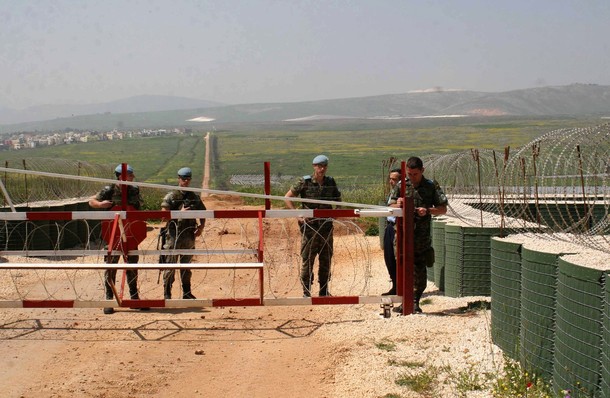 A series of clashes in southern Lebanon between peacekeeping troops of the United Nations Interim Force in Lebanon (UNIFIL) and local residents have raised concerns that hostilities may escalate along the Israeli-Lebanese border. Tensions have been running high in the Levant since Israel accused Syria in April of providing Hezbollah with Scud missiles (see Terrorism Monitor, April 23). The Lebanese army reportedly plans to send between 3,000 and 5,000 more soldiers to southern Lebanon to maintain the calm (The Daily Star [Beirut], July 9). France, a major contributor to UNIFIL, has also called for an emergency UN Security Council meeting in order to reaffirm both UNIFIL's freedom of movement and Security Council Resolution 1701, which set the conditions for ending the 2006 war between Israel and Hezbollah.
The most recent exchange between UNIFIL soldiers and residents of southern Lebanon occurred last week when civilians – outraged after UNIFIL arrested a local youth – attacked two vehicles belonging to the French contingent near the village of Kabrikha (Press TV [Tehran], July 4). The patrol was attacked a second time in the village of Tuline. Locals reportedly punctured the vehicles' tires, smashed the windows and attempted to seize mounted weapons, despite warning shots being fired by the soldiers. UNIFIL reinforcements and Lebanese Armed Forces (LAF) subsequently intervened, recovering stolen weapons and restoring peace (Jerusalem Post, July 3). The incident came several days after another UNIFIL patrol was attacked during a "maximum deployment exercise" (Ya Libnan, July 7).
The events prompted a string of meetings last week between high-level Lebanese officials (including Prime Minister Saad Hariri), various top Lebanese army officers, UNIFIL commanders, and UN Special Envoy to Lebanon Michael Williams. UNIFIL Force Commander Major-General Alberto Asarta Cuevas met with Israeli military officials as well as local villagers.
Local residents maintain the attacks against UNIFIL occurred because the peacekeeping unit's French contingent has become increasingly "provocative" and "suspicious" over the past three months by conducting intrusive village searches and taking culturally insensitive photographs (Reuters, July 9).
A likelier scenario, however, is that Hezbollah orchestrated the backlash, a belief shared by some security sources (al-Jazeera, July 4; An-Nahar [Beirut], July 8; The National [Abu Dhabi], July 8). The group enjoys wide support in southern Lebanon, and reports that some protests were "clearly organized" suggest Hezbollah had a hand in mobilizing the people (al-Jazeera, July 4).
Both Hezbollah and local villagers deny such allegations, but some analysts believe the group is concerned about recent UNIFIL exercises. According to an unnamed Hezbollah military commander, French troops entered several villages around Kabrikha in June to photograph and investigate possible Hezbollah military outposts (The National, July 8). Specifically, Hezbollah accuses the peacekeepers of seeking to "modify the rules of engagement" by conducting such missions without the accompaniment of the Lebanese army – a violation of Resolution 1701 (Dar Al Hayat [Beirut], July 8).
More critical, however, is Hezbollah's suspicion that some UNIFIL troops are carrying out espionage activities for Israel. According to Elias Hanna, a retired Lebanese army general, Israel has been spying on Hezbollah at the "micro-level" since the 2006 war (al-Jazeera, July 4). Israeli defense officials on July 7 provided surveillance photos purportedly showing Hezbollah weapons deposits in the village of Khiam and published maps showing arms stockpiles in 160 other villages in southern Lebanon (Haaretz [Tel Aviv], July 8). The Israeli government stated its intention to destroy these villages if war breaks out (Asharq al-Awsat, July 14).
Hezbollah said that Israel's release of these photos and the recent clashes between UNIFIL and locals are connected and part of an "international move" against the group (Press TV, July 10). Israel maintains that Hezbollah is actively deterring UNIFIL from entering villages where weapons are hidden. A Hezbollah arms cache blew up last year in a home in the village of Hirbeit Sleim, where residents have also held recent protests against the UNIFIL patrols (Jerusalem Post, July 10).
Hezbollah's international relations chief indicated that the recent events were blown out of proportion and UN envoy Williams stated that there was no crisis of trust between UNIFIL and Hezbollah (Lebanese News Agency, July 11; al-Akhbar [Beirut], July 13). Furthermore, Hezbollah's political coalition faction, Loyalty to the Resistance Bloc, also maintained its support for UNIFIL (The National, July 8).
Regardless, there is still considerable cause for concern, as Lebanon again risks being manipulated as a theater for the rivalry of regional interests. It is possible that Iran, in an attempt to punish countries such as France for recent international sanctions, has encouraged Hezbollah to pressure UNIFIL. Similarly, Syria, in its pursuit of legitimization as a regional power, has an interest in being asked by the international community to mediate such a crisis.
Another issue is that Resolution 1701 requires the disarmament of Hezbollah. Israel has openly criticized UNIFIL for not doing enough to combat the flow of weapons to the group, whereas the UN insists that this is the responsibility of the LAF. Hezbollah, however, will not jeopardize its ability to stockpile weapons close to the border in the event of another war with Israel. At the same time, Israel will not continue to accept Hezbollah's arms build-up. If UNIFIL's ability to move freely continues to be compromised by Hezbollah, or if Israel believes the peacekeepers continue to fall short on issues related to its national security, there is potential for another war along the border.