SOUTH OSSETIA JOINT CONTROL COMMISSION INGLORIOUSLY MOTHBALLED
Publication: Eurasia Daily Monitor Volume: 5 Issue: 44
By: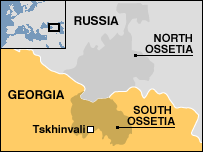 Georgia has taken the long-overdue step to send the Joint Control Commission (JCC) for South Ossetia into retirement. The JCC's single purpose and relevance was as a tool for freezing the Russia-Georgia conflict in South Ossetia. In this aspect alone the JCC had proven its effectiveness from its inception in 1992 to the present.
The newly appointed state minister for reintegration issues, Temuri Iakobashvili, notified Russia's Ministry of Foreign Affairs about Tbilisi's proposals regarding the JCC on February 29 and made those proposals public on March 5-6 when Russia's special envoy for the JCC, Ambassador Yuri Popov, held consultations in Tbilisi and with the Tskhinvali secessionist authorities.
In Tbilisi, Popov was only received as a representative of Russia's MFA on South Ossetia issues, but no longer in a JCC-related capacity. Georgia is withdrawing from JCC meetings and some other activities of that body — excepting, apparently, those related to economic rehabilitation — pending the JCC's reformation.
The JCC is vitiated by its lopsided composition, quadripartite in name only: the Georgian government, South Ossetian secessionist authorities in Tskhinvali, Russia's North Ossetia, and Russia itself in the driver's seat politically and deploying "peacekeeping" troops on the ground. The "3+1" membership was designed from the outset to isolate Georgia, leaving it face to face with three incarnations of Russia, in the absence of international involvement. "This is incorrect and we can not continue working in such a format," Iakobashvili remarked. The JCC "has not brought us any closer to a settlement" and "we will no longer participate in those useless JCC meetings" (24 Saati, March 4; Civil Georgia, March 5).
The OSCE's Georgia Mission (itself subject to Russia's veto power within the OSCE) attends JCC meetings in a role akin to an observer's. This can not substitute for a real international involvement.
Tbilisi proposes changing the JCC's 3+1 format to a 2+2+2 format that would include: the Georgian government, Russia, the European Union, OSCE, the Tskhinvali authorities, and the Tbilisi-backed South Ossetian alternative authorities (headed since 2006 by Dmitry Sanakoyev). Georgia sees the EU and OSCE as members with full rights, not mere observers, in the new body (Civil Georgia, The Messenger, March 4-6).
The proposed changes would, first, put an end to Russia's triple representation, a grotesque feature of the quadripartite JCC all along. Beyond this, the proposed 2+2+2 format would reflect the changes that have occurred on the ground in South Ossetia after 2004 and whose momentum is accelerating. Such changes include: Georgia's European integration policy; the EU's development of a neighborhood policy, with a growing role in post-conflict stabilization and reconstruction; and the emergence and successful performance of Tbilisi-backed authorities in South Ossetia, creating a duality of power there. Meanwhile the EU has become an important donor of rehabilitation funds to South Ossetia.
One core argument for replacing the JCC with a different structure is that the JCC never worked as ostensibly intended — namely, to promote demilitarization of the area and resolution of the conflict. In those terms the JCC was stillborn from the outset. Vladimir Sanakoyev, head of Tbilisi-backed South Ossetia's People for Peace movement, phrases that policy judgment in terms of local wisdom: "If a tree has not borne fruit for 15 years, it is time to make a graft onto it or else to cut it down" (Kommersant, March 5).
For their part, Tskhinvali authorities insist that the existing JCC format and "peacekeeping" operation are "legitimate" and "effective." Tskhinvali rejects the proposed changes to the JCC and refuses to talk with the Sanakoyev authorities, fearing an open political competition with them.
Moscow controls the Tskhinvali authorities through its own delegates behind the figurehead leader Eduard Kokoiti. Lifting a curtain corner on those delegates, Kokoiti on March 1 met with "South Ossetian" military and security staff (mainly Russian and North Ossetian officers) to introduce the new "South Ossetian defense minister," Vasily Lunev, and award a medal to the outgoing one, Andrei Laptev. On March 2, "South Ossetian prime minister" Yuri Morozov predicted that Russia would ultimately "receive South Ossetia as a constituent part" (South Ossetian Press and Information Committee, March 1, 2).
Russia will undoubtedly encourage Tskhinvali authorities to resist the reformation or support Russian counterproposals for some purely cosmetic changes. Moscow is stonewalling for now. Popov warns that any attempt to include the Sanakoyev authorities in the format would trigger the Tskhinvali authorities' withdrawal from it. Furthermore, Moscow insists that the existing JCC format possesses "international legitimacy" and has not exhausted its potential. Such arguments, however, will not work for Moscow after a decade and a half of pre-programmed deadlock in the JCC. Its founding documents and subsequent ones do not stipulate a procedure for its terminating the JCC or withdrawing from the founding agreement. Unwilling to recognize that this situation leaves Georgia free to determine its steps, Popov wants Georgia to negotiate with Russia about any further step (Interfax, Kavkas-Press, March 5, 6).
A relic of another era, the JCC was established by the 1992 Dagomys agreement [also referred to as Sochi agreement], signed under duress by Georgia's then-state council chairman Eduard Shevardnadze with Russia's then-president Boris Yeltsin. Essentially a ceasefire monitoring agreement, that document has a de facto character, lacking validity in international law. The Dagomys agreement created a Russian quasi-monopoly on "peacekeeping" and set the stage for possible negotiations toward a political settlement in the three-against-one format that isolated Georgia from its international partners. Throughout the intervening years, the JCC met variously in Tbilisi, Tskhinvali, Moscow, and Vladikavkaz (North Ossetia) only to perpetuate the deadlock in Moscow's favor. JCC meetings became less frequent year after year, with only one full meeting during 2007.
The JCC remained all along a ceasefire-supervising body, although failing to promote the declared goal of demilitarization and tolerating rampant organized crime until Tbilisi suppressed such crime in the Sanakoyev-controlled territory. Given the JCC's heavily biased composition, Georgia resisted Russian proposals to endow the JCC with political functions in addition to its ceasefire-supervising role. Thus, the JCC never became a forum for negotiations toward a political settlement of the conflict.
Moscow will undoubtedly claim that Georgia's proposals to internationalize the JCC are incompatible with improving Russia-Georgia relations. By Moscow's logic, Georgia should accept limitations on its sovereignty and constraints on its relations with Western partners as a precondition to "improving" relations with Russia. This argument for Western consumption is designed to shift the onus onto Georgia. However, the much heavier onus is on Moscow to lift its trade embargos, transport blockades, and visa restrictions in order to normalize relations with Georgia.