Spanish Court Issues Arrest Warrants Against Russian Officials Accused of Organized Crime Links
Publication: Eurasia Daily Monitor Volume: 13 Issue: 92
By: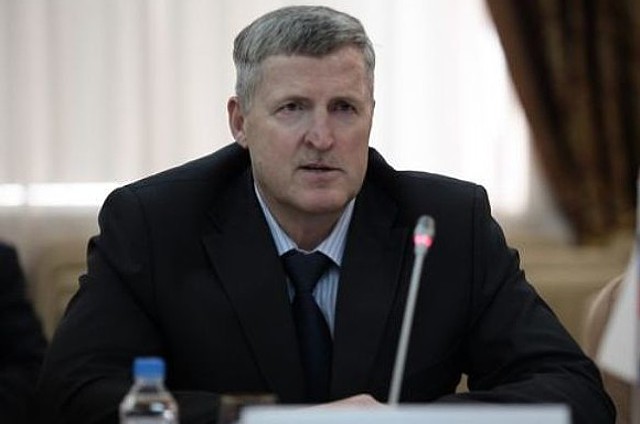 Reports on May 3 revealed that the Spanish National High Court's Central Investigative Court Number Five issued a series of international arrest warrants against 12 Russian citizens, including some figures considered close to President Vladimir Putin's inner circle, among them Nikolay Aulov, the deputy chief of Russia's Federal Drug Control Service. The court case, presided over by Justice José De La Mata, follows Spain's 2008 Operation "Troika," which had targeted the "Tambovskaya" and "Malyshevskaya" Russian mafia clans (Elmundo.es, May 3).
The alleged head of the Tambovskaya mafia clan, Gennadios Petrov, was arrested by the Spanish Civil Guard, in 2008, in Calvià (Majorca, Balearic Islands), following an investigation utilizing extensive phone taps over the course of 2007–2008. Some of the intercepted conversations were between Petrov and Aulov. Others featured Petrov and Igor Sobolevski, a former top official in Russia's Office of the Attorney General, considered "one of the most wanted" by the Spanish judiciary. This prompted investigators to conclude that both Aulov and Sobolevski had been corrupted and were at the service of Petrov's organization (Diariodemallorca.es, May 6, 2011). According to Justice De La Mata, Sobolevsky informed Petrov "about security forces actions against organized crime" (Elmundo.es, May 3).
In his January 22 court decree, De La Mata alleges that Aulov has a "tight relationship" with Petrov, securing for him and his entourage "licenses and concessions" from "Russia's highest administrative instances" in exchange for money or favors (Larazon.es, May 3). Petrov obtained certain jobs for Aulov, according to the court decree, using his "relations with his country's political spheres" (Actuali.cat, May 4).
In 2011, Petrov's defense attorney asked the court to interrogate both Aulov and Sobolevski, and the petition was accepted on appeal on May 4, 2011, despite opposition from the public prosecutor's office. The National High Court considered the interrogations "fundamental for the right to defense of the accused" and sent Russian authorities a request for international judicial assistance with an attached questionnaire (Diariodemallorca.es, May 6, 2011).
But Moscow rejected the request, and on October 19, 2015, Spain's Anti-Corruption and Organized Crime Division of the Office of the Attorney General put forward a 250-page document detailing its charges. This document contained an extensive list of Russian former and current public officials accused of being part of Petrov's network (Abc.es, October 20, 2015). In June 2015, public prosecutors delivered to the court a 452-page report arguing that this network "keeps strong links with Russia's economic, political, judicial and police power in Russia, as well as with members of international organized crime for the achievement of joint projects," adding that "[Petrov's network] achieved a clear penetration of his country's state structures." According to the Prosecutors' Office, the 27 accused, together with other people that had not been located, constitute a "criminal community" settled in Spain from 1996. From their base in the country they "have been controlling the criminal activities of their respective groups, which they lead in their countries of origin," committing crimes including "murder, arms trafficking, extortion, fraud, influence peddling, [and] drug trafficking," with the resulting "huge financial returns […] channeled to Spain." Prosecutors consider the Tambovskaya and Malyhevskaya mafias to be tightly connected, "with a clear division of tasks," whose "core criminal" activities in Spain consist of "introduction of capital and indiscriminate subversion of corporate and business law" involving "tax evasion." The main leaders, according to the Prosecutors' Office, are Petrov, Alexander Malyshev, Sergei Kouzmine, and Vitali Izgilov (tried and found guilty in Spain, and expelled from the country), each having "his own sphere" and lieutenants, but all acting with "full coordination" (Abc.es, June 2, 2015).
Petrov was arrested in Majorca, where his mafia network reportedly laundered 50 million euros ($57 million). But the geographical scope of its activities was much wider. For example, the mayor of Lloret de Mar, in Catalonia's Costa Brava, was found guilty, in November 2015, of corruption and of having been bribed by Petrov, who was also sentenced, in connection with a real estate project in the town. The then-mayor, Xavier Crespo, received, among other "gifts," a watch and a free trip to Moscow (Diariodemallorca.es, June 4, 2015; Vilaweb.cat, November 6, 2015).
Police Colonel General Nikolay Aulov was appointed deputy director of the Federal Drug Control Service of the Russian Federation in June 2008, while remaining the chief executive of the Operational-Investigative Department. The Federal Drug Control Service reacted harshly to reports of the recent Spanish arrest warrant, labeling it "surprisingly unprofessional" given that the decision had been taken "on the basis of telephone conversations" without the "proper phonoscopic examination." Aulov's agency further argued that the arrest warrant "is not legal, but political—the next step in the implementation of a political order to discredit officials of the Russian Federation" (Interfax via LNR News, accessed May 11).
On March 14, 2016, United Russia lawmaker Vladislav Reznik's attorney, Alexandr Gofshtein, said that he had appealed against the international arrest warrant targeting his client and his wife, who are accused of money laundering in this case. Gofshtein claimed that the case was "clearly political" and based on "fabrications" and "manipulations," complaining about the lack of any evidence against Reznik and the "astronomical" 133-million-euro ($151 million) bail. He also asserted that, based on WikiLeaks revelations, Spanish anti-corruption Public Prosecutor José Grinda González "agreed his procedural decisions with US authorities, with the goal of discrediting, at all costs, Russian authorities and some of the country's representatives." The Duma also defended Reznik, who is deputy chair of its financial markets committee, with Deputy Speaker and United Russia Secretary General Serguei Neverov stating: "I believe this situation […] like the doping scandals and other groundless accusations against Russian high officials, to be nothing else than a renewed attempt by Western governments to tarnish our country" (Lavanguardia.com, March 14).
Russian-Spanish relations have been reasonably good over the last few years, with Madrid regularly providing key logistical support for the Russian Navy at its African exclave of Ceuta, near Gibraltar, despite growing tensions between the North Atlantic Treaty Organization (NATO) and Moscow caused by the Ukraine war (see EDM, September 3, 2015). When, in November 2013, Spanish judges issued an arrest warrant against some Chinese leaders in a human rights case, this prompted Spain's government to push forward new legislation seriously restricting the judicial branch's territorial jurisdiction (Elperiodico.com, November 16, 2015). It remains to be seen whether Moscow will successfully apply similar pressure on Madrid in this case—perhaps using the Spanish corporations Talgo, Iberdrola, and Repsol, which remain active in Russia, as bargaining chips.