Sri Lankan Suicide Bombings: Islamic State's Deadly Input
Publication: Terrorism Monitor Volume: 17 Issue: 9
By: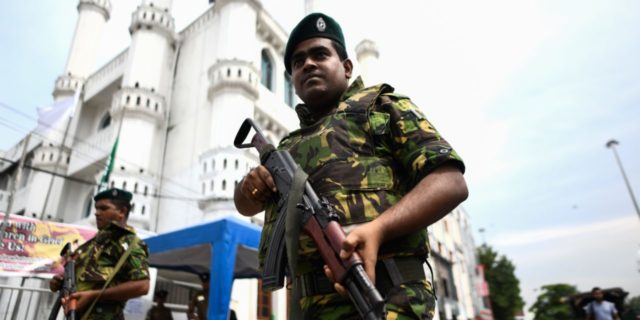 On April 21, multiple suicide attacks on churches and high-end hotels in Sri Lanka killed 253 people, including 40 foreigners, and injured at least 500 others (Sunday Times, April 28). The suicide bombings, which are among the deadliest terrorist attacks in the world since the September 11 attacks in the United States, have drawn attention to the Islamic State (IS) group's links with local radicals in the island.
A day after the attacks, the Sri Lankan government spokesman said that a little-known local Islamist group, the National Thowheeth Jama'ath (NTJ), had carried out the suicide bombings. But the NTJ was not acting alone, he said, adding that the government would investigate whether the group had "international support" (Ceylon Today, April 22).
The Easter Sunday suicide bombings were complex and displayed a high-level of co-ordination. They required resources and expertise beyond the capability of the NTJ, an outfit that until recently was known for its inflammatory rhetoric and vandalism of Buddhist statues rather than serial suicide bombings (New Indian Express, April 22). Ongoing investigations indicate that IS supported local Islamist radicals in the attacks. While the NTJ and another little-known Sri Lanka-based Islamist group, Jammiyathul Millathu Ibrahim (JMI) "provided the manpower, the Islamic State's input included ideological inspiration, expertise in bomb-making, and perhaps even resources," a senior Sri Lankan police official told Terrorism Monitor. [1]
Islamic State Claims Responsibility
IS claimed responsibility for the attacks two days later. In a statement published by its official news agency, Amaq, it said the attackers are "fighters from the Islamic State" (Sunday Times, April 23). A video was also circulated showing eight people, purportedly the Sri Lankan suicide bombers pledging allegiance to IS leader Abu Bakr al-Baghdadi. All but one of the bombers has their face covered. The unmasked individual has been identified as Zahran Hashim, the leader of the NTJ, who carried out the attack on the Shangri-La hotel in Colombo (The Hindu, April 25). IS has since identified three more people who blew themselves up during a police raid a week later in Ampara in eastern Sri Lanka (Daily Mirror, April 28).
Subsequently, IS clarified the motivation behind the serial attacks. In a propaganda video released on August 29, al-Baghdadi can be heard describing the attacks in Sri Lanka as "vengeance" for its fighters, who were killed defending Baghouz in Syria (Daily Mirror, April 30). 
Rising Radicalism
The Sri Lankan suicide bombings came just weeks after the fall of Baghouz. Having lost all its territory, IS was perhaps keen to signal that it remains a potent group. Sri Lanka was a suitable target in this regard. Since the end of the civil war in 2009, Colombo had lowered its guard against terrorist attacks. Further, many Westerners come to the island as tourists, and Sri Lanka has a sizeable Christian population. These factors provided the bombers with soft targets. Importantly, Islamic radicalism was growing in the island, providing IS with foot-soldiers to carry out the attacks.
As in other parts of the world, Muslims in Sri Lanka have been caught in the vortex of radicalism. Wahhabism, a conservative strain of Islam practiced in Saudi Arabia and traditionally alien to South Asian Muslims, has been making inroads into the Sri Lankan Muslim community in recent decades (Himal Southasian, April 26). The Saudis have provided scores of Sri Lankan Muslims with scholarships to study in Saudi universities. These students returned home to preach Wahhabi-Salafist teachings, enabling it to take root in the island (Colombo Telegraph, March 27, 2013).
Post-9/11, radical Sri Lankan Muslims became more assertive and more willing to use violence. However, their targets were not the island's Buddhists, Hindus, or Christians, but Sufis and moderates within the Muslim community (Himal Southasian, April 26). The homes and shrines of Sufis were attacked and Muslims engaging in "un-Islamic activity" such as gambling or drinking threatened (Colombo Telegraph, March 27, 2013). It was from this pool of radicals that Hashim and several others, who were drawn towards jihadist ideology, emerged. [2] Hashim is reported to have spent "substantial" time in south India. Among his Facebook followers were IS sympathizers who were planning to assassinate political and religious leaders in India (The Hindu, April 26).
Inroads
Radical Muslims from Sri Lanka were not drawn to al-Qaeda. Indeed, according to Ajai Sahni, Executive Director of the New Delhi-based Institute for Conflict Management, "there is no confirmed report of any Sri Lankan joining the al-Qaeda." "The al-Qaeda failed to make inroads in South Asian countries (except for Pakistan and Afghanistan)," he said, and "Sri Lanka was no exception." [3]
However, IS was able to draw South Asians into its fold. A section of Sri Lankan Muslim youth was inspired by its ideology and achievements. Domestic developments in the island could have pushed Sri Lankan Muslim radicals to jihadism in recent years. Since 2011, Muslims have been attacked violently by Sinhalese-Buddhist extremists. While this violence may not have prompted the recent suicide bombings—if it had been the underlying trigger the bombers would have targeted Buddhist shrines, not churches—it could be a factor in Sri Lankan Muslims being more receptive to IS since 2014 than al-Qaeda in the previous decade. Indeed, the NTJ emerged in 2014, the same year that IS gained global prominence.
Joining the Jihad
Social media appears to have played a major role in Sri Lankan Muslims being drawn to volunteer as fighters. A Facebook group "Seylan Muslims in Shaam" (Sri Lankan Muslims in the Levant) urged Sri Lankans to join the jihad. In 2014, when al-Baghdadi called on Muslims to immigrate to the "caliphate," several Sri Lankans heeded his call. Among them was Mohamed Muhsin Sharfaz Nilam (a.k.a. Abu Shurayh al-Silani), who left the island in January 2015, along with his family of six children, his pregnant wife, and parents, to join the fighting in Syria. His "martyrdom" in a U.S.-led coalition airstrike in Raqqa in July that year was announced by another Sri Lankan jihadist and subsequently by Dabiq, IS' online magazine (Terrorism Monitor, December 2, 2015).
In 2016, Sri Lanka's Defense Secretary Karunasena Hettiarachchi said that 36 Muslims had gone to Syria to join the Islamic State (Daily News, January 5, 2016). They came from four families that are well-connected and respected, Sri Lanka's Minister of Justice, Wijeyadasa Rajapakshe, told parliament (Colombo Telegraph, November 19, 2016). Several scores more joined them thereafter. While many may have died in the fighting there, others would have returned to the island when IS started losing territory. They would have "inspired, indoctrinated and trained others to become jihadists". [4]
Investigations into the recent suicide bombings have determined that two of the suspects "are Islamic State returnees from Syria and Iraq." While "their exact role in planning and executing the suicide bombings remains unclear, Sri Lankan intelligence has established that the two men were Islamic State-trained." [5]
The intelligence wings of the Sri Lankan security forces have also found that Nizam, the first leader of JMI and a barrister in England, went to Syria in 2012 and was trained by IS. He subsequently returned home to Sri Lanka and took around 45 people to Syria for training. After training in Syria, these men "are believed to have returned to the island." JMI is "now reported to have 139 members" who "have been trained in making bombs. "Six of the suicide bombers" who carried out the recent attacks "were members of this organization." [6]
Conclusion
The Easter Sunday bombings in Sri Lanka were possible because IS collaborated with local Islamic radicals of the NTJ and JMI.  The latter two were able to transform themselves from rhetoric-spewing groups engaging in vandalism to deadly suicide bombers thanks to the expertise, resources and training provided by IS. While it was IS that enabled local Sri Lankan radicals to make the deadly transition, the process of transmission has not been a one-way street. As the example of Hashim shows, his incendiary rhetoric and other expertise could have inspired IS supporters in India and elsewhere.
Notes
[1] Author's interview with a senior Colombo-based Sri Lankan police official, April 28.
[2] Ibid.
[3] Author's Interview with Ajai Sahni, counterterrorism expert and executive director of the New Delhi-based Institute for Conflict Management (April 29).
[4] Author's interview with a senior Colombo-based Sri Lankan police official, April 28.
[5] Author's Interview with Ajai Sahni, counterterrorism expert and executive director of the New Delhi-based Institute for Conflict Management (April 29).
[6] Ibid.