Down But Not Out: al-Qaeda and the Algerian Protest Movement
Publication: Terrorism Monitor Volume: 17 Issue: 9
By: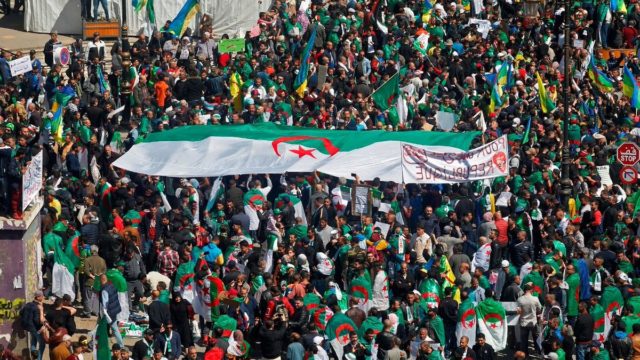 When President Abdelaziz Bouteflika's decision to run for a fifth term as president sparked large-scale countrywide demonstrations, al-Qaeda in the Islamic Maghreb (AQIM) saw an opportunity to exploit the sudden political instability (Le Point, February 25). The group expressed its support for the demonstrations in a statement by Abu Ubaydah Yusuf al-Anabi, a leading AQIM figure, labeled "Algeria and the Exit From the Dark Tunnel" on March 9 (Jihadology, March 10).
He said that the "decisive uprising has pleased (us)" and criticized the country's socio-economic conditions while calling for the implementation of strict Sharia (Islamic law). This was followed by another show of support by al-Anabi on April 4 on Telegram following Bouteflika's resignation. An analysis of closed source intelligence indicates that on April 12, al-Qaeda's central media group al-Sahab released a statement offering support for the ongoing "struggle" of protesters in the Middle East, with specific references made to Algeria (Jihadology, April 19).
AQIM's attempt to manipulate the movement was a failure. Algerian military forces have significantly degraded the group's capabilities over recent years. The country was subject to a vicious civil war between 1991 and 2002 that was triggered by the election of an Islamist party. The military rejected these results and forced parliament to dissolve, sparking a prolonged period of brutal violence. A multitude of Algerian Islamists who sought to topple the government in the civil war eventually pledged allegiance to al-Qaeda. They formally joined the group in 2007 before changing its name to AQIM.
However, a spate of large-scale bombings, as well as a large-scale assault on the In Amenas gas facility, triggered a brutal military crackdown. This included targeting the group's leadership, such as Abu Rouaha al-Qassantini, one of the group's key propagandists (Middle East Eye, February 1, 2018). Concerted military operations have, to date, significantly depleted the group's operational capabilities.
AQIM's Algeria Defeat
The group is largely confined to mountainous areas in the northeast, in regions bordering Tunisia, and to limited cells operating in the country's far south. It has limited access to the manpower and resources utilized by Jama'at Nasr al-Islam wal Muslimin (JNIM), which comprises large amounts of former AQIM members. JNIM has sowed insecurity by carrying out acts of violence against local communities and United Nations peacekeeping forces (Asharq Al-Awsat, February 10). Despite being significantly weakened in Algeria, the country is still an attractive target for AQIM; it is the largest country in Africa and is the group's birthplace.
Algeria's stability and high-profile gas industry also make it an attractive prospect, as a successful attack would have a higher profile than attacks in countries such as Chad, Mali, or Niger. AQIM was not able to carry out a single suicide bombing against an urban center in 2018; the first year without a suicide bombing in over 20 years (Middle East Monitor, January 11). This has largely been due to a significant bolstering of Algeria's counterterrorism capabilities, aided by advanced technology funded by European and American partners who have a vested interest in ensuring Algerian stability. This is to avoid further refugee influxes into southern Europe and to ensure Algeria's LNG industry remains unaffected.
In addition to high tech night-vision capabilities and unmanned aerial vehicles (UAVs), the Algerian army has a plethora of advanced Russian arms and now has at least one U.S.-manufactured AN/TPS-78 long-range air surveillance radar in its arsenal, which can detect different targets in challenging environmental conditions (Defence Blog, February 6; see EDM, September 5, 2018). The country's borders have been largely secured; the attack against the In Amenas Tigantourine gas facility in eastern Algeria in 2013 served as a wakeup call that militants were crossing borders with relative freedom.
Conclusion
Commonalities exist between Algeria and other regional countries. Islamist militants capitalized on a power vacuum in Libya and now carry out attacks against hard infrastructure on a monthly basis. Islamist groups in Egypt gained greater operational freedom when the country was engulfed in political crises from 2011-2013. Even Tunisia, which is the only so-called "Arab Spring" success story, has had to tackle an embedded militant presence in its border areas (see TM, March 1).
The Algerian military will remain powerful in Bouteflika's absence and will not want to cede power to a democratically-elected government. Despite a significant decrease in its capabilities, AQIM is biding its time in the background in anticipation of being able to capitalize on the collapse of political stability. Even though elections are set for July, there is no clear sign that protests will abate or that polls will be free and fair.
Whoever takes control in Algeria will have to deal with a struggling economy, the sustained threat of militancy in Tunisia and Libya's border areas, and an increase in propaganda efforts aimed at disaffected youths. While AQIM has not yet shown the capability to infiltrate this protest movement, the group and their affiliates have shown their ability in the past to capitalize on power vacuums, meaning that the Algeria protest movement is not out of the woods yet.