Briefs
Publication: Terrorism Monitor Volume: 17 Issue: 9
By: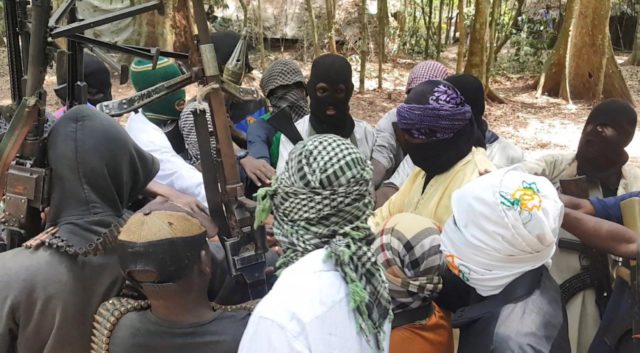 Islamic State Claims Signal Resilience and Shifting Strategy
Brian M. Perkins
Over the past several weeks, Islamic State (IS) has firmly demonstrated that it has entered the next phase of its global insurgency. The collapse of Baghouz, the last piece of the group's caliphate to fall, has prompted a scattershot of developments and attacks across the world as the group looks to solidify its prominence, and find other fertile ground as IS fighters return to their home countries. On April 18, IS claimed responsibility for an attack in the Democratic Republic of Congo (DRC), the first under the banner of Islamic State Central Africa Province (Twitter.com/SimNasr, April 18). On April 21, Easter Sunday, suicide bombers conducted a series of attacks on churches and hotels in Sri Lanka, killing at least 253 people (Sunday Times, April 28). On April 29, IS claimed responsibility for a bombing that reportedly injured three police officers, its first claimed attack in Dhaka since 2017 (Daily Star, April 30). These widespread developments point to a threat that is equally as deadly but now more diffuse.
Even when IS still controlled territory in Iraq and Syria, the group was slowly preparing for this phase, urging fighters to join its other wilayat (provinces) rather than traveling to Syria—a sign of the group's self-awareness about its inevitable defeat there. In establishing many of these wilayat, the group focused on countries with longstanding insurgencies where it could either coopt well-established terrorist groups or draw dissidents away from those groups to form its new cadre. The new phase, however, is likely to also see IS activity cropping up or expanding through smaller groups in countries where both local and international security forces are less present and effective.
While developments in the DRC and Bangladesh are seemingly insignificant in comparison to the attacks in Sri Lanka, the timing and similarities between them demonstrate the group's shifting strategy to bolster activities in areas outside its traditional sphere and areas it has not been active recently. In the DRC, its claim suggests it has aligned with factions of the Allied Democratic Forces, a decades-old rebel group that has drawn little Western attention and that operates in an area that would be permissive to the growth of a local IS branch, providing material resources, recruits, and safe havens. In Bangladesh, its claim signals its resilience and presence despite a harsh government crackdown on militant groups since 2016. Although the culprits were likely members of a local militant group, such as the Neo-JMB, it is a reminder of its influence and its potential for facilitating further attacks. It is also in line with the implicit goal of expanding in South Asia. In Sri Lanka, it proved it could inspire, advise, train, and organize a little-known jihadist group with no significant operational credentials to facilitate one of the most complex and deadly terrorist attacks since 9/11.
Moving forward, IS is likely to use its core commanders and external operations wing to empower little known groups that largely operate under the radar to conduct spectacular, unexpected attacks on soft targets. The locations the group will focus on with this strategy are likely to be those in which there is not a large enough pool of recruits or are too geographically isolated to elevate them to the status of their own wilayat under a more unified command. This strategy would allow IS to avoid the scrutiny that comes with formally announcing its presence or accepting pledges of allegiance, instead operating underground and facilitating attacks conducted by smaller local groups. Spectacular and seemingly spontaneous attacks such as the one in Sri Lanka typically lead to an immediate tightening of security and a convergence of both local and international intelligence efforts, which is not conducive to the growth of a new IS group, particularly in comparison to the countries where IS has established a formal wilayat.  Using this strategy, IS can preserve its core, expand its influence to orchestrate attacks, and cut bait rather than expending the effort and resources to foster a full-fledged wilayat.  Meanwhile, the group will continue to detach itself from its former base in Syria while promoting and expanding its more developed wilayat in Africa and Afghanistan, all of which are environments more conducive to expansion and locations where large-scale attacks do not grab the same attention as places not beset by violence and longstanding insurgencies.
***
Somalia: Despite Internal Struggles, al-Shabaab Remains Potent
Brian M. Perkins
Al-Shabaab is facing a tumultuous time within its ranks but the group's activities over the past month demonstrate that, even when fractured, it remains a potent force in Somalia and Kenya. Over the past several months al-Shabaab has experienced a series of deaths and defections among its leadership. Most notably, al-Shabaab's director of operations in Kenya, Ahmad Imam Ali, was killed during a March 22 airstrike in Middle Juba's Bu'aale town (Daily Nation, April 8; see MLM, May 1). Meanwhile, the group has seen a number of defections to the Kenyan and Somali governments as well as to the local branch of Islamic State (IS). The fierce rivalry with IS has been building over the past year, and al-Shabaab leaders have grown increasingly paranoid about IS defectors and spies within its ranks and has subsequently executed a notable number of its fighters as well as civilians operating near its bases.
The United States has also ramped up its efforts to combat al-Shabaab over the past year, with the number of airstrikes escalating significantly. U.S. President Donald Trump also signed an executive order on April 10 extending the national emergency regarding Somalia for another year to allow a small group of U.S. Special Operations forces to continue training an elite unit of the Somali National Army (WhiteHouse.gov, April 10).
Despite the internal divisions and jockeying to replace lost leaders, al-Shabaab has still managed to conduct dozens of noteworthy attacks across Somalia and Kenya over the past month and was also reportedly plotting an attack in the capital of Ethiopia, Addis Ababa (New Business Ethiopia, April 14).  The group has conducted two separate attacks on Ugandan forces in Lower Shabelle—the first on April 27 in Amareeso and the second on April 29 in Barawe. On April 28, the group claimed responsibility for a bombing that targeted a Kenyan military convoy in the Daba Siti area of Mandera, its first claimed operation in Kenya in two months (Mareeg, April 28). Additionally, al-Shabaab is reportedly responsible for kidnapping two Cuban doctors and killing their police escort in Mandera County on April 12 (The Star, April 13).
Al-Shabaab is facing increased pressure from local and international forces, competition from IS, and increased factionalization, but the breadth of its operations over the past several months indicate that it remains highly capable of conducting attacks on soft and hard targets within and outside of Somalia. It is unclear if and when the leadership struggles and fracturing ranks will start to weigh on the group, but for now, it appears that it is still capable of operating, even if it is doing so through rival factions that are no longer as closely coordinated. The internal struggles the group is facing, however, do provide an opening that local and international forces should seek to further exploit by encouraging further defections and isolating its leaders.