Sri Lanka's Balancing Act Between China and India
Publication: China Brief Volume: 21 Issue: 23
By: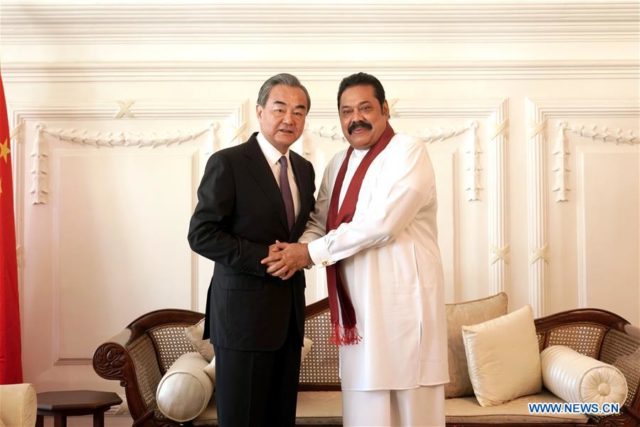 Introduction
The tiny island nation of Sri Lanka has sought to navigate complex bilateral relationships between the two nearby great powers, China and India. India enjoys both geographic convergence with Sri Lanka, which is in its immediate Indian Ocean periphery, as well as historical, linguistic and cultural connections. New Delhi views the region as within its traditional sphere of influence, while Beijing has highlighted the naval expeditions of the Ming Dynasty Admiral Zheng He to the Indian Ocean in the early fifteenth century to legitimize its growing presence west of the Malacca Strait [1]. The growing geopolitical centrality of the Indo-Pacific region, which is increasingly defined by the intensifying security dilemma between China and India, contributes to complex triangular relations among China, India and Sri Lanka.
Sandwiched politically between India and China, the government in Colombo has sought to maximize its national interests, while the opposition political parties have espoused popular resentment toward the ruling party's alleged compromise of national sovereignty to foreign powers. In its outreach to Sri Lanka, China has derided external interference in Sri Lanka's domestic affairs by an outside power—an allusion to India's alleged past influence. India engages with the government of Sri Lanka, but also vicariously watches the opposition parties' criticism of the ruling regime for its proximity to China.
The Legacy of Internecine Civil War and India-Sri Lanka estrangement
Among the Tamil populace of Sri Lanka, a seamless ethnic connection remains with India's littoral state of Tamil Nadu, which is separated from the island by the Palk Strait. In the internecine civil war between the Singhalese and the Sri Lankan Tamils, India initially supported various militant Tamil groups (The Hindu, April 21, 2016). In 1987, India and Sri Lanka signed an accord providing the deployment of the Indian Peace Keeping Force (IPKF) under then-Indian Prime Minister Rajiv Gandhi of the Congress Party. The deployment was a strategic and military disaster, as the Sri Lankan government and the Liberation Tigers of Tamil Elam (LTTE) turned against India. In 1990, the IPKF had to leave Sri Lanka, leading to the estrangement of relations between the two countries. In 1991, the LTTE assassinated then-PM Gandhi during his re-election campaign in Tamil Nadu (Hindustan Times, August 1, 2014). India welcomed the military defeat of the LTTE in 2009 but criticized the large number of civilian casualties in the war's final phase [2].
China's Strategic Footprint in Sri Lanka
China has maintained positive relations with Sri Lanka since the two nations established bilateral relations in 1957, but Beijing has also used these ties to balance India in South Asia and in the Indian Ocean. Beijing reinforced its strategic footprints in Sri Lanka during and after the Sri Lankan Civil War when India-Sri Lanka relations were at their lowest point (The Hindu, July 20, 2016).
Sri Lanka's decision to lease out the Hambantota Port to China Merchants Port Holdings Company Limited, a Chinese state-owned enterprise, is a matter of anxiety for India [3]. Ever since the concept of a Chinese "string of pearls" gained currency in the early 2000s, Indian strategic analysts and observers have been concerned that China's support for the construction of Hambantota port will strengthen its position in the Indian Ocean (The Wire (India), July 30, 2017). The harbor is an engineering marvel; and analysts view it as a symbol of the growing nexus between the two countries. China lent $360 million for the first phase of the project and total Chinese involvement is estimated to cost over $1 billion for  four phases of construction to take place over 15 years (The Diplomat, January 1, 2020).
The Hambantota project, which includes oil and gas terminals, berths and port facilities, has dual use potential like Gwadar port in Pakistan. The Hambantota port which is deeper than the one at Colombo, is used as a refueling and docking station for the  Sri Lankan Navy (Xinhua, June 29, 2018). Although China and Sri Lanka claim that the Hambantota port is merely a commercial venture, its future utility as a strategic asset for China is clear. Prior to China's control, the port failed financially despite "tens of thousands of ships passing by along one of the world's busiest shipping lanes, the port drew only 34 ships in 2012" (The New York Times, June 25, 2018). This failure, combined with heavy pressure from Beijing, forced the Sri Lankan government to hand over control of the port to China, which was finalized through a 99-year lease (The Hindu, December 2017). The deal has contributed to mounting concern over Colombo's outstanding debts to China for several large-scale infrastructural projects.
China has also enhanced its maritime footprint in Sri Lankan waters as part of President Xi Jinping's Belt and Road Initiative (BRI). The Colombo Port City (CPC), which is another important element of these efforts, was built by the China Harbor Engineering Company (CHEC) on approximately 665 acres of land that were reclaimed from the sea (The Financial Express, June 2).
An even more worrisome development for India is China's submarine deployments in to the Indian Ocean, specifically in Sri Lanka's territorial waters. In October 2014, Sri Lanka allowed a Chinese submarine and a warship to dock at Colombo Port, despite Indian concerns (The Times of India, November 4, 2014). The submarine Changzheng-2 and warship Chang Xing Dao arrived at the Colombo port seven weeks after another Chinese submarine on a long range deployment patrol had called at the same port prior to Xi's visit to the Maldives, Sri Lanka and India in September 2014 (India TV, November 3, 2014). In May 2017, however, Colombo refused permission for a Chinese submarine to make a port call shortly after Indian PM Narendra Modi's visit to Sri Lanka, indicating the impact of New Delhi's robust foreign policy engagement with Colombo (South China Morning Post, May 12, 2017).
The growing strategic nexus between Sri Lanka and China was reiterated during Chinese Foreign Minister Wang Yi's visit to the island nation in January 2020. In an oblique reference to India, Wang pledged not to allow "any outside influences" to interfere with Sri Lanka's internal matters. He stated, "as Sri Lanka's strategic partner China will continue to stand by Sri Lanka's interests. China stands by the country's sovereignty, territorial integrity and independence. We will not allow any outside influences to interfere with matters that are essentially internal concerns of Sri Lanka" (The Hindu, January 14, 2020).
The increasing penetration of Chinese influence in Sri Lanka is also a matter of concern to Sri Lanka's Tamil diaspora. A Central agency of India referred to a conclave of the Sri Lankan Tamil diaspora held in London, stating "the delegates felt that India had not taken seriously to safeguard the interests of the Sri Lankan Tamils and even lost its influence over the island nation. The conclave was convinced that the fate of the Sri Lankans would be in jeopardy if the Chinese established their presence in northern Sri Lanka" (The Hindu, October 11).
Sri Lanka's Calibrated Response to Mitigate India's Concerns  
Despite China's growing influence and presence in Sri Lanka, Colombo has been recalibrating its foreign policy postures in deference to India's sensitivities. The Sri Lankan government is now trying to balance the two Asian giants and has offered a slice of the integrated port projects to India. The Colombo Port presently has five terminals—South Asia Gateway Terminal (SAGT), Jaya International Terminal (JCT), Colombo International Container Terminal (CICT) in which China Merchants Port Holdings Company holds 85 percent stake, Unity Container Terminal (UCT) and the East Container Terminal (ECT). In 2019, Sri Lanka signed a memorandum of understanding with Japan and India to jointly develop the ECT. However, in February 2021, Sri Lanka, due to domestic resistance, canceled the offer, and instead offered the proposed West Container Terminal (WCT) to India (The Hindu, April 15). An agreement to develop and operate the WCT for 35 years was signed by India's Adani Group in October (The Hindu, October 2).
India's Proactive Outreach to Sri Lanka to Counter China
Ever since Modi came to power in May 2014, New Delhi has reached out to Colombo in a proactive manner as part of its "neighborhood first policy" (Hindustan Times, March 13). Modi invited Sri Lankan PM Mahinda Rajapaksa, along with other leaders from the South Asian Association for Regional Cooperation (SAARC), to his swearing in ceremony in May 2014 (The Hindu, May 23, 2014). During his first term as PM, he visited Sri Lanka twice, first in March 2015 and again in May 2017. In his first visit, Modi announced a fresh Line of Credit of up to $318 million to develop the railway sector in Sri Lanka as well as a currency swap between the Reserve Bank of India and the Central Bank of Sri Lanka to help keep the Sri Lankan rupee stable (India Ministry of External Affairs, March 2015). Modi also met Rajapaksa on the side-lines of the 69th UN General Assembly session in New York in September 2014 (The Hindu, April 20, 2016), and later at the 18th SAARC Summit in Kathmandu on November 26, 2014 (The Economic Times, November 26, 2014). He invited then-Sri Lankan President Maithripala Sirisena, along with the other Bay of Bengal Initiative for Multi-Sectoral Technical and Economic Cooperation (BIMSTEC) leaders, for his second swearing in ceremony in May 2019. The results were evident when Sri Lankan President Gotabaya Rajapaksa chose India, and not China, as his first port of call after his electoral victory in November 2019 (Times of India, November 29, 2019).
In a thoughtful show of soft power that boosted India-Sri Lanka relations, Modi warmly received a Sri Lankan delegation of Buddhist monks during the inauguration of the Kushinagar International Airport, which received its first direct flight from Sri Lanka on October 20 (The Times of India, October 20). Kushinagar is a major pilgrimage site that attracts a large number of Buddhist pilgrims including from Sri Lanka every year. It is believed that Gautama Buddha attained Mahaparinirvana (salvation after death) in Kushinagar after his death (The Hindu, July 8, 2013).
In a clever and swift diplomatic move in early November, India transported 100 kilograms of nano nitrogen to Sri Lanka (High Commission of India, November 4). The deployment was essential to support Sri Lanka's organic farming initiatives and to expedite availability of nano nitrogen fertilizer to local farmers. The delivery was timely, as it came in the middle of a row between China and Sri Lanka over the supply of contaminated fertilizer by Chinese companies and China's blacklisting of a Sri Lankan bank for credit default. A Chinese firm has demanded $8 million from Sri Lanka for "negligence" in testing its fertilizer sample, escalating tensions since Sri Lanka rejected the contaminated consignment from the Chinese firm (The Hindu, November 8).
Conclusion
Discernible differences exist in the way India engages with Sri Lanka. While China engages in capital intensive projects that it has the requisite resources to undertake, India's engagement in Sri Lanka is based on humanitarian and developmental needs, people-to-people ties and the welfare of ordinary people. Through his proactive engagement with Sri Lanka, including thoughtful use of Buddhism as an effective tool of soft power, Modi has made up for lost ground in India-Sri Lanka relations. While China has been like a big brother to Sri Lanka, India projects itself like an elder brother in its engagement with Sri Lanka.
Rup Narayan Das is a Delhi based China scholar and currently a senior fellow of Indian Council of Social Science Research (ICSSR) at Indian Institute of Public Administration, New Delhi. Earlier he was a senior fellow at Manohar Parrikar Institute of Defence Studies and Analyses, New Delhi from June 2010 to August 2014. His book "Hong Kong Conundrum: Pangs of Transition", is being published by Knowledge World, New Delhi
Notes
[1] Vijay Gokhale, The Long Game: How the Chinese Negotiate with India,, Vintage, 2021, p x
[2] Christian Wagner, "India's Bilateral Security Relationship in South Asia," Strategic Analysis, March 2018, 42:1, 15-28.
[3] Abhijit Singh, "Sino-Indian Dynamics in Littoral Asia – The View from New Delhi," Strategic Analysis, June 2019, 43:3, 199-213.