Steppe Eagle- 2015 Exercise Unites CSTO and NATO forces in Kazakhstan
Publication: Eurasia Daily Monitor Volume: 12 Issue: 68
By: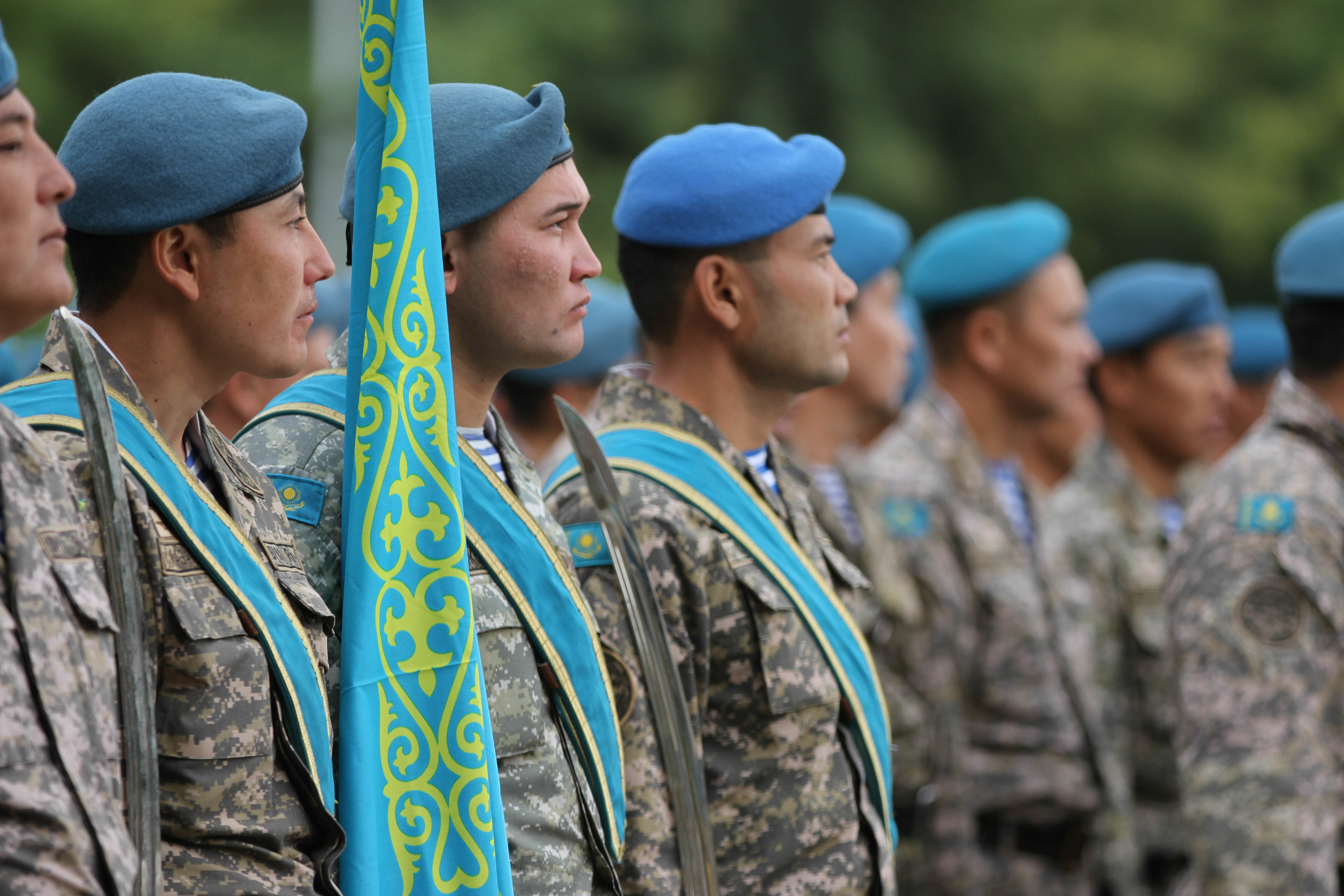 On April 6, the military exercise Steppe Eagle–2015 officially began with an opening ceremony at Kazakhstan's Ilisky Training Area. Kazakhstan's Airmobile Forces commander General-Major Daulet Ospanov remarked, "The experience gained by our soldiers is very valuable." While the United States' defense attaché to Kazakhstan, Colonel Andrew Berrier added, "All partners in Steppe Eagle share a unifying vision of contributing to peace and stability around the world, and to ease the suffering of those less fortunate. It is this common commitment to UN [United Nations] principles that sets Steppe Eagle apart as a unique venue for cooperation" (Army.mil, April 8).
The Steppe Eagle exercises have been conducted since 2003 and host more than 1,500 troops as well as international military observers, representatives of the North Atlantic Treaty Organization (NATO) and diplomatic corps members accredited in Kazakhstan. Since 2006, Steppe Eagle exercises have been conducted under NATO's Partnership for Peace (PfP) program (Nato.int, February 22, 2013).
Steppe Eagle–2015 will be held in two stages, in April and June. During the first phase, which will run from April 6 to 17, British military personnel will conduct tactical exercises with Kazakhstan's peacekeeping Airmobile Forces Battalion (KAZBAT) to improve its ability assist global peacekeeping operations while increasing its international compatibility. The second phase of the exercise will be held June 15–26. Besides Kazakhstani, US and British troops, soldiers from Kyrgyzstan, Turkey and Tajikistan are also participating (Vestnik Kavkaza, April 3). Last year's Steppe Eagle–2014 exercise, held in Germany, involved fewer than 200 Kazakhstani troops from KAZBAT, along with troops from Tajikistan, Kyrgyzstan, the United States, the United Kingdom and Germany.
For Kazakhstan, the main purpose of Steppe Eagle–2015 is to improve the practical skills of the officers and personnel of both the Kazakhstani Peacekeeping Brigade (KAZBRIG) and its subsidiary KAZBAT battalion to participate in UN peacekeeping operations, as well as to improve combat coordination among international contingents involved in peacekeeping operations (KazInform, April 2).
The Steppe Eagle exercises provide a military parallel to Kazakhstan's oft proclaimed "multi-vector" foreign policy. While the Steppe Eagle–2015 exercises involve troops from NATO members the UK, the US and Turkey, they also include troops from the Collective Security Treaty Organization (CSTO) and the Shanghai Cooperation Organization (SCO), of which Kazakhstan is also a member. Together, they participate in collective military exercises.
Following the first Steppe Eagle exercise, the Kazakhstani government dispatched a small contingent of KAZBAT military engineers to Iraq in 2003, to assist in finding and neutralizing unexploded ordinances, constructing fresh water facilities, and providing medical treatment for the local population. This Kazakhstani unit was deployed there for five years before being withdrawn in 2008 (Tengrinews, July 24). Building on KAZBAT's Iraqi experience, the battalion was expanded, in December 2006, to brigade strength and renamed the KAZBRIG, though the first KAZBAT battalion remains Kazakhstan's core peacekeeping unit. Upgrading KAZBRIG's other two constituent battalions has taken more time than expected.
Since the 1991 implosion of the Soviet Union, in an effort to modernize and professionalize its post-Soviet military, Kazakhstan's government has consistently pursued military training, weaponry, and assistance not only from Russia, but also China, NATO and other foreign suppliers. Furthermore, the Kazakhstani armed forces have been more closely integrating defensive policies, such as air defense and counter-terrorism, with the Russian military.
Kazakhstan's military modernization efforts since the late 1990s have been underwritten by the country's surging energy revenues. The Central Asian republic's military reformers, with NATO assistance, have stressed qualitative rather than quantitative improvements in order to focus on creating more professional officer and soldier cadres, with improved training and better quality equipment. NATO-backed programs have emphasized upgrading Kazakhstan's peacekeeping capabilities, Caspian maritime defenses, and improved interoperability with the Alliance. (Nato.int, March 17, 2014).
International participation in the Steppe Eagle exercises has mushroomed since 2003, when only Kazakhstani, British and US troops participated (Voenno Promyshlennyi Kuryer, March 10). A decade later, troops from the United Kingdom, France, Germany, Italy, Kazakhstan, Kyrgyzstan, Lithuania, Tajikistan, Ukraine, the United States and Switzerland took part in Steppe Eagle–2012 (see EDM, September 11, 2012). In spite of its close military ties with Russia, Kazakhstan is endeavoring to become the first country in Central Asia to achieve NATO interoperability; and Steppe Eagle–2015 confirms that Kazakhstan's national security community wants to retain defense collaboration with Western countries.
Yet, it remains unclear—given the worsening relations between (fellow CSTO and SCO member) Russia and the West over Ukraine, and with NATO intensifying its defensive actions around Russia's perimeter—whether Moscow will pressure Astana over its annual PfP exercise, turning the multi-national Steppe Eagle maneuvers into a liability rather than an asset for the Kazakhstani government. Despite the proximity of this year's exercise involving three NATO member states in a neighboring CSTO and SCO member state, Russia desires to retain its close relationship with Kazakhstan. This fact, combined with the relatively small sizes of foreign forces participating in Steppe Eagle–2015, is probably why there is no mention of the Steppe Eagle–2015 exercise on the web sites of the president of Russia, the Russian Ministry of Foreign Affairs or the Russian Ministry of Defense, including its daily newspaper, Krasnaya Zvezda (Kremlin.ru, Mid.ru, Mil.ru, Redstar.ru, accessed April 12). That said, while Kazakhstan has skillfully used its peacekeeping efforts and annual Steppe Eagle drills to burnish a positive image for Kazakhstan's armed forces abroad, such actions undoubtedly remain a tough sell in Russia. Considering Kazakhstan's close military relations with Russia, not to mention its economic links embodied in the Eurasian Economic Union, if Russia's clash with the West continues, it possible that future Steppe Eagle exercises could become a casualty of that confrontation.