Strategic Implications of Russia and Ukraine's Naval Clash on November 25
Publication: Eurasia Daily Monitor Volume: 15 Issue: 167
By: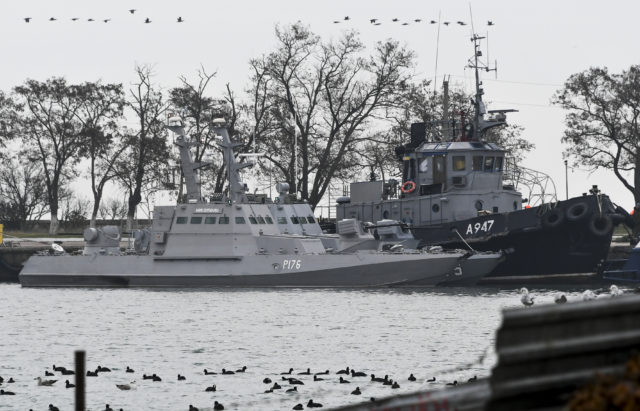 Russian Coast Guard assets rammed a Ukrainian naval tugboat, on November 25, and then opened fire on it and two accompanying Gurza-class gunboats, which were sailing from Odesa to Mariupol (see EDM, Blackseanews.net, November 26). Subsequently, Russian personnel forcibly boarded the vessels, resulting in injuries to six Ukrainian sailors. The damaged Ukrainian naval ships were seized by the Russians and directed to the port of Kerch, in occupied Crimea. The Ukrainian crews remain in Russian custody (5.ua, November 26). The Russian side fired upon the Ukrainian ships in Black Sea international waters, off the southeastern coast of Crimea (Pravda.com.ua, November 28).
The National Security and Defense Council of Ukraine qualified this naval clash as an act of military aggression and made the decision to implement Martial Law across the country (Rnbo.gov.ua, November 26). It was approved, albeit in more limited form, by the Verkhovna Rada (national parliament) of Ukraine on November 26. Martial Law will enter into force for a period of 30 days in ten Ukrainian oblasts: five that border on Russian territory, two adjacent to Moldova's breakaway region of Transnistria (which hosts a Russian military presence), and three oblasts along the Black Sea and Sea of Azov coasts (Interfax, November 27).
Earlier this fall, the European Parliament passed a resolution on the situation in the Sea of Azov, warning against this sea's ongoing militarization by Moscow and its transformation into an "internal Russian lake" (Segodnya.ua, October 25). The Russian authorities have tried to convince the international community that Moscow does not plan to increase its military might in the Azov Sea and that Russia is behaving predictably and in accordance with international law (Ntv.ru, November 15). But in reality, Russia has been ignoring all political pressure. Reportedly, Moscow deployed about 40 combat ships and boats to the Sea of Azov between April and June 2018 alone (Censor.net, June 27). And according to the commander of the Ukrainian naval forces, Admiral Ihor Voronchenko, the number of Russian vessels there increased to 120 warships and smaller boats as of October (Pravda.com.ua, October 30). Russia's seven newest built patrol ships, equipped with artillery weapons and on-deck helicopters, were redeployed to the Sea of Azov from the North and the Baltic Fleets in early November (Blackseanews.net, November 18).
Thanks to the enormous Russian military buildup in the Azov Sea over the past year, which has included naval and coast guard assets, special forces, and strike aviation, Moscow has substantially limited the freedom of navigation in the Kerch Strait and the Sea of Azov since this past May (Pravda.com.ua, August 2). Furthermore, Russia has achieved power domination in this sea, including the creation of a so-called anti-access and area denial (A2/AD) "bubble." Authorities in Moscow have unequivocally admitted to such Russian capabilities in this area (Espreso.tv, Novembers 16). The disproportionate use of weapons by Russian forces against the Ukrainian naval grouping this past weekend demonstrated Moscow's readiness to implement tough military scenarios to limit Ukraine's freedom of navigation, military and non-military, within the Russian A2/AD zone—in the Sea of Azov and beyond. As the government in Moscow pointedly declared, "Russia will rigidly stop any encroachment on its sovereignty and security" (Novyny.online.ua, November 26); though, it bears pointing out that Ukraine has never encroached on either when it comes to Russia. Intercepted radio communications of the Russian Coast Guard assets involved in the November 25 incident demonstrate that Russia's aggressive activities directed against the Ukrainian naval vessels were planned ahead of time and employed high-level command-and-control (C2) coordination: the Russian actions were not the result of spur-of-the-moment decisions made as the situation unfolded (UNIAN, November 27).
The Kremlin likely will continue to carry out forcible inspections of merchant vessels traveling to and from the Ukrainian Azov Sea ports of Mariupol and Berdyansk via the Kerch Strait. These tactics are designed to create unacceptable conditions for merchant shipments to/from Mariupol and Berdyansk, to destabilize Ukraine's foreign trade economy by spoiling its logistics model, and to exacerbate the sensitive socio-economic situation in Ukraine's coastal regions of the Sea of Azov. Ukrainian President Petro Poroshenko noted earlier this year that this Russian activity should be considered a key element of Russia's plans to create a land corridor to occupied Crimea (Censor.net, September 29). This aspect needs to be considered seriously within the broader context of Russia's on-again, off-again geopolitical project to create so-called "Novorossiya" on southeastern Ukrainian territory (UNIAN, November 28).
Meanwhile, the Ukraine-Russia bilateral law on the Sea of Azov, signed by both sides in 2003 (Zakon.rada.gov.ua, April 20, 2004), complicates an already difficult situation. This document envisages the delimitation of both states' territorial waters and maritime exclusive economic zones in the Azov Sea; but Russia has blocked any Ukrainian attempts to do so even after the Ukrainian Verkhovna Rada ratified the agreement. It should be noted that the Ministry of Foreign Affairs of Ukraine has accused Russia of a manipulative interpretation of the 2003 Ukraine-Russia Sea of Azov bilateral agreement. Kyiv charges that on the one hand, Moscow is carrying out unlawful inspections of ships (Hromadske.ua, November 27), while on the other hand it claims it wants to preserve the agreement (Ukrinform.ua, October 30). At the same time, Kyiv has yet to unilaterally mark out its territorial waters in the Sea of Azov. Consequently, the Ukrainian coast line in the Azov Sea remains wide open.
All security developments in the Sea of Azov have direct implications for the entire Black Sea region (Espreso.tv, November 5). Thus, any successful provocative steps Russia may take in the Azov Sea are likely to be replicated in the Black Sea, where Moscow has already created an AD zone around several Ukrainian oil rigs that Russia captured in 2014, leaving only a narrow corridor for merchant shipping to and from Odesa (UNIAN, November 27).
Undoubtedly, Ukraine will need to pay more attention to sea deterrence and freedom of navigation protection in both seas (24tv.ua, November 19). But its naval capabilities and presence at sea are both still quite limited. In this regard, sufficient numbers of capable naval platforms are a critical issue for Ukraine. The Ukrainian government has much left to do to protect its sovereign maritime rights and territorial integrity, including accepting its two Island-class boats from the United States as soon as possible and perhaps buying more of them as well as intensifying naval cooperation with the US to be able to procure other high speed "mosquito" platforms, like Mark V or VI patrol boats.