Strategic Overview of the Russian Maritime Threat to Ukraine: Mariupol and Odesa at Stake
Publication: Eurasia Daily Monitor Volume: 14 Issue: 92
By: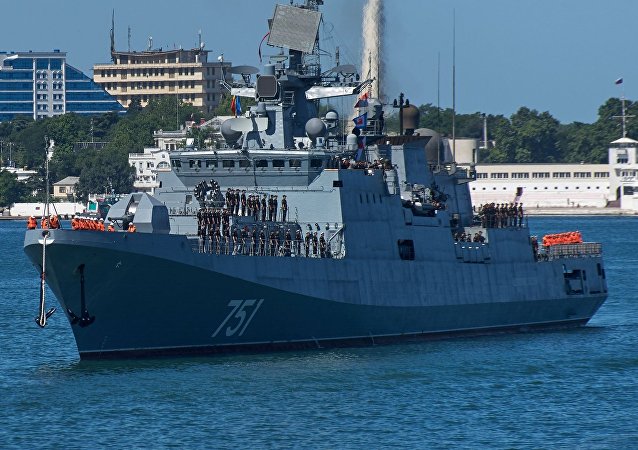 The Black Sea region has for centuries played a key role in Russia's southwestern policy. In the Russo-Turkish War (1768–1774), Russia took the opportunity to create naval forces in Crimea. And during subsequent wars with the Ottoman Empire, the Russian Empire moved into Bessarabia, the Caucasus and the Balkans. In 1791, the Sea of Azov became an internal Russian waterway, and the Russian state then concentrated its efforts on strengthening its position along the northwestern part of the Black Sea. This important area connects with the Danube, Dnipro and South Bug rivers; overland and maritime routes to the Balkans; as well as shipbuilding facilities in Odesa and that city's port-industrial-agricultural hub. Moreover, the northwestern Black Sea features valuable natural resources and access to the Crimean Peninsula's narrow land connection with Ukraine proper. After the end of the Soviet era, Russia lost the Black Sea territories it had occupied or annexed during the bloody wars of the 18th–20th centuries because all the former Soviet republics, including Ukraine, became independent states. Russian naval bases—in particular Sevastopol—survived in Crimea, but their status was not clear. In 1997, the Partition Treaty on the Status and Conditions of the Black Sea Fleet gave Russian naval forces the opportunity to stay in Crimea up to 2017. In 2010, this agreement was prolonged to 2042 by the Kharkiv Pact.
The illegal Russian annexation of Crimea opened the door to the implementation of the Kremlin's aggressive ambitions directed in the southwesterly direction. The Russian Black Sea Fleet's (RBSF) offensive capabilities have doubled since 2014. This fleet has been replenished by the introduction of new Krivak V–class frigates and Improved Kilo–class submarines. In the coming years, Russia plans to increase the number of these platforms and acquire new Buyan-M–class corvettes as well (Svpressa.ru, January 18). New Bastion and Bal mobile coastal missile complexes have been deployed in Crimea. These sea-born and coastal-based systems are equipped with Kalibr-NK cruise missiles as well as Yakhont and Onyx anti-ship missiles (News-front.info, March 17). Moreover, the Russian land military component in Crimea has been increased substantially (Btv.bg, July 1, 2016; UNIAN, June 3, 2017; TASS, May 24, 2017). Russian marine infantry (PNP, May 20), air defense (Inforesist.org, October 7, 2016; Krymr.com, January 16, 2017), air strike (Fakty.ua, May 4, 2014), electronic warfare (EW) and early-warning capabilities in Crimea have also been strengthened significantly. The RBSF maintains all its amphibious forces at combat readiness levels. As such, last spring's Russian offensive airborne-amphibious exercises near Theodosia, Crimea (see EDM, April 12), require special attention.
It should be noted that Crimea's economy critically depends on mainland Ukraine, particular on the Dnipro River's waters for irrigation and domestic use as well as for the peninsula's electricity and natural gas supply. After Crimea's annexation, Russia also seized the Ukrainian continental shelf gas fields Odeske and Holitsynske. It is currently exploiting the assets of the Crimean oil and gas company Chornomornaftogaz and has begun the illegal extraction of Ukrainian natural gas (Interfax, July 28, 2016; Epravda.com.ua, April 28, 2017). Since then, Moscow has also begun laying gas pipelines from Russia to Crimea via the Kerch Strait and has launched the first stage of its so-called "Energy Bridge" to connect Crimea's electricity grid with Russia's. In addition, 15 expensive mobile gas-turbine electricity stations were installed. Despite these efforts, problems with water, gas and electricity still exist. Hence, the threat remains high that Russia may try to create a "land corridor to Crimea" via southeastern Ukrainian territory (Krymr.com, March 18). A strategically located city that still stands in the way is Mariupol (Mariupil)—a Ukrainian metallurgical industrial center on the Azov coast. Importantly, Mariupol is a key point between the Ukrainian-Russian border and the Dnipro River, which feeds into the Northern Crimean Water Channel. And the city is located just 200 kilometer from the Zaporizhia Nuclear Power Plant, which had supplied Crimea with electricity until 2014. Russia's 8th Guards Army was deployed near the Ukrainian border, not far from Mariupol. The 8th Guards Army has not only a combat component but also logistics support units and military hospitals (Zik.ua, June 23). All the while, the Moscow-backed forces of the "Donetsk People's Republic" (DPR) are seeking Russian boats to strengthen the DPR's "Azov Flotilla" (Svpressa.ru, May 5).
Near the occupied Odeske and Holitsynske fields, located within Ukraine's exclusive maritime economic zone, Russia has created a mobile anti-access, area denial (A2/AD) bubble. RBSF combat ships and other assets operate there around the clock. The 41st Missile Boat Brigade (12 missile corvettes with 68 cruise and anti-ship missiles on board) was subordinated to the so-called Crimean Naval Base, located in Donuzlav (northern part of Crimea, 35 km north of Yevpatoria), enabling the RBSF's naval strike capabilities against gas fields in the northwestern Black Sea. Considering the missile ranges on Russian corvettes, the Donuzlav base could threaten Ukraine's most important industrial-agricultural ports including Odesa, Yuzhnyi, Chernomorske, Mykolaiv and Kherson (Uspa.gov.ua, Analytica, 2016).
Ukraine's strategically important port cities of Mariupol and Odesa are located at developed rail, maritime and river junctions. But both are vulnerable to threats from the sea. In 2014, the Ukrainian Naval Forces (UNF) lost 70 percent of their assets in Crimea (UNIAN, July 3, 2016). Only two Giurza-class small armored artillery boats were built in the last three years, but their combat capabilities, operational area and speed are limited. The blue-water frigate Hetman Sahaydachniy—the UNF's flagship—has been in service for 25 years and needs complex repairs and modernization. Other naval assets are too old and weak: the 37-year-old Matka-class missile boat lacks missiles; the Polnocny-C–class landing ship and non-operational Grisha-class corvette are more than 40 years old; several Soviet-era small boats have low speed/range and weak weaponry. The UNF has no naval platforms on the Sea of Azov (Dn.depo.ua, May 16).
On February 20, 2013, Russian Defense Minister Sergei Shoigu said, "The Black Sea Fleet is protecting Russia's interests in the southwestern direction, where most essential threats to our national interests are concentrated." He called the Mediterranean an important area for Russia's national interests as well (Redstar, February 22, 2013). Later, in May 2017, Shoigu called Ukraine a "strategically important [region] for Russia" (TASS, May 24). Ukraine's maritime sovereignty has been repeatedly violated as a result of these "important interests." In this unsecure situation, Ukraine urgently needs to improve its naval capabilities—including developing an asymmetric response, building small but fast and capable naval platforms, amphibious forces or mine-countermeasures capabilities.