Svetlana Alexievich's Third Try
Publication: Eurasia Daily Monitor Volume: 14 Issue: 92
By: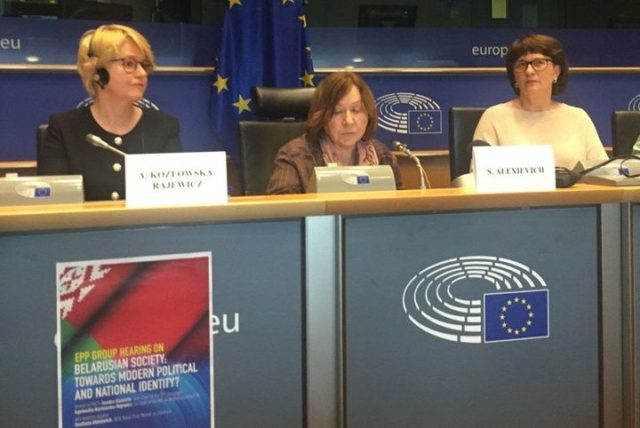 Svetlana Alexievich, the 2015 Nobel Prize laureate in literature, gave a speech, on June 27, in Brussels, at the European People's Party Group's hearing "Belarusian society: towards a modern political and national identity?" She was one of seven Belarusians at the hearing, the remaining six being members of the opposition, including two members of parliament elected in 2016.
In her speech (Tut.by, June 27), Alexievich dwelled on the content of her 2013 book Secondhand Time. It is about the suffering of ordinary citizens of the former Soviet Union, mostly Russians, who cannot come to terms with the end of Communism. Alexievich labels them "red men." They are submissive, passive and jealous of individual success, she writes. Although their material living standards leave much to be desired, all they long for is renewed recognition of their country's greatness—misread as that country's ability to instill fear into the minds of its numerous foes. "Red men" do not care about human rights, Alexievich asserted in Brussels: "when you start talking about things like that, they stare at you as if you were an extraterrestrial." All they want is for "vodka, sausage and even bananas" to be available in grocery stores.
According to Alexievich, many people in Belarus share a similar mindset and, thus, need to be educated. "One ought to explain to them what Europe is and what it offers. After all, it offers not just money." As for Ukraine, it should be helped economically so that it can emerge victorious, she said; that would help convince those with an "incorrect" mindset much more effectively than any political opposition. "In Moscow, I saw that many Russians were humiliated because Ukrainians already enjoy a visa-free regime [with the European Union]," acknowledged Alexievich.
Unlike her two previous attempts at public speaking in recent months (see EDM, June 15, 28), this one was not scandalous. The key word of the speech was "mythology." In her remarks in Brussels, she posited that, in geographical Europe, there are two groups of peoples: The popular mindset of one of them is "correct" (implying these people are entrepreneurial, independent and appreciative of freedom), whereas that of the other is permeated by a "wrong mythology." The indoctrinated latter group consists of Russians and Belarusians. As for Ukrainians, their "experience is an eternal model for […] the best people in the world, including in Belarus and Russia. Alas, television and propaganda presented this experience in such a way that it repelled many folks… It scared Belarusians. Lukashenka gained about 10 percent more supporters due to this scare."
Occasionally, in Alexievich's narrative, "mythology" shed its indiscriminately negative meaning. For example, "we were raised on Soviet ideals. […] Had we not had this fanaticism, the country would not have defeated [Adolf] Hitler who was too strong an enemy [for a country weakened by] Stalinist repressions." Also, "nobody would say that [for the Poles, former Polish President Lech] Wałęsa was the Messiah, but he was the figure on whom all [strands of] national mythology converged"—hence the necessity to select a new leader for the Belarusian opposition, who would possess moral authority much like Wałęsa did for the Poles. And finally, "perhaps the West should have trusted [former Russian President Boris] Yeltsin more and discarded the myth that Russia is dangerous; though, unfortunately, this turned out to be true."
One of the most conspicuous breaches of logic in Alexievich's performance was in conflating mythology or indoctrination with cultural traits and affinities. Thus, she posited that "after Perestroika, the people of the Baltic States knew where to go: to their own ilk like Sweden and Germany. The Baltic peoples thus [mentally, culturally] returned to where they were supposed to be. Alas for Belarusians, there was nowhere to go. For they had always been with Russia." Alexievich seems to be suggesting that "being with Russia" doomed Belarusians. In other words, her remarks raise the question of whether cultural affinities and essences are primary, whereas indoctrination secondary, as the latter occurs within a cultural framework. No wonder then that, in Alexievich's telling, the Baltic peoples absorbed "correct" ideas, whereas Belarusians absorbed "wrong" ones.
Yet, all that said, why is it that nobody has so far succeeded in "educating" these people suffering from a "wrong mindset"; and could not the existence of Alexievich's "red men" in fact be traced all the way back to pre-Soviet times? For example, in his 1937 book, The Origin of Russian Communism (Geoffrey Bles: London), Nikolai Berdiaev derives Soviet Communism itself from Russian culture's oriental affinities. Whereas proponents of the peasant theory of Russian communism, such as Nicholas Vakar, see the roots of Soviet Communism in the redistributive peasant commune—a type of self-organization that has much less to do with Communism as expounded by Karl Marx or Vladimir Lenin than with Russian grassroots culture (Nicholas Vakar, The Taproot of Soviet Society, NY: Harper, 1962).
At one point in her speech last month, Alexievich quoted the Russian theater director Kirill Serebriannikov, a victim of abuse by law enforcement. In the office of a police interrogator, Serebriannikov saw a full-length portrait of Joseph Stalin, a picture of Vladimir Putin and a series of Judo in Russia magazines. This eclectic set confirmed to Alexievich that the mind of that office's host had been bungled.
Yury Shevtsov, the author of the seminal book A United Nation: The Phenomenon of Belarus (Moscow: Yevropa, 2005), and Kirill Koktysh, professor of the Moscow Institute for International Relations, concurred that, in Brussels, Alexievich was being positioned as a potential consolidating figure for the Belarusian opposition (Facebook.com/yury.shevtsov, June 27). If that was the case, then whoever stands behind this idea may be unaware that Alexievich and the Belarusian opposition make for strange bedfellows. When the first rumors reached Belarus, back in 2013, that she might be up for a Nobel Prize, many in the opposition were panic-stricken (Naviny.by, October 9, 2013). That was because Alexievich never speaks Belarusian and never wrote in that language. But now that this famed Belarusian author has apparently brought her worldview into conformity with "European" ideas, she may have gone too far in castigating Russians: so her relationships with Russia-friendly folks is no good either. Consequently, Alexievich appears too lonely and too muddled in her rhetoric to become a consolidating figure. Of course, popytka ne pytka, as the Russian saying goes. In other words, "it never hurts to try."