Sulim Yamadaev Reportedly Assassinated in Dubai
Publication: North Caucasus Weekly Volume: 10 Issue: 13
By: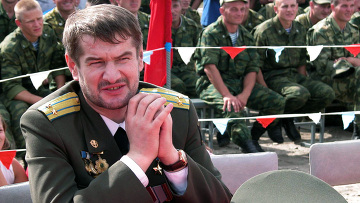 Dubai's The National newspaper reported on April 2 that police in the United Arab Emirates had detained "the prime suspect" in the killing of Sulim Yamadaev, the former commander of the Chechen-manned elite Russian army unit, the Vostok battalion. Citing police sources, the newspaper reported that the unidentified suspect had been arrested that afternoon in Umm al Qaiwain, one of the emirates in the UAE.
Yamadaev was shot in the parking lot of his apartment in Dubai's luxury Jumeirah Beach Residence on March 28. The National, again citing police sources, reported on April 2 that he was shot in the head at close range and died instantly, and that the assailant left a pistol at the scene that had been traced to Russia. The newspaper also reported that Yamadaev, whose Vostok battalion had come into conflict with security forces loyal to Chechen President Ramzan Kadyrov following an armed clash last year, had "retired" and moved to Dubai four months ago and had been living in the city with his wife and six children in a flat owned by the family. The National quoted a police source as saying: "No one is allowed to carry a gun here except for national security officers, and that's why his [Yamadaev's] bodyguards were unarmed and couldn't defend him." The paper quoted Dubai police as saying that Yamadaev had survived 19 attempts on his life before moving to Dubai.
The Moscow Times reported on April 3 that Russia's consul in Dubai, Sergei Krasnogor, said Dubai police had released all the Russian citizens detained earlier in connection with Yamadaev's murder. RIA Novsoti reported that Krasnogor said the police had refused to tell him how many Russians had been held. Meanwhile, Kommersant, citing Dubai law-enforcement sources, reported on April 2, that police had detained at least 20 Russian nationals, mostly those who were in the vicinity of the Jumeira Beach Residence when Yamadaev was killed. Interfax, however, quoted a spokeswoman for the Russian Tourism Union as denying there had been any "mass detention of Russian tourist" vacationing in the UAE.
The Moscow Times reported on April 2 that Dubai police the previous day released a retired Russian naval officer, Alexander Musiyaka, detained on suspicion of involvement in Yamadaev's murder. Dubai police had earlier said that four Russian had been detained in connection with the murder—they were identified as Yevgeny Musiyaka, Maxim Dolgopolov, Alexander Mironov and a man with the nickname "Gorbaty" (Hunchback)—but that none of them had been charged. Musiyaka told the English-language newspaper that his brother "never had anything to do with Chechnya, any business with any Chechens, nothing to do with secret services and nothing to do with counterterrorist operations."
Russian media, citing UAE-based lawyers, reported on April 2 that Yamadaev may have been killed during a drunken brawl. However, The National on April 3 quoted police sources as dismissing those claims and saying that Yamadaev was "a very cautious man who did not interact much."
Itar-Tass on April 2 quoted Dubai police chief Lieutenant General Khaflan Tamim as saying Yamadaev had been killed "by an organized criminal group with foreign connections" and that several people with "Slavic surnames" had been arrested in connection with the probe into the murder, RIA Novosti reported on April 1. Tamim said in a March 31 interview with The National that "the murder was organized by a criminal group that has foreign links," that "four or five people have been detained" on suspicion of the murder, and that one of them was a Russian national. The National reported on April 3 that a number "a number of people with Slavic names, including several Russians and Chechens," had been questioned and released.
Russian media, including Kommersant, quoted Yamadaev's wife Milana as saying she had seen her husband alive in a Dubai hospital on April 1, and Yamadaev's younger brother, Isa, insisted during a telephone interview from Dubai with Russia's NTV television channel that his brother was alive, feeling "fine" and that his life was not in danger. Yet, RIA Novosti quoted an unnamed close relative of Yamadaev as saying in a telephone interview from Yamadaev's home town of Gudermes that he had died from his wounds in a Dubai hospital on March 30.
The National reported on April 2 that Dubai police remained "adamant" that Yamadaev died at the scene of the shooting and quoted an unnamed senior official as saying he had been buried at Al Quoz cemetery in Dubai. In addition, six hospitals contacted by The National said they did not have a patient by the name of Yamadaev, while Bloomberg News quoted Dr. Ben Omran, whom it identified as an official at the police morgue, as saying that Yamadaev's body had been released to his family. Ziyad Sabsabi, who represents Chechnya in the Federation Council, the upper house of the Russian parliament, likewise told Interfax that Yamadaev was dead and had been buried at Al Quoz cemetery.
Kadyrov, for his part, told RIA Novosti on April 1 that Yamadaev had been "buried two days ago by his brother Isa" and that Isa "confirms it." According to the Moscow Times, the Chechen leader told journalists on April 1 that Yamadaev might have fallen victim to a blood feud or a criminal turf war.
Interfax on April 2 quoted Kadyrov as noting the increasingly close business ties between Chechnya and the UAE and saying that Chechnya's Interior Ministry would give any "necessary support" to UAE authorities in investigating Yamadaev's murder "if there is any need for this and the leadership of the Russian law-enforcement agencies gives such instructions." Kadyrov added that Russian law-enforcement agencies had wanted to question Yamadaev in connection with an alleged abduction and murder and the disappearance of the brothers of a "well-known Russian businessman"—the latter apparently a reference to Yusup and Yunus Arsamakov, brothers of Moscow Industrial Bank President Abubakar Arsamakov. Kadyrov had previously accused Yamadaev of responsibility for the deaths of "many people," including the Arsamakov brothers and the well-known Chechen singer Milana Balayeva and her mother (North Caucasus Weekly, November 26, 2008).
Last November, Yamadaev told the newspaper Novaya Gazeta that a 12-man "spetsnaz group" has been dispatched from Chechnya to Moscow, ostensibly to arrest him, but that the unit's real mission was "not to take me alive." He said that the Chechen authorities want to eliminate him the way they eliminated Movladi Baisarov, head of the FSB's Gorets spetsnaz group, who was shot to death in Moscow in November 2006 (Chechnya Weekly, November 22, 2006). Yamadaev also claimed that Baisarov was shot and killed by Adam Delimkhanov, a close Kadyrov associate who is now a United Russia deputy from Chechnya. At the same time, Yamadaev said Kadyrov "had nothing to do" with the murder of his brother, Ruslan Yamadaev, who was shot to death in Moscow in September 2008. Yamadaev said he knew who killed his brother and would "settle things with them in accordance with the law" (North Caucasus Weekly, November 26 and September 26, 2008).