Summit of ECO Countries Brings No Change
Publication: Eurasia Daily Monitor Volume: 9 Issue: 206
By: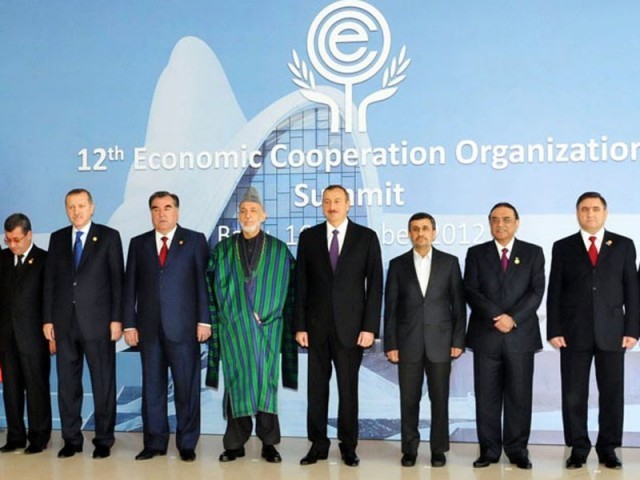 On October 15, Baku hosted the 12th summit of the Economic Cooperation Organization (ECO). The presidents of Azerbaijan, Iran, Pakistan, Afghanistan and Tajikistan, as well as the prime minister of Turkey attended the event. ECO was established in 1985 as a regional, inter-state economic organization for the countries of the Middle East and Central Asia. Seven new states—Kazakhstan, Azerbaijan, Afghanistan, Kyrgyzstan, Tajikistan, Turkmenistan and Uzbekistan—joined ECO in 1992. Summits of heads of member states are usually held once every two years (Ekho, October 16).
A range of issues involving regional economic relations, transportation, agriculture, energy and the environment were discussed at the summit. Ilham Aliyev, the president of the host country as well as the next chairman of the organization, stressed the importance of Azerbaijan in ECO's activities. President Aliyev touched upon the issues of the Armenian occupation of Azerbaijani territories as well as the Khojali massacre, which took place on February 25–26, 1992. Furthermore, the president pointed out that the Baku-Tbilisi-Kars railway, which will connect members of ECO, is in its finishing stages of construction. Aliyev expressed his hope of further energizing the organization: "Within the next few years, Azerbaijan, as a member of the organization, will do everything possible to actively spread our values, strengthen our partnerships and contribute to mutual trade," he stated. Turkish Prime Minister Recep Tayyip Erdogan suggested that "ECO countries should use their potential and resources to create a free trade zone by 2015" (Zerkalo, October 15). Iran, the traditional Turkish rival in the region, tried to use the forum to interrupt the negative effect of international sanctions on the Islamic republic. President Mahmoud Ahmadinejad called for using barter and national currencies in trade, but received no response from the rest of the members of the club.
It is worth mentioning that within the framework of the summit, on October 14, Presidents Aliyev and Ahmadinejad met with each other. During the meeting, both sides expressed satisfaction with the current level of relations and hoped that good relations between the two countries could contribute to the further development of regional cooperation (Zerkalo, October 14). "Iran and Azerbaijan have brotherly relations, and no propaganda by our enemies can destroy or harm them," Ahmadinejad stated. Commenting on the cooperation between both countries, the Iranian president stressed that enemies of Azerbaijan and Iran are unsatisfied with the progress exhibited by both nations and look for opportunities to weaken both states (Turan, October 14).
The other ECO member countries also tried to push forward their own agendas. Emomalii Rahmon and Hamid Karzai, the respective presidents of Tajikistan and Afghanistan, hoped to initiate new regional infrastructure projects, such as the construction of a new railroad from China through Kyrgyzstan, Tajikistan and Afghanistan to Iran, as well as the construction of electricity grids for energy transmission from Kyrgyzstan and Tajikistan to Afghanistan and Pakistan. However, the latter proposal, suggested by Tajikistan's president, did not garner much support. The sides made only declarations of intentions.
Local analysts expressed a certain level of optimism ahead of the summit and the election of Azerbaijan as its upcoming chair. Political scientist Parvin Darabadi stated that Azerbaijan's chairmanship of ECO is one concrete example that Baku is involved in international affairs. "Thanks to its chairmanship of ECO, Azerbaijan will be able to use its economic potential to increase its contacts with regional countries," he stated (Echo, July 16).
However, economist Ogtay Akhverdiyev believes that ECO is not yet a functional organization and has more symbolic implications than practical ones. Baku should not expect anything important to result from such meetings or its membership in this organization (Echo, July 16). Indeed, statistical data on ECO countries does not support the high ambitions of the organization. The combined GDP of ECO member countries—which together cover a territory of seven million square kilometers and have a population of 300 million—equals $1.7 trillion, which is only 2.4 percent of the global economic output. Overall, the trade turnover of ECO countries is around $768 billion—less than two percent of the combined world trade turnover. Whereas, the average per capita income in ECO countries hardly reaches $4,000 (Turan, October 16).
Meanwhile, many member countries are not putting much hope into this organization. Notably, Kazakhstan's President Nursultan Nazarbayev, a frequent visitor to such regional events, did not come at all, and instead the minister of transport and communication represented this key regional player. Another member of ECO, Uzbekistan, also ignored the ECO summit, even though the country's president, Islam Karimov, had visited Baku several days earlier and had extensive talks with his Azerbaijani counterpart. The sides discussed cooperation issues and developing transportation linkages from Central Asia to Europe. However, Karimov did not stay for the summit, showing his preference for bilateral rather than multilateral relations (Turan, October 14).
Overall, the summit showed that the members of ECO may have contradicting interests, making it difficult to bring them together for any single project. Moreover, the absence of joint economic projects being carried out though ECO make this organization amorphous and toothless. Nevertheless, Azerbaijan's upcoming chairmanship will almost certainly increase Baku's prestige on the international arena, even though it is unlikely to bring the country any additional economic benefits.