Suqur al-Sham's Allegiances in Question After US Killing of Abd-al-Hadi Mahmud al-Haji Ali in Syria
Publication: Terrorism Monitor Volume: 21 Issue: 15
By: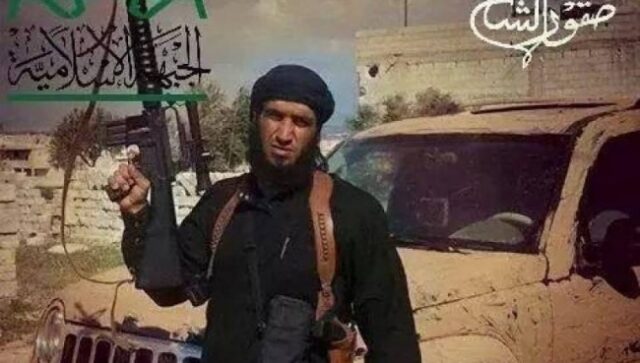 On April 17, US Special Forces under Central Command (CENTCOM) conducted an operation in Syria in which they killed Abd-al-Hadi Mahmud al-Haji Ali. He was a prominent Islamic State (IS) leader, head of general security, and deputy governor of the group's "Syria Province" (Akhbar al-Aan, April 17). Five US helicopters took part in the operation, which was conducted around al-Suwaydah. This village is around 25 kilometers west of the city of Jarabulus, itself on Syria's northwestern border with Turkey (Al Jazeera, April 17).
CENTCOM announced that Abd-al-Hadi Mahmud al-Haji Ali was responsible for planning terrorist attacks in the Middle East and Europe. CENTCOM added that the operation was "launched after intelligence revealed an ISIS plot to kidnap officials abroad as leverage for ISIS initiatives" (CENTCOM, April 17). The area of the operation is controlled by revolutionary factions of the Syrian National Army (SNA) and is specifically under the control of the Islamist group Suqur al-Sham, which is one of the militant factions of the National Front for Liberation (NFL).
On April 17, Suqur al-Sham issued a statement. The purpose was to peremptorily deny that the IS leader targeted by the US-led coalition near Jarabulus was either protected by or otherwise affiliated with the group. However, Suqur al-Sham also accused the coalition of killing two of the group's fighters during the raid (Shaam Network, April 17). [1]
What is Suqur al-Sham?
Suqur al-Sham was founded in 2011 in Jabal al-Zawiya in the governorate of Idlib as an Islamist group opposed to the regime of Bashar al-Assad; Suqur al-Sham began its armed operations around Idlib, and quickly succeeded in liberating it (Al-Jazeera, June 12, 2013). Between September 2012 and November 2013, after several mergers and disagreements with the Free Syrian Army (FSA), Suqur al-Sham joined the Syrian Islamic Liberation Front (SILF), a coalition of armed Islamist groups supporting the establishment of Sharia law in Syria. After the dissolution of the SILF in mid-2014, the group continued to fight independently against the al-Assad regime in coordination with Ahrar al-Sham.
Between March 2015 and July 2017, Suqur al-Sham merged and split numerous times with Ahrar al-Sham and then engaged in several military clashes with Hay'at Tahrir al-Sham (HTS) between early 2017 and mid-2018 (Al-Akhbar, March 23, 2015). This was due to HTS's efforts to take control of parts of the northwestern governorates of Idlib and Aleppo (Al Jazeera, January 26, 2017; Enab Baladi, November 4, 2022). In August 2018, Suqur al-Sham joined the Revolutionary Army of the National Liberation Front (NLF), which was a new Syrian opposition coalition (Al-Arabi21, August 5, 2018)
From mid-2019 through to the present, Suqur al-Sham has remained active militarily as part of the NLF. Moreover, as recently as April 2023, the group published numerous photo reports on its Telegram channel. These showed its fighters and political and military leadership in operations against the Syrian army in the Jabal al-Zawiya area of Idlib. [2]
Conclusions
Abd-al-Hadi Mahmud al-Haji Ali was in the territories of Suqur al-Sham when he was killed because he has a brother—a leader of Suqur al-Sham called Abu Diya—whom he had joined in recent months. Suqur al-Sham, however, has no links with IS, having fought the group in the past. Suqur al-Sham has also had a relationship with other militant groups in that area since 2022, such as Ahrar al-Sham, which recently aligned itself with HTS, and with HTS's Operations Room "al-Fatah al-Mubin" (Levant24, April 3, 2022).
Suqur al-Sham has always been inclined towards Salafi-jihadist ideology and it seems likely that it will increase its activities alongside jihadist groups operating in Syria (excluding al-Qaeda and IS). Around the Jabal al-Zawiya area (Sugur al-Sham's main area of operations), numerous jihadist groups are active, such as Katibat Tavhid va Jihod, Ansar al-Islam, HTS, Ahrar al-Sham, and the Syrian branch of the Turkistan Islamic Party. They have all been militarily active for years. Several groups belonging to these factions have collaborated with jihadist groups both recently and in the past by conducting military operations against the Syrian government's army in northwestern Syria.
This means that, if necessary, some factions and groups are willing to collaborate with the jihadists (who are mostly focused on the local fight against al-Assad and his allies), especially those integrated in or aligned with HTS. Suqur al-Sham will continue to fight IS and will certainly not approach al-Qaeda. Al-Qaeda ideology, however, does not make a rapprochement with followers of Salafi-jihadism impossible, especially for military and opportunistic reasons.
Notes
[1] The news was reported by several local media outlets. It was also confirmed by Abu Yahya al-Shami, a scholar who left HTS in 2019.
[2] Analysis of the author's direct monitoring. See Eyes on Jihadism. Monitoring Jihadist Propaganda at https://danielegarofalo.substack.com/