Surge in Militant Activity in Kabardino-Balkaria May Force Ouster of Kanokov
Publication: Eurasia Daily Monitor Volume: 10 Issue: 112
By: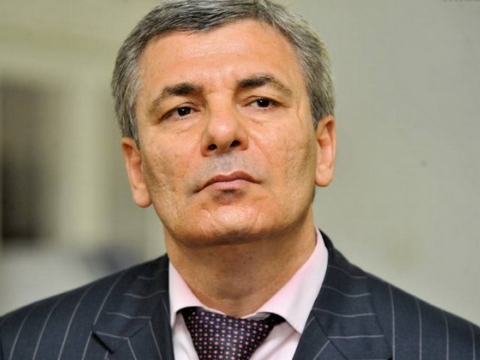 During the ten-day period from May 29 to June 9, five armed assaults on police officers were reported in Kabardino-Balkaria as the militant movement there appears to be experiencing a resurgence.
On May 29, there was an armed clash between a road police unit and unidentified individuals in the city of Baksan. One of the attackers was killed, two managed to escape and two police officers were wounded (www.nr2.ru/incidents/441198.html). On the night of June 1, police clashed with two suspects in the area between the villages of Khasanya and Gerpegezh in Cherek district. Both suspects were killed. The police found arms and ammunition at the site of the clash (www.gazeta.ru/news/seealso/1241548.shtml). The slain suspects were preliminarily identified as residents of the city of Nalchik—54-year-old Boris Temukuev and 42-year-old Yevgeny Sitnikov. According to investigators, the suspects died after their own improvised explosive device, or IED, exploded.
On June 2, a resident of the village of Dugulubgei in Baksan district was arrested on suspicion of participating in illegal armed formations (https://kabardino-balkaria.kavkaz-uzel.ru/articles/225192/). The suspect was identified as Islam Beshkurov, who had earlier been convicted of illegal arms possession under article 222 of the Russian Criminal Code. Beshurov said that he considered his arrest unjustified (https://kavpolit.com/zhitel-kabardino-balkarii-schitaet-svoe-zaderzhanie-bezosnovatelnym/). That same day, the police announced they found three rebel ammunition caches in three different parts of the republic—Nalchik, Baksan and the village of Verknyaya Balkaria. The next day, June 3, unknown assailants fired shots at a police car in the village Svetlovodskoe in Zol district. One of the attackers was killed and two police officers were wounded (https://ria.ru/incidents/20130604/941269095.html).
On June 8, unidentified assailants gunned down a 27-year-old police officer, Murat Khazhiev, in the village of Dugulubgei in Baksan district (www.kavkaz-uzel.ru/articles/225355/). The police officer was in his home when unknown individuals, most likely militants, entered and shot him dead with a machine gun, killing him on the spot (www.regnum.ru/news/kavkaz/kab-balk/1669140.html). The next day, June 9, a police patrol was attacked on Nogmov Street in Nalchik. One of the attackers was killed and a police officer was wounded and died later in the hospital (https://kabardino-balkaria.kavkaz-uzel.ru/articles/172027/). The slain police officer was identified as a lieutenant with the interior ministry in Kabardino-Balkaria, Zamir Guazhev. The slain militant's name had not been disclosed as of June 9, but the police said he was a 36-year-old resident of Tersky district (www.islamdin.biz/2013/06/blog-post_9.html?spref=tw).
The chronicle of violence clearly shows the intensity of renewed clashes between militants and government forces in Kabardino-Balkaria. Since the clashes have intensified in the run-up to the parliamentary and gubernatorial elections in September, they make the position of the current head of the republic, Arsen Kanokov, extremely shaky. Back in March, social researchers found that Kanokov's level of activity was minimal against the backdrop of the rebels' brazen actions. Researchers concluded that Kanokov would likely be one of the governors that the Kremlin will dismiss (www.kavkaz-k.com/politika/vyzhivem-ne-vyzhivem.html).
A telling signal was delivered in April, when the son of the first president of Kabardino-Balkaria, Kazbek Kokov, was appointed to a position in the Kremlin administration overseeing the North Caucasus (www.sk-news.ru/news/authority/29961/). Many observers concluded that Kokov's appointment was no accident and that Moscow would likely promote him to the position of governor of Kabardino-Balkaria. Sons of former presidents have become republican governors, as in Chechnya and Dagestan. However, Arsen Kanokov has been unable to improve his standing since the spring of 2013, which means that he might be replaced any day now. At the same time, Kanokov's neighbor, Ingushetia's governor Yunus-Bek Yevkurov, played the trump card of a territorial dispute with Ramzan Kadyrov and actually managed to slightly strengthen his previously hopeless position.
Another problem is that the head of Kabardino-Balkaria cannot seem to find common language with Moscow's envoy to the North Caucasus, Alexander Khloponin. Strained relations between Kanokov and his own head of government, Ruslan Khasanov, also became a topic widely discussed in the republic (www.kavkaz-k.com/politika/zhdat-li-skoroj-otstavki-predsedatelya-pravitelstva-kbr.html). Reports have surfaced that the insurgent movement in Kabardino-Balkaria has given its stamp of approval of Kanokov's reappointment as head of the region, but this rumor should not be taken seriously (https://criminalnaya.ru/publ/112-1-0-881). Apparently, someone tried to frame Kanokov and denigrate him in the eyes of the Kremlin in order to diminish his standing.
Kanokov has also another weak spot. Since he is a successful businessman, he is quite vulnerable to any attacks on his extensive business interests. If his business feels pressure from Moscow, he will quietly leave the political scene without any pushback. Precisely because Kanokov was unsure of Moscow's support, he likely refused to opt for direct elections (https://a-borokko.livejournal.com/96554.html). Instead, Kabardino-Balklaria's parliament will select the head of the republic from three candidates proposed by the Kremlin. By September, however, it will be clear which candidate is Moscow's choice.
Under any circumstances, whoever is the head of any of the North Caucasian republics with the exception of Chechnya, it will have little impact on the armed resistance of the militants. Their advances and retreats have no relationship to the Kremlin's regional appointees. The militants and the Kremlin indulge in a contest that has no role for local officials, again with the exception of Ramzan Kadyrov. Thus, any significant changes in this realm are unlikely to occur even after Kanokov steps down.