SURGE IN RUSSIAN GAS PRICES RAISES EYEBROWS IN ARMENIA
Publication: Eurasia Daily Monitor Volume: 2 Issue: 227
By: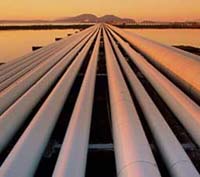 Russia's decision to drastically raise the cost of the natural gas it supplies to several former Soviet republics has been widely attributed to its desire to stave off a further spread of Western influence across its "near abroad." What makes it even more noteworthy is the fact that at least one of those republics, Armenia, is not normally considered to be quite "pro-Western."
On the contrary, the small South Caucasus state has developed a reputation as one of Russia's most loyal allies in the entire ex-Soviet space. Despite overtures to the United States and the European Union, its leaders maintain close military and political ties with Moscow and have never expressed a desire to join NATO. There is little wonder that the Russian move has clearly caught Yerevan off guard. It suggests that the Kremlin is less than happy with Yerevan's actions aimed at easing the tight Russian grip on the Armenian energy sector.
The Armenian government is now scrambling to have the Russians reverse or at least scale back the announced 100% surge in the price of gas supplied by the state-owned Gazprom monopoly. If the price hike comes into force as planned on January 1, Armenia will have to pay $110 per thousand cubic meters of fuel, or as much neighboring pro-Western Georgia and only slightly less than the NATO member Baltic states. With Russian gas used for generating about 40% of Armenia's electricity, the measure will inevitably push up the already high electricity prices in the country. That could in turn have broader effects on the Armenian economy.
Armenian Prime Minister Andranik Markarian said on December 5 that he was "surprised" by the tariff rise announced by Gazprom's vice-chairman Alexander Ryazanov on November 29. He said the Russian side had earlier assured his government that the gas tariffs would remain unchanged in the next two years. Markarian spoke to journalists two days after Russian Prime Minister Mikhail Fradkov ended an official visit to Yerevan. Ryazanov was among Russian officials who accompanied Fradkov, suggesting that the issue was high on the agenda of his talks with Armenian President Robert Kocharian and Markarian. But no agreement was apparently reached, with Markarian saying that things should become "clearer" after Kocharian's upcoming meeting with his Russian counterpart, Vladimir Putin.
Armenian Defense Minister Serge Sarkisian, who also co-chairs a Russian-Armenian intergovernmental commission on economic cooperation, sounded upbeat about his government's chances of securing last-minute Russian concessions. Still, Fradkov made it clear in Yerevan that the "strategic partnership" with Russia does not entitle Armenia to privileged treatment on economic issues. "Our relationships persist and will develop further, which does not exclude the adjustment of certain economic issues, including a rise in gas prices necessitated by world demand," he said.
It might be argued that by sparing its closest regional ally the need to pay extra cash for its gas Russia would expose political motives behind its actions. Gazprom insists that it is driven by solely economic considerations, pointing to a big disparity between the prices of its gas pumped to Western Europe and the Commonwealth of Independent States. But some Kremlin-connected politicians (and even TV commentators) do admit that Moscow is using its arguably strongest leverage against former Soviet states like Georgia and Ukraine in retaliation for their accelerating drift toward the West. Why traditionally pro-Russian Armenia should be punished has not been specified.
Ironically, the more expensive gas will create additional problems for an energy sector already dominated by Russian giants like Gazprom and Unified Energy Systems (UES). They supply as much as 80% of Armenia's energy resources. Gazprom also holds a 45% stake in the local gas distribution network. Furthermore, three years ago Russia was granted ownership of the impoverished country's largest thermal power plant and financial control over the nuclear power station at Metsamor as a result of controversial swap agreements that settled Armenia's $150 million debts to the Russian government and fuel suppliers. As if that was not enough, the Kocharian administration agreed earlier this year to a murky sale of the Armenian power grids to UES.
The Armenian authorities are at the same time trying to reduce that dependence by embarking on multimillion-dollar energy projects with neighboring Iran. They are currently building a potentially strategic pipeline that is due to start delivering Iranian gas to Armenia by the end of 2007. The Russians have never been enthusiastic about the project and reportedly pressured Yerevan to make sure that the pipeline cannot be extended to Georgia and on to other countries. The Russian government-funded daily Rossiiskaya gazeta reported on November 28 that the pipeline's diameter would be big enough to make its extension technically feasible.
The Russians also seem unhappy with the Armenian government's recent decision to place an incomplete but modern thermal power plant located in the central town of Hrazdan under de facto Iranian control. The Iranians have pledged to invest $150 million in the facility eyed by UES. The Itar-Tass news agency quoted an unnamed senior Russian official as saying on December 3 that Fradkov will raise the issue in Yerevan.
The gas price hike, whatever its real reasons, is giving more ammunition to a growing number of people in Armenia who question the long-term future of their country's alliance with Russia. The latter already raised many eyebrows by driving a hard bargain on Armenian debts and at the same time rescheduling the repayment of much greater sums owed by Georgia and Ukraine. "They [the Russians] are always guided by their own interests, whereas we always try to persuade them that we are their brothers and always end up being upset with their betrayal," the Yerevan newspaper Chorrord Ishkhanutyun bitterly commented on December 6.
(Azg, December 6; Haykakan Zhamanak, December 6; Chorrord Ishkhanutyun, December 6; Itar-Tass, December 3; Rossiiskaya gazeta, November 28.)