Surprisingly Large December 10 Protests in Moscow Hamper Vladimir Putin's Plans for a Third Presidential Term
Publication: Eurasia Daily Monitor Volume: 8 Issue: 226
By: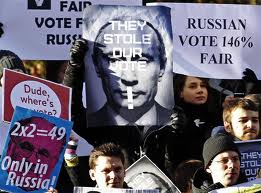 Prior to the parliamentary elections to the Russian State's Duma on December 4, few observers expressed their doubt over Putin's prospects of comfortably ascending to the presidential position in March 2012. This situation drastically changed as the protest action against allegedly rigged parliamentary vote garnered an unusually massive response from the Russian public on December 10. According to the police's information, 25,000 people participated in the rally in Moscow, and some observers estimated the turnout as high as 150,000; many estimates were between 50,000 and 80,000 participants. What is also notable, the government did not even try to disperse the crowd and the pro-government TV channels reported on the gathering for the first time in years. Organizers of the protest demanded the invalidation of what they regarded as a rigged vote in favor of the United Russia party, the release of political prisoners, and free and fair parliamentary elections. The next protest action is planned for December 24. The protest had a clear anti-Putin dimension and barely mentioned president Medvedev, even though the latter formally led United Russia party to the ballot in December (https://www.gazeta.ru/politics/elections2011/2011/12/10_a_3922210.shtml, December 10).
United Russia claims to have won nearly 50 percent of the vote and over 50 percent of the parliamentary seats. Communists came in second with 19 percent of the votes. United Russia's result is significantly worse than in the previous elections, but it will still have 238 seats against 212 of all other parties combined (https://www.gazeta.ru/politics/elections2011, December 10). Lately, the Russian Duma has been known as an utterly complicit governmental structure, famously proclaimed by its speaker Boris Gryzlov as a "place for no discussions." Still, if the Russian public reacted so angrily to the news of a rigged parliamentary vote – even though the parliament is not considered to be a crucial decision-making body – one can plausibly expect that a rigged vote during presidential elections might be fatal for Putin's government, since the stakes are so much higher.
So far the Russian government's reaction has been fairly disorganized. Even though most protesters did not mention president Medvedev much, he responded with an indecisive statement, saying that he did not agree with the protesters' slogans and was not going to bow to their demands, but still would look into possible electoral fraud. Prime Minister Vladimir Putin kept remarkably silent after being publicly shamed in Moscow. Just before the protest on December 8, in a rather unusually pointed attack, he accused US Secretary of State Hillary Clinton of fomenting public protests in Russia because of the elections (https://top.rbc.ru/politics/08/12/2011/628959.shtml, December 8). However, the tried-and-true method of shaming malevolent foreign forces for all failures of the Russian government did not work this time.
On December 12, Mikhail Prokhorov, the Russian billionaire with ties to the Kremlin, announced his plans to run for the Russian presidency in 2012. Earlier on December 8, Prokhorov stated that whether people liked it or not, Putin was the only person that could manage the ineffective government mechanism in Russia (https://md-prokhorov.livejournal.com/). Observers noted that either Prokhorov's candidacy was tacitly approved of by the Kremlin to appease the Russian middle class or he will not actually be registered as a candidate (https://www.gazeta.ru/politics/elections2011/2011/12/12_a_3925614.shtml, December 12). On the day of his presidential bid's announcement Prokhorov-owned companies lost from five to eight percent of their value in anticipation of the government's attacks on Prokhorov's businesses (https://www.gazeta.ru/business/2011/12/12/3925874.shtml, December 12). Meanwhile, Vladimir Putin turned in his paper work to the Russian central electoral commission on December 7, being the first to have done so among all possible presidential candidates.
Even in the previous elections, Vladimir Putin was extremely jealous of other candidates running for the Russian presidency, so a few of them were turned down at the very start. In the 2012 presidential election campaign, Putin is likely to be even more nervous and suspicious, so the government will probably limit the number of registered presidential candidates as never before. There are few other strategies that Putin can conceivably employ. He cannot afford to retreat from the race now. He cannot advance Medvedev for the second term. It is also uncertain how a domestic or foreign crisis would affect Putin's chances for retaining a leadership position, so adventurism before the elections may not be the best option. There is still the opportunity to crack down on the protesters, and if the protests are weak, the government still might opt for that. But any large scale suppression of people's demonstrations in Moscow may have a disastrous effect on the government's legitimacy. Targeted strikes are still possible. On December 13, several editors were sacked from the leading Russian publishing house Kommersant by its owner, the Kremlin-friendly oligarch Alisher Usmanov. The reason for the editors' firing was officially given as their "inappropriate" coverage of the parliamentary elections (https://www.gazeta.ru/news/lastnews/2011/12/13/n_2133038.shtml, December 13).
Despite Putin's weakened position, at the moment there is no credible presidential candidate that could rival him. Economic outlook for Russia is not too bleak, nor does the population experience any particularly large-scale hardships. So, if a change of government is to happen, it is likely to be more of a relatively peaceful, small-scale, insider-orchestrated event.
Post-Putin Russia will not necessarily be a particularly pro-western country, although it will probably be more nationalistic, democratic and open. Rather than challenging Putin's foreign policy, the Russian public seems to be concerned primarily with domestic affairs, such as pervasive corruption and uncertain prospects for the country. What the Russian public appears to be tired of is Putin's face and style, both of which are hard to change. Putin and his team are falling victims to their own success of building an effective and rigid system of control over media and political activities, as they have lost sense of what is going on in the wider society. That is why, out of fear of the unknown Russian populace, Putin's people are likely to try to crack down on the opposition – even though, Putin would probably have won the elections if they were held now, since people are not familiar with any other candidates.
Once again, the internet showed its instrumentality for the public to self-organize during protests. The most popular Russian blogging platform, Livejournal.com, as well as several popular news websites were blocked during the elections. Popular bloggers and websites quickly switched to Facebook and Twitter to spread their message, and eventually attacks stopped.
Russian politics appear to be entering a much more dynamic phase with multiple possible outcomes. Certainly, the Russian democrats' recent fears of another 12 or more years of Putin's Russia are quickly fading away, as the Russian public becomes increasingly impatient with one man's rule.