Surveys and Opinion Makers Shed Light on Events Affecting Belarus
Publication: Eurasia Daily Monitor Volume: 19 Issue: 87
By: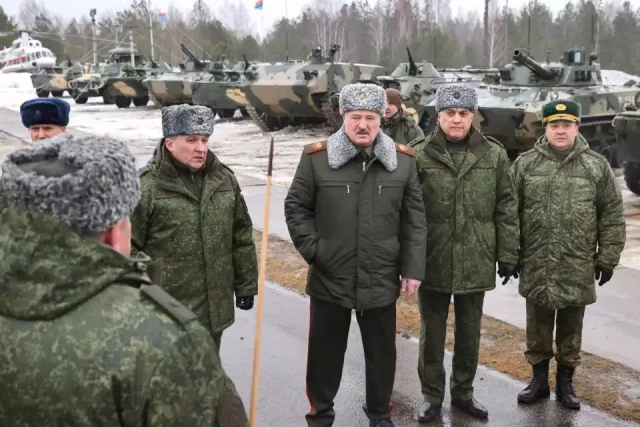 Between April 8 and 18, Chatham House conducted its ninth online survey of Belarusian urbanites since August 2020. According to that latest poll, 40 percent of Belarusians do not support Russia's war with Ukraine, whereas 32 percent do. "Since our sample focuses only on the urban and internet-active population," explains Ryhor Astapenia, who conducted all nine surveys, "it is reasonable to believe" that supporters and non-supporters of the war "are more or less equal in size" across the entire adult population in Belarus. Most Belarusians, however, including those backing the war, think the consequences of this conflict will be negative for Belarus. Only 6 percent are in favor of Belarus's army entering the war; the majority believe it is not Belarus's fight and Belarusians should not be blamed for it. Fifty-seven percent of Belarusians are leery of being pulled into the ongoing war, but only 11 percent believe that will actually happen. At the same time, Astapenia reveals there has been some recorded rise in pro–"Russian World" (Russkiy Mir) sentiment in Belarus; but what stands behind it is not so much hatred of Ukraine itself as anger toward the United States. The underpinning of Belarusians' pro-Russian attitudes is cultural proximity, whereas the existence of pro-Western attitudes is best explained by value judgements. The outcome of this polling echoes multiple surveys conducted by sociologist Oleg Manaev prior to September 2016, when his polling firm was terminated by the authorities (Svaboda.org, June 8).
Some of the aforementioned results resonate with other surveys and with opinions shared by reputable commentators with different political outlooks. For example, according to a late-March 2022 survey conducted in Ukraine, only 22 percent of Ukrainians now have a friendly attitude toward Belarusians, whereas one year ago, this share was three times higher; and only 3 percent have a positive attitude toward President Alyaksandr Lukashenka, who used to be Ukraine's most popular foreign leader (Svaboda.org, June 7). Change of such proportions is clearly associated with Minsk providing Belarusian territory for Russia's assault on Ukraine. And so Artyom Shraibman, a nonresident scholar at the Carnegie Endowment for International Peace, was asked to explain a recent statement by Svetlana Tikhanovskaya, the Belarusian opposition leader-in-exile. Namely, Tikhanovskaya asserted that the Belarusian regime had ordered its army to enter the war, but the brass disobeyed the order as "Belarusian soldiers were demoralized and reluctant to participate" (YouTube, June 4). According to the analyst, Tikhanovskaya's statement strains credulity so much that it damages her own reputation. Most likely, he argued, her assertion simply fit the idea that Tikhanovskaya has been steadily enunciating anyway: Lukashenka and ordinary Belarusians should not be treated the same way. Shraibman also thinks it is too early to claim Lukashenka is attempting to break his diplomatic isolation (YouTube, June 8).
In his turn, Yauheni Preiherman of the Minsk Dialogue opined that as a de facto proxy conflict between Russia and the US, the war in Ukraine is likely to continue until a new system of European security is negotiated. Because Turkey's assistance in unblocking the Ukrainian grain exports stuck in Ukrainian Black Sea ports is now somewhat likely to come to fruition, Preiherman had to revise his earlier prediction that Belarus would be used as a transit country for these commodities in exchange for lifting a ban on the export of Belarusian potash through Lithuania. He, however, still predicts that lifting this ban is likely in the foreseeable future, since a potassium deficit (potassium-based potash is used as a fertilizer) likewise threatens global food security. It is, thus, no coincidence that Antonio Guterres, the United Nations' secretary general, gave Lukashenka a call on June 3 (YouTube, June 6).
Incidentally, on that same day, the European Union issued its seventh package of sanctions against Russia and Belarus, and Preiherman published a detailed Belarus-specific account of each (Minskdialogue.by, June 8). Thus, the last one extends sanctions to 12 individuals and 8 legal entities. The total number of Belarusian subjects under EU sanctions now stands at 195 individuals and 35 legal entities. Also, Belinvestbank was disconnected from the SWIFT system—already the fourth Belarusian bank to suffer this fate.
Shraibman is perceived as speaking on behalf of the opposition and now resides in Poland, while Preiherman maintains a neutral stance (an assertion that many in the opposition would object to) and stays in Minsk. Whereas, Yuri Shevtsov is an avowedly Lukashenka-and-Russian-World-friendly analyst. In his wide-ranging and hour-long interview to Belta in early June (YouTube, June 8), he expressed the view that a truce in Ukraine is only possible if and when Russia and "Old Europe" jointly succeed in reining in "New Europe," that is, the countries of Central Eastern Europe (CEE). According to Shevtsov, the idea of Russia's and Old Europe's economic complementarity is still alive. But since Brussels introduced the idea of two-speed European integration, upholding technological and decision-making supremacy of Old Europe while treating the countries of Europe's eastern fringe as irredeemable laggards, the latter had to radicalize their counterarguments to stay in the loop. With this in mind, Shevtsov posited, the CEE states overemphasize their vulnerability vis-à-vis Russia; they have become the US's Trojan horse as well as revived their radical nationalism, which has a history of collaboration with Nazi Germany during the war, he claimed. Belarus, according to Shevtsov, should stay under Russia's protective umbrella, continue to fight its own nationalism (also that of a mainstream East European type), and strengthen the presidential republic. Were unbridled parliamentarism to gain the upper hand in Minsk, Belarus would be ransacked by the emissaries of the West, he warned. Minsk, Shevtsov proudly underscored, is now the world's third-largest Russian-speaking metropolis.
On June 6, this metropolis's "only politician" (as Lukashenka once called himself—RFI, January 23, 2018) told his distinguished guest from Moscow, Russia's Orthodox Patriarch Kirill I, that he would be happy to receive him in Belarus also in 2025, when the Spaso-Evfrosinevsky monastery in Polotsk will celebrate its 900th anniversary (Pozirk, June 9). That comment confirmed yet again that Belarus's president is prepared to stay in power for a long time. And as Pavel Matsukevich of the Center for New Ideas persistently posits (New Belarus, June 10), the domestic atmosphere stoked by Western sanctions on Belarus rules out not only regime change but even a political thaw of the kind Belarus has experienced in the past.