Syrian Turkmen Join Opposition Forces in Pursuit of a New Syrian Identity
Publication: Terrorism Monitor Volume: 11 Issue: 11
By: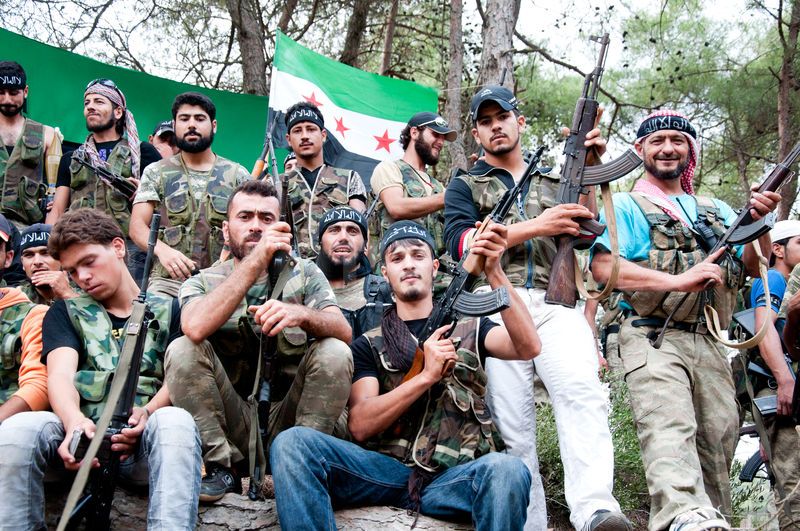 Syria's Turkmen community is becoming increasingly involved in the country's opposition movement. The mostly Sunni Turkmen of Syria represent a significant ethnic minority community that is located throughout the country, particularly in diverse and highly strategic areas that are currently the sites of significant conflict. The Turkmen community in Syria is charged by the Assad government of being militantly pro-Turkey, pro-opposition, and in support of the re-imposition of Turkish dominance over Syria (al-Akhbar [Beirut], August 28, 2012).
Syria's Turkmen communities are descendants of Oghuz Turkish tribal migrants who began moving from Central Asia into the area of modern-day Syria during the 10th century, when the Turkic Seljuk dynasty ruled much of the region. Under the Ottomans, Turkmen were encouraged to establish villages throughout the rural hinterlands of several Syrian cities in order to counter the demographic weight and influence of the settled and nomadic and semi-nomadic Arab tribesmen that populated the region. Syrian Turkmen were also settled to serve as local gendarmes to help assert Ottoman authority over roads and mountain passes in diverse regions such as the Alawite-majority, northwestern coastal governorate of Latakia (al-Akhbar (Beirut), August 28, 2012). After the dissolution of the Ottoman Empire in 1918, communities of Turkmen continued to reside in the country.
Syrian Turkmen opposition leaders, many of who are in exile in Turkey, assert that while Turkey is a cultural "Father" country to their communities, Turkmen are committed to a pluralistic, territorially intact Syria, with a polity that is representative of all of its ethnic and sectarian groups and is no longer ruled by the largely Arab Ba'ath Party (Anadolu News Agency [Ankara], July 4, 2012; Hurriyet Daily News [Istanbul], March 22, 2012; Today's Zaman [Istanbul], December 8, 2011). Citing strong historical and cultural ties and his country's deep affinity for their ethnic compatriots, Turkey's President Abdullah Gul stated that: "The Syrian Turkmen people are integrated parts of our nation, and they are the strongest bridge of humanity between Turkey and our Syrian brothers and sisters." [1] Syrian Turkmen leaders report that their efforts to win the support of anti-Assad Arab states were rebuffed because their community was seen by those states as already having a sponsor in the Turkish government. [2]
Turkmen leaders assert that their community suffered discrimination and repression under Ba'athist rule. Turkmen were unable to teach the Turkish language and Turkmen cultural and historical subjects in schools, Turkmen villages were given Arab names and Turkmen land was appropriated for the use of Arab peasants (AFP, January 31). These factors, as well as tribal divisions within the community and the lack of a large contiguous area within the country where Turkmen are a plurality of the population are blamed by Syrian Turkmen leaders for their community's lack of participation in the country's political opposition prior to the uprising. [3]
Turkmen leaders also assert that under the Hafez al-Assad government, their community was viewed as a potential "fifth column" for Turkey, which had a hostile relationship with the Syrian government for much of Hafez al-Assad's rule. They also state that Hafez al-Assad's position on the Turkmen was adopted by his son Bashar al-Assad after the onset of the Syrian uprising and the Turkish government's consequent support for the Syrian opposition. As a result of this history of dispossession, Syrian Turkmen opposition leaders are seeking the recognition of their community as an integral part of the country and their cultural and linguistic rights guaranteed in a post-Assad Syrian constitution (Today's Zaman (Istanbul) December 17, 2012).
The demands of the Syrian Turkmen community are not dissimilar from those of Syria's Kurdish community, which also suffered from repression of its cultural and political rights. Kurdish and Turkmen communities are reported to have a tense relationship in contemporary Syria because of Syrian Turkmen ties to Turkey and the desire of some Syrian Kurds for a Kurdish-ruled autonomous region. Syrian Turkmen leaders assert that any Kurdish attempt to create an autonomous "Western Kurdistan" within Syrian territory would threaten to displace tens of thousands of Turkmen (Today's Zaman [Istanbul] July 23, 2012; August 12, 2012).
Turkmen communities coexist within Kurdish majority areas in a geographic region near the Syrian-Turkish border that runs from the northwestern governorates of Idlib and Aleppo to the northeastern governorate of Raqqa. Fearing the displacement of a claimed 290 Turkmen villages in this area if an autonomous Syrian Kurdish region were to emerge, Syrian Turkmen leaders state they experience "anxiety" at this prospect and reiterate their desire to work with Syrian Kurds as siblings (Today's Zaman [Istanbul] August 12, 2012; Today's Zaman [Istanbul], July 23, 2012). Of particular concern to Turkmen leaders is the widespread conflict between Turkmen opposition fighters and Kurdish fighters of the aggressively pro-autonomy Partiya Yekîtiya Demokrat (PYD – Democratic Union Party), reported to be an ally and ideological offshoot of the Partiya Karkerên Kurdistan (PKK – Kurdistan Workers' Party) (Today's Zaman [Istanbul] July 23, 2012; August 12, 2012).
Syria's Turkmen communities are located in several strategic areas, including the Jabal al-Turkman region near the city of Latakia, the city of Aleppo and its northern suburbs stretching towards the Turkish border and in villages north and north-west of the city of Homs near an important highway linking Damascus to the generally pro-Assad coastal governorates of Tartus and Latakia. There are also important populations of Turkmen in the southwestern governorates of Dera'a (bordering Jordan) and Quneitra (in the Golan region bordering Israel), the northwestern governorate of Idlib near the Turkish border and in the northeastern governorates of Raqqa and Deir ez Zor (Today's Zaman (Istanbul), December 8, 2011). The total population of Turkmen communities in Syria is believed to be approximately 200,000, or 1 percent of the country's population, although this figure is a matter of controversy and is disputed by Syrian Turkmen leaders who claim there are more than 3.5 million Turkmen in Syria, though some two million speak only Arabic as a result of state "Arabization" policies (AFP, January 31; Today's Zaman [Istanbul], August 12, 2012). This figure is not only much greater than what is commonly believed to be the Syrian Turkmen community's population, it would make the Turkmen one of Syria's largest minority groups on par with Syria's Christian, Alawite and Kurdish communities.
Syrian Turkmen communities are active in the opposition, although some Turkmen opposition leaders assert that the Syrian opposition movements, particularly the Syrian National Council (SNC), were slow to recognize Turkmen as "Syrians" and only included Syrian Turkmen in their membership after the intervention of Turkish diplomats (Hurriyet Daily News (Istanbul), December 17, 2012). Several Turkmen opposition parties have been formed over the course of the uprising, both within Syria and in exile, primarily in Turkey, including the Syrian Democratic Turkmen Movement, the Syrian Turkmen National Bloc and the Syrian Turkmen Platform. Currently, Turkmen are reported to hold 16 seats (of 310) within the SNC and three seats (of 60) within the larger opposition conglomerate of the National Coalition for Syrian Revolutionary and Opposition Forces. [4]
In late March, the Turkish government hosted several Syrian Turkmen opposition parties and assisted the formation of a new Syrian Turkmen opposition coalition called the "Syrian Turkmen Assembly." The Turkish Foreign Ministry and Syrian Turkmen leaders state this coalition was organized in order to provide a unified "Turkmen" front to engage in a transitional process in a potential post-Assad Syria (Anatolia News Agency [Ankara], April 1). [5] Syrian Turkmen Assembly members, representing both Syrian Turkmen opposition parties and armed groups, are seeking at least one Cabinet seat to be devoted to Syrian Turkmen in a post-Assad government (Today's Zaman [Istanbul], April 1). This political maneuvering is occurring as several Syrian Turkmen armed opposition groups, either as part of or in cooperation with the Free Syrian Army (FSA) continue to engage in combat against the Syrian military and its allied paramilitary forces throughout the country (Reuters, February 15).
Syrian Turkmen armed opposition groups are especially active in the Jabal al-Turkman region in Latakia and in Aleppo and its suburbs, such as the district of Hanano. It is reported that more than 10,000 Turkmen fighters are mobilized in armed opposition groups throughout Syria, with the greatest number of groups concentrated in Aleppo and its immediate suburbs. Some of the Syrian Turkmen armed opposition groups in Aleppo carry names that evoke the memory of the Ottoman Empire, including the "Sultan Murat" and "Abdul Hamid I" brigades (Today's Zaman [Istanbul], April 1).
In Latakia governorate, the Syrian military is accused of shelling and striking Turkmen villages from the air in the Jabal al-Turkman region, which is now considered to be firmly under the control of the opposition (al-Jazeera (Doha), August 31, 2012). Current fighting in and around the southern regions of the Jabal al-Turkman is reported to be fiercely contested, with overtones of communal animosity between Alawites and Turkmen (AFP, April 4; Hurriyet Daily News [Istanbul], July 31, 2012). Turkmen opposition leaders allege that the Syrian government has a policy of forcing Turkmen communities out of the area in order to create an autonomous Alawite region in the event of the collapse of the al-Assad government (Today's Zaman [Istanbul], August 12, 2012).
Syria's Turkmen communities are active participants in the Syrian opposition and stand to benefit from this participation in any post-Assad Syrian state. The political and diplomatic support of the Turkish government, in the context of weakened al-Assad government control over many regions of the country, provides Syrian Turkmen opposition groups with a benefactor as they position themselves to participate in a potential post-Assad transition period. Syrian Turkmen leaders appear to be pursuing citizenship-based representation in a future Syrian government and thus far appear to be carefully seeking to legitimize their community's status as "Syrians" in a diverse Syrian polity.
This narrative of inclusion, politically important for the community as a minority without a distinct political or geographical base, may be tested in the event of a bitter communal conflict between Turkmen and other Syrian communities particularly Alawites and Kurds. In the context of potential widespread conflict in a post-Assad Syria, Turkmen armed opposition groups, relatively small in number and geographically dispersed, may be limited in their ability to protect the property and lives of their community and can not necessarily depend on the intervention of the Turkish military to support it in its interests. A pluralistic, post-Assad Syrian state that can guarantee the physical security of all its communities, and that considers Turkmen to be "Syrian," is thus an important objective of the current Syrian Turkmen opposition.
Notes
1. "H. E. President Abdullah Gül's Message on the Syrian Turkmen Platform," Presidency of the Republic of Turkey, December 15, 2012, Available at: https://www.tccb.gov.tr/speeches-statements/344/84743/h-e-president-abdullah-guls-mebage-on-the-syrian-turkmen-platform.html.
2. "An Interview with Tarik Sulo Cevizci, Deputy Chairman of the Syria Democratic Turkmen Movement," ORSAM, Center for Middle Eastern Strategic Studies, Ankara, January 25, Available at: https://www.orsam.org.tr/en/showOrsamGuest.aspx?ID=405.
3. Ibid.
4. Ibid.
5. "Foreign Minister Davuto?lu received the Syrian Turkmen Assembly delegation," Republic of Turkey Ministry of Foreign Affairs, April 2, Available at: https://www.mfa.gov.tr/foreign-minister-davutoglu-received-the-syrian-turkmen-assembly-delegation.en.mfa.
Nicholas A. Heras is an independent analyst and consultant on Middle East issues and a former David L. Boren Fellow.