Taiwan Policymaking in Xi Jinping's "New Era"
Publication: China Brief Volume: 17 Issue: 14
By: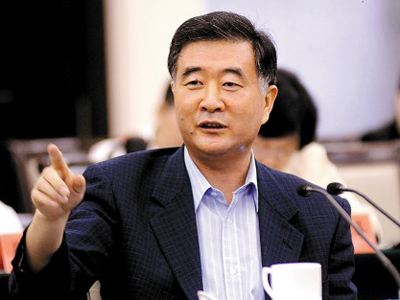 With the 19th Party Congress now complete, the "new era" (新时期) under Chinese Communist Party (CCP) General Secretary and President Xi Jinping has officially begun. The quinquennial Congress endorsed Xi's ideological framework and policy agenda—a roadmap of how Xi will lead China in his second term.
A key question during this "new era" under Xi is the how of Chinese policy toward Taiwan will evolve. While the work report laid out the basic direction of policy, paired with Xi's personnel appointments, one can discern even more. The top governmental body for creating Taiwan policy is the Central Committee Leading Group on Taiwan Work (CCLGTW, 中央对台工作领导小组), making personnel changes in the group a key indicator of future policy. Promoting individuals whom Xi knows and trusts or those with a demonstrated capacity to execute the Party's political agenda, namely, advancing the goal of reunification at home and abroad.
Guidance for Taiwan Work in Xi's "New Era"
In Xi's work report at the 19th Party Congress, he explicitly stated that the Party and leadership "[stand] firm in safeguarding China's sovereignty and territorial integrity, and will never allow the historical tragedy of national division to repeat itself." Following the precedent of past Party Congresses, the work report emphasized the "guiding principle" (方针) of peaceful reunification as per the "one country, two systems" framework and reiterating a continued adherence to the one-China principle as the basis for all dialogue, exchanges, consultations, and negotiations. Xi further conveyed a confidence in dealing with the threat of Taiwanese separatism or independence, confirming that China has "the resolve, the confidence, and the ability to defeat separatist attempts for 'Taiwan independence' in any form" (Sina, October 18).
Aside from a continued opposition to Taiwanese independence and pursuit of reunification as part of the broader China Dream of national rejuvenation, a few clues about changes in Taiwan policy during the "new era" can be gleaned from the work report. The CCP will continue to build on the notion of "two sides, one family" (两岸一家亲), sharing development opportunities on mainland China with Taiwan and deepening economic and cultural exchanges. Policy is further expected to shift to integrating Taiwanese nationals into mainland Chinese society, ensuring that "over time, people from Taiwan will enjoy the same treatment as local people when they pursue their studies, start businesses, seek jobs, or live on the mainland…" (Sina, October 18). Such policy initiatives seek to treat Taiwanese as Chinese, regardless of how Taiwanese themselves conceptualize national identity. [1] These initiatives would presumably cut the number of "carrots" currently offered to Taiwanese nationals—the academic scholarships, targeted internships or job opportunities, and business subsidies—that are unavailable to Chinese nationals. Finally, the added emphasis on developing a "patriotic united front" (爱国统一战线) suggests that Taiwan will continue to be the target of Chinese efforts to undermine Taiwan from within by building a greater corps of Taiwanese sympathetic to China's calls for reunification (China Brief, July 6). Such efforts will include spreading pro-unification messages in Taiwanese media, using China-friendly Taiwanese pundits in Chinese media as "red mouthpieces" (红喉舌), offering financial or other support for pro-unification organizations, and nurturing student groups (校方社团) on Taiwanese university campuses that are decidedly pro-Beijing in nature. Taken in sum, Taiwan policy work in the "new era" is oriented in a way that seeks to weaken Taiwan's de facto independence, sowing deception and creating false impressions or expectations within Taiwan about China's political goal of reunification. To implement such an agenda, Xi will rely upon a new cohort of Party cadre that is highly qualified to deal with Taiwan as both a domestic and international policy issue.
Central Committee Leading Group on Taiwan Work
Atop the Party-state apparatus sit a series of Central Committee Leading Groups (CCLGs), each with the ability to propose policy topics directly to the seven-member Politburo Standing Committee (Xinhua, October 25). For Taiwan policy, no body politic carries greater importance than the Central Committee Leading Group on Taiwan Work. Tasked with implementing the Party line—the guidance encapsulated in the Party General Secretary's work report—the specific execution of the CCLGTW remains largely unknown, with few references to the group in Chinese state media. [2] However, the gradual institutionalization of the CCLGTW offers a precedent upon which to ascertain the post-19th Party Congress composition of this important group: it is directed by the CCP General Secretary, who has the chairman of the Chinese People's Political Consultative Conference (CPPCC) as his deputy, and includes other members from government ministries responsible for Taiwan work.
While personnel turnover following the 18th Party Congress suggested more continuity than change, the probable composition of the CCLGTW following 19th Party Congress implies precisely the opposite (China Brief, June 7, 2013). Such changes, however, are in the name of ensuring Taiwan work is spearheaded either by those trusted by Xi or with relevant career experience. (Click here for full list).
The only two individuals presumed to continue on the CCLGTW in Xi's second term are Wang Yang and Yang Jiechi. Few Chinese officials have as extensive experience as Yang Jiechi in managing the "Taiwan issue" on the international level. In his capacity as Ambassador to the United States, Minister of Foreign Affairs, and since 2013, as State Councilor and director of the Foreign Affairs Leading Group, Yang is certainly aware of how other countries respond to Chinese policy on Taiwan (Phoenix News, March 6, 2012; Central News Agency, May 31; Phoenix News, October 25).
Wang Yang, a former Party Secretary of Guangdong province who is widely recognized as a "reformist" (改革派), has focused primarily on issues within China, directing disaster relief bodies and the State Council's Leading Group for Poverty Alleviation and Development (国务院扶贫开发领导小组) in Xi's first term. From day one of Xi's tenure as General Secretary, Wang has been close to his side, traveling with Xi on his first overseas trip to Russia in 2013 and to subsequent G-20 meetings (Ta Kung Pao, November 21, 2014; Duowei, September 6, 2016; Central News Agency and Sina, October 25). As head of the CPPCC, the parent organization for United Front work, Wang's leadership and involvement in the CCLGTW sets the tenor for the implementation and operation of influence operations toward Taiwan. It is surmised that Wang will prioritize deepening cross-Strait economic exchanges and social integration (Xinhua, January 20; Liberty Times, October 26). A similar connection to Xi can be discerned in the quick ascension of Xu Qiliang, the first PLA Air Force general to hold the top ranking vice-chairmanship of the Central Military Commission (CMC), and once a subordinate to then-Fuzhou Party Secretary Xi (China Brief, October 2015; South China Morning Post, October 25).
For other appointees, personal connections to Xi appear to matter less than career experience. Wang Yi, will likely be involved with the CCLGTW by nature of his capacity as Minister of Foreign Affairs, adding to the depth of foreign policy experience and the international portfolio of the Party's Taiwan work. Huang Kunming who was previously the vice-director of the Central Committee's Publicity Department, was tapped to succeed Liu Qibao as director of the Central Propaganda Department (Xinhua, October 25; South China Morning Post, October 30).  The United Front Work Department will be headed by You Quan, who was selected to assume Sun Chunlan's position to strengthen pro-Beijing elements at home and abroad (Storm Media, October 29; United Daily News, November 2; South China Morning Post, November 7). You Quan, who previously followed in Sun's footsteps as Fujian Party secretary, has extensive experience working with Hong Kong, Macau, and Taiwan—areas of preeminent importance in Beijing's United Front Work influence operations (CCP Leadership Library, October 25; Xinhua, October 25).
Liu Jieyi, the current Chinese Ambassador to the United Nations, was selected as a full-member of the Central Committee and also appointed as deputy director of the Taiwan Affairs Office (TAO), making it all but guaranteed that in 2018 he will succeed Zhang Zhijun as head of the CCP Taiwan Work Office and the TAO (BBC Chinese, October 12). With a reputation for his fiery chastisements (怒怼天团), Liu is also likely to have been involved in blocking Taiwan's requests for access to UN-affiliated bodies, such as the World Health Assembly (United Daily News, October 12; China Times, October 13). Some assessments believe Liu will make Taiwan policy "tougher" (更强硬) by advancing China's global strategy to further isolate and pressure Taiwan (Duowei News, October 24; Apple Daily, October 25).
Conclusion
To understand the "new era" in Chinese policymaking toward Taiwan requires assessments of both personnel and policy. The introduction of new blood is intended to enhance the Party's ability to achieve its agenda toward Taiwan. Those selected to fill the ranks of the CCLGTW—appointments likely to be formalized at, if not before, the Lianghui (两会, National People's Congress and CPPCC meetings) in March 2018—are those either trusted by Xi or with experiences relevant to implementing Taiwan policy.
China today has an increasingly diverse set of economic, political, and military tools at its disposal for asserting influence over Taiwan. In the "new era" of rule under Xi Jinping, the leadership appears more confident than before in its ability to prevent Taiwan from claiming de jure independence. Changes to the CCLGTW reflect such confidence, and further suggest the scope of Taiwan work in Xi's second term. Putting the right people in the right places is key to ensuring that the path to reunification continues solely on Beijing's terms. The revamped CCLGTW is bolstered by foreign policy and United Front cadre capable of adapting China's policy agenda on Taiwan well beyond national borders. Taiwan work in this "new era" is thus likely to center more than ever upon influence campaigns that seek to manipulate and influence the Taiwanese populace and other governments around the world, selling China's narrative of sovereign claims to Taiwan in a manner which intends to further erode Taiwan's de facto independence and the Tsai Ing-wen administration.
Notes
1. Polls conducted since 1992 by the Election Studies Center at National Chengchi University highlight an upward trend in the growth of Taiwanese (as opposed to Chinese) identity.
2. See China Leadership Monitor Fall 2008; China Leadership Monitor, Summer 2014.
3. Table sources: China Brief, June 7, 2013; Zhanwang yu Tansuo, June 2013; UP Media, August 25; People's Daily, October 24; China Times, October 25; United Daily News, October 26; South China Morning Post, October 30; China Times, October 31; United Daily News, November 2; China Vitae database.