Taiwan's Intelligence Chief Offers New Insights on Chinese Security Developments
Publication: China Brief Volume: 12 Issue: 11
By: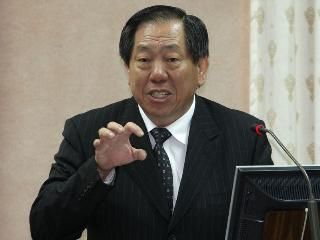 Every spring, the director-general of Taiwan's National Security Bureau (NSB) goes before the Legislative Yuan's Foreign and National Defense Committee to discuss national security-related developments. Befitting Taiwan's focus on cross-Strait affairs and the Chinese military, the NSB chief, Tsai Te-sheng, almost always has something interesting to say. This year was no exception, covering issues related to China's aircraft carriers and the South China Sea (Taipei Times, May 22; Central News Agency [Taiwan], May 21). Answering legislator's concerns about Taiwan's role in the South China Sea, Tsai announced greater NSB attention to maritime activities in the region and stated he would support additional measures to protect Taiwan-controlled islands and islets in the contested areas (China Post [Taiwan], May 22).
With respect to China's aircraft carrier program, Taiwanese intelligence expected Chinese shipyards to lay down two hulls for medium-sized carriers in 2013 and 2015. The ships would be scheduled for completion by 2020 and 2022 (Central News Agency, May 21). Director-General Tsai downplayed widespread expectations that the ex-Varyag would be used primarily for training purposes after it is commissioned later this year, stating that that might be the initial purpose. Noting China's aircraft carrier had completed six sea trials so far, Tsai suggested observers should not rule out the possibility that the ex-Varyag could be deployed for military operations if required (Taipei Times, May 22). It is not clear, however, what aircraft or helicopters the ex-Varyag would field given the weaknesses in China's maritime fixed- and rotary-winged aircraft capabilities as well as the apparent immaturity of Chinese unmanned aerial vehicle technology for operations. Flying off of an airfield with a mock carrier ramp after all is substantially different than combat flight operations from an aircraft carrier at sea ("Exploring Unmanned Drones as an Option for China's First Carrier," China Brief, March 30; "Problems and Prospects for China's Ship-Based Aviation Program," China Brief, January 6).
The NSB chief also spoke about rising tensions in the South China Sea, starting from the standoff that started on April 10 at Scarborough Shoal between the Philippines and China ("Sino-Philippine Tension and Trade Both Rising amid Scarborough Standoff," China Brief, April 26). Tsai dismissed the rising tensions as "acts of bluffing" and expressed his opinion that, despite the tensions, the situation was still controllable. He added "Countries capable of waging war have no intention to engage in battles, while countries that have no combat capabilities will not start a war." Tsai reiterated President Ma Ying-jeou's reaffirmation of Taiwan's rights in the South China Sea earlier this week, but firmly dismissed as inappropriate a Kuomintang legislator's proposal to use China and Taiwan's overlapping claims in the South China Sea as a means to build cross-Strait trust (Taipei Times, May 22; Central News Agency, May 20). Tsai also brusquely dismissed a Democratic Progressive Party legislator's question of whether Taiwan's military would assist the Chinese in defending both sides' shared claims (China Post, May 22).
Last year before the Legislative Yuan, Tsai stated the Chinese military had deployed the DF-16 and DF-21D missiles. The former is a short-range ballistic missile that Tsai described as having considerably more destructive power than any missile then aimed at Taiwan. Additionally, the DF-16's faster re-entry speed makes it less vulnerable to the U.S.-built PAC-3 missile interceptors deployed in Taiwan. More importantly for the United States, Tsai stated the DF-21D, known as the anti-carrier ballistic missile, was now in the field with Second Artillery units after successfully completing several tests. Tsai also blasted Beijing's statements that its military preparations were defensive or only to prevent Taiwan from declaring formal independence. The NSB chief said these statements are "only a pretext to divert the concern of other countries from its weapons development projects." (Taipei Times, March 18, 2011; China Post, March 17, 2011; Central News Agency, March 16, 2011).
Although it can be hard to evaluate statements about the People's Liberation Army (PLA) from Taiwan's intelligence chief, the Taiwanese record of espionage against China suggests Tsai's remarks should be taken seriously. In his well-publicized leaked remarks last year, PLA Major General Jin Yi'nan identified several major Taiwanese spy cases, including the party secretary of China's National Nuclear Corporation ("General's Spy Comments Reveal More Than Just Espionage," China Brief, September 2, 2011). A few years previously, Taiwanese intelligence also developed a spy ring at the PLA Air Force Command Academy, including the school president and other members of its leadership (Global Times, February 14, 2011). These Taiwanese successes indicate that, regardless of Taiwan's own counterintelligence problems, the island's intelligence services continually have developed high-level sources in Chinese military circles that could inform Tsai's annual reports to the Legislative Yuan.