Tajik Authorities Combat High-Level Corruption and Narcotics Trafficking
Publication: Eurasia Daily Monitor Volume: 9 Issue: 29
By: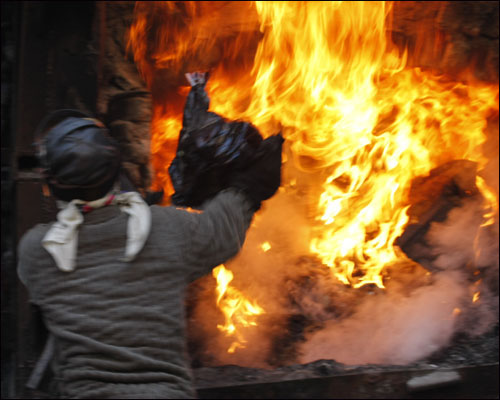 Authorities in Tajikistan have recently announced a number of high-profile arrests on corruption and narcotics-trafficking charges. Most arrests were triggered by President Emomali Rahmon's harsh criticism of the "corrupt" and "nepotistic" practices in the country's military and law-enforcement sectors. During a televised government meeting on January 18, the Tajik leader lashed out at "commanders of military units and top officials from the Ministry of Internal Affairs [MIA] and State Committee for National Security [GKNB]," for granting privileges to their children and relatives (TV Shabakai Yakum, January 19).
Rahmon specifically warned officials against exempting their offspring from possible prosecution, including through the use of "special" car number plates. Such plates have long been used by the Tajik elites as markers of power and wealth, effectively making their owners immune from police checks (www.eurasianet.org, June 13, 2011). The "golden" numbers, such as "7777" and "8888," have been reserved for the members of Rahmon's family until, in early January, Tajik security agencies arrested two traffickers who attempted to smuggle almost 110 kilograms of drugs from the Afghan border to Dushanbe in a car with a "golden" number plate. Although the names of the arrested individuals have not been released, authorities announced that one of them is a son of a "retired general" and another one is a child of a "Tajik diplomat" (www.news.tj, January 27).
This incident has led Rahmon to claim that children of senior government officials are frequently involved in criminal dealings, while ordinary people see the "special" number plates and attribute these crimes to "the president's relatives." Following the incident, authorities detained a person who had allegedly produced and sold "fake golden numbers" in Dushanbe. Besides, police were ordered to replace all "golden" number plates with the regular ones (www.news.tj, January 14, 16, 19).
The Tajik president's anger was also caused by additional evidence pointing to the widespread involvement of senior officers from the police and security forces in narcotics trafficking. On January 6, the country's anti-corruption agency arrested Rustam Haitov (aka Hummer), who had allegedly headed one of the largest smuggling groups in Tajikistan. The group was involved in trafficking narcotics from Afghanistan through Tajik territory to Kazakhstan and Russia. Some 42 kilograms of opium and heroin were reportedly found at Haitov's house during his arrest in the Farkhor district, in southern Tajikistan.
The subsequent investigation led to the arrest of Faridun Umarov, who headed a police department tasked with combating illicit narcotics trafficking (UBNON) in the Farkhor district. According to the anti-corruption agency, Umarov used his position to protect Haitov and, at least once, helped him to transport narcotics from the Afghan border, apparently in exchange for lucrative bribes. Other individuals that have been arrested as part of the investigation include the chief of UBNON in the MIA, the head of UBNON in Dushanbe, and several other senior police officials. What has made this case more prominent is that Faridun Umarov's brother serves as deputy head of Tajikistan's GKNB, and his uncle is the Deputy Minister of Internal Affairs. Tajik authorities are now investigating whether Umarov's influential relatives were aware of his involvement in narcotics smuggling or aided him (Asia-Plus, Radio Ozodi, January 26).
The high-level protection that Rustam Haitov's group apparently enjoyed has led the Tajik authorities to acknowledge openly the link between government corruption and narcotics trafficking. On January 24, the head of the anti-corruption agency, Fattoh Saidov, told journalists that "not a single narcotics trafficking group can operate without support from senior public officials" in the country. Echoing this statement, the Director of Tajikistan's Drug Control Agency (DCA), Rustam Nazarov, told the media that about 15 organized groups are suspected of smuggling narcotics from Afghanistan. According to Nazarov, what has prevented the DCA from prosecuting the leaders of these groups is that they often mobilize strong protection from the country's law-enforcement agencies (www.news.tj, January 24, 25).
Also in January, authorities detained a deputy commander of a paramilitary unit of the Committee for Emergency Situations (CES) in northern Tajikistan, with almost five kilograms of narcotics. Another deputy commander of an army unit in Darvoz district on the Afghan border, was arrested with one kilogram of heroin (www.news.tj, January 4, 30).
Tajikistan has emerged as a major transit route for Afghan narcotics to Russia since the early 1990s due to a combination of geographical factors, poverty, and weak security structures. The volumes of narcotics interceptions in the country exceed those of other Central Asian nations combined (www.avesta.tj, September 1, 2011). However, it is estimated that hundreds of tons of Afghan heroin and opiates are still smuggled through Tajikistan each year. Widespread corruption, particularly among the country's security forces, aids the narcotics trade. Tajik authorities have often been blamed for prosecuting mainly the minor, individual narcotics traffickers, while letting larger groups operate with a degree of impunity. The latest arrests appear to indicate that the authorities are increasingly willing to target high-level corrupt officials involved in – or giving protection to – narcotics smuggling.