Taliban Commander Known as "the Butcher" Dies After Arrest in Swat Valley
Publication: Terrorism Monitor Volume: 7 Issue: 29
By: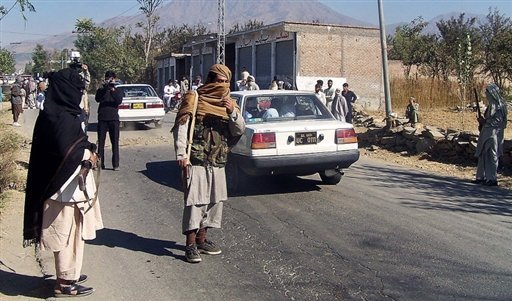 The Pakistani military's powerful offensive in Swat has destroyed much of the terror network of the Taliban. The fiery "FM Mullahs" who once announced death threats to opponents on their radio networks are now silenced. Their readily available spokesmen claiming responsibility for the daily deadly attacks on security forces are now in government custody. The men who flogged those considered to be in violation of Islamic law have either been killed or captured. Above all, in a recent development, the notorious head of the Taliban's throat-cutter squads, Sher Mohammad Qasab, was arrested and subsequently died while in government custody (Dawn [Karachi], September 20).

Qasab was a symbol of terror, having slaughtered police and military officials and all other opponents, including "spies" and members of anti-Taliban tribal militias. He did this publicly and sometimes on videotape to terrorize the rest of the people. He used to make piles of heads in the notorious Green Chowk (later known as Khooni Chowk, or Bloody Square) in the Swat capital of Mingora, once famous for tourism and scenic spots. The mutilated and decapitated bodies were often left hanging on poles with threatening notes.

The arrest and death of Sher Mohammad Qasab is considered to be a major blow to the Taliban network in Swat. His capture marked the fourth high profile elimination of a Taliban commander in Swat this month after the capture of Taliban commander Mehmood Khan, the capture of Taliban spokesman and organizer of suicide bombings Muslim Khan, and the killing of fiery "Radio Mullah" Shah Dauran, who used to announce every evening the names of those waiting in the death queue (Daily Times [Lahore], September 4; September 12).

Sher Mohammad Qasab was nabbed in an injured condition along with his son Adalat Khan only after a long and heavy gunfight with security forces in the Gat Kandao area of Charbagh, the headquarters of his "slaughtering squad." Qasab lost his other three sons, Shah Wazir, Zahid and Perwanat in the gunfight. The majority of his other family members had already surrendered to security forces (The News, September 16).

The man who had once terrorized the region, Sher Mohammad Qasab, was paraded miserably before the public in Charbagh bazaar after his arrest. Qasab had a bounty of ten million rupees ($120,000) on his head and was one of Pakistan's 15 most wanted terrorists. The list of most-wanted Taliban militants is still headed by Maulana Fazlullah, with a bounty of 50 million rupees (over $600,000) for his elimination. Fazlullah is believed to have been seriously injured in the April military offensive and security forces claim that he has now been encircled and will be arrested soon. Sher Mohammad Qasab was a close aide to Maulana Fazlullah. There is speculation that Maulana Fazlullah may surrender soon after the loss of many of his top aides (The News, September 18).

As indicated by his Urdu last name, Qasab was a butcher by profession. Before joining the militant Swat Taliban, he was an active member of the outlawed Tehrik-e-Nifazi Shariat-e-Mohammadi (TNSM) under Sufi Mohammad, who is now imprisoned in Peshawar. He is alleged to have run an organized slaughter chamber in Charbagh where he executed several innocent security officials and other opponents of the Taliban. He was also wanted by the government in connection to the torching of several girls' schools and attacks on other government installations (BBC Urdu, September 16).

Soon after the arrest of Qasab, more than 50 Taliban militants in Swat surrendered to the Pakistani government. The arrests of Qasab and Muslim Khan have been a severe blow to the Taliban movement in Malakand division. Pakistani officials expect to arrest more prominent Taliban leaders on information obtained from the arrested militants (BBC Urdu, September 19). The recent arrest of Abu Faraj (a.k.a. Nasim) from the same town of Charbagh is a case in point. Abu Faraj was a senior commander under Mullah Fazlullah and was notorious for training children to be suicide bombers (Pakistan Times, September 23). His father, Darvesh, also a militant commander, surrendered under pressure to the security forces only a few days earlier (The News, September 21).

The traumatized people of Swat are breathing a sigh of relief with the end of a man known for butchering people like animals with his special knife. The Khooni Chowk (bloody square) is returning to normalcy and life is returning to the scenic Swat Valley. But the cost to the region of this brief period of Taliban rule and the resulting military campaign was extremely high. Several hundred innocent lives were lost. Property was damaged. Crops were destroyed. Schools were burnt down. More than two million people were displaced as tourism was replaced with terrorism. The area is not yet fully cleared and sporadic attacks continue. The government claims to have killed 1,800 militants since April, with several hundred more arrested. For the first time, the government has shown a resolve to fight against Islamist militancy and the public has given its full support to the venture.