TAP Project Consortium Restructured in Line with Market Priorities
Publication: Eurasia Daily Monitor Volume: 10 Issue: 141
By: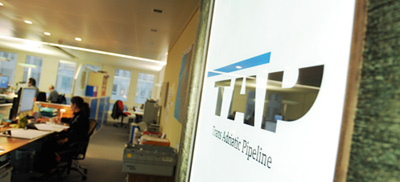 The Trans-Adriatic Pipeline (TAP) project consortium is being thoroughly reconfigured, reflecting the producers' and shippers' options for marketing Azerbaijani natural gas in Europe.
On July 30, Azerbaijan's State Oil Company (SOCAR), BP (formerly British Petroleum), and Total of France—gas producers at Shah Deniz in Azerbaijan—entered the TAP pipeline consortium. They have taken 20 percent, 20 percent and 10 percent, respectively, of TAP's shares. Another new entrant, Fluxys—a major, Belgium-based pipeline and storage operator mainly in north-western Europe—has taken a 16-percent stake. TAP's project leader, Norwegian Statoil (which is also a Shah Deniz producer), along with TAP's veteran stakeholders, German E.ON and Swiss Axpo, have markedly reduced their stakes in the project to accommodate the new entrants.
TAP's shareholding is now comprised of SOCAR, BP and Statoil with 20 percent each; Fluxys with 16 percent, Total with 10 percent, E.ON with 9 percent, and Axpo with 5 percent (TAP press release, July 30).
Most of these changes stem from an August 2012 agreement whereby the TAP pipeline consortium (Statoil and Axpo with 42.5 percent each, E.ON with 15 percent) gave those three Shah Deniz producers the options to acquire a combined 50-percent stake in TAP, in the event that the producers selected this pipeline project over the rival Nabucco-West. Those share options were one factor that incentivized SOCAR, BP and Total to select TAP in June 2013. By some accounts, those share options had to be exercised within one month of the June 28 official selection announcement, as they have been now. Beyond that, SOCAR won the tender to acquire 66 percent of Greece's DESFA (Public Gas Transmission System Operator) pipelines, additionally motivating Baku to choose TAP for its commercial synergies with DESFA (see EDM, June 25, 27).
The TAP consortium's restructuring brings those gas producers into the entire value chain, extending from production to transportation and storage. It also connects the Shah Deniz producers' upstream interests directly with their downstream gas business in Europe, which SOCAR will now enter for the first time and in its own right.
As a project, TAP can materialize thanks to the Azerbaijan-initiated Trans-Anatolia Pipeline (TANAP) project, which will carry gas to the Turkey–European Union border. Azerbaijan is TANAP's main planner, shareholder and investor. Western gas producing companies at Shah Deniz were unable to take responsibility for a new pipeline across Turkey, such as TANAP. The EU was unable to mobilize political or financial support for a pipeline (Nabucco's first version) across Turkey. Without Azerbaijan's TANAP project, the Nabucco-West–versus–TAP selection contest would have remained an academic matter.
The TAP pipeline is planned to run almost 900 kilometers from the Turkish-Greek border, pass through northern Greece and southern Albania, cross the Adriatic seabed at the Strait of Otranto, and there connect with Italy's pipeline grid. The TAP pipeline is designed to carry 10 billion cubic meters (bcm) of gas annually, expandable potentially to 20 bcm by adding compressor power. Cost estimates are not yet publicly available. The new entrants will contribute proportionately to the project's construction costs. Construction work is now envisaged to start in early 2015 and be completed in 2019 for the first flow of Azerbaijani gas (www.trans-adriatic-pipeline.com).
The project consortium's restructuring corresponds with a strong shift in marketing options and priorities, as currently envisaged. The consortium had for a long time targeted Italy as its main market destination, with modest volumes to be offloaded in Greece and Albania en route to Italy. By now, however, TAP's focus is moving decisively to Western Europe's continental heartland and even the North Sea. The Italian peninsula will apparently provide the transit corridor, with some volumes to be offloaded, but not the main market for TAP gas. This is hardly surprising, given Italy's ample and well-diversified gas supplies, with even more liquefied natural gas (LNG) reception capacities planned.
In recent months, the consortium has announced that TAP gas would go via Italy to Switzerland, Germany, France, Belgium and Great Britain. The re-orientation seems to correspond with the restructuring of TAP's shareholding as has just been accomplished (see above). Swiss Axpo, a co-founder of TAP, had envisaged using TAP gas in Axpo's electricity plants in Italy; but the company has now reduced its stake in TAP from 42.5 percent to 5 percent in one fell swoop. TAP's vision is "to enable south-north flows from Italy to Switzerland and Germany. Azerbaijani gas from the TAP pipeline could be moved straight into north-western European markets" (TAP-Fluxys joint press release, June 17).
The new entrant Fluxys holds ownership stakes in the Swiss Transitgas pipeline, linking Italy with Germany via Switzerland; hence the transit of gas from Italy is an attractive proposition to the company. Fluxys also holds stakes in the Belgium-Britain and Netherlands-Britain interconnector pipelines. BP is interested in marketing gas in Britain. It has received Russian Gazprom's proposal to expand the Nord Stream system with a fourth line to supply Britain. That concept presupposes connecting the fourth Nord Stream line with the Netherlands-Britain or the Belgium-Britain interconnector. Gazprom's proposal seems a very long shot; whereas supplying Britain with certain volumes of TAP gas through existing European pipelines, co-owned by some of TAP's shareholders, looks more realistic and attractive than Gazprom's grandiose scheme.
These intentions may well change again, and more than once, in keeping with market changes, until 2019 when the first gas is expected to flow through the TAP pipeline from Shah Deniz.