Tashkent and Dushanbe Cautious on CSTO Forces
Publication: Eurasia Daily Monitor Volume: 6 Issue: 27
By: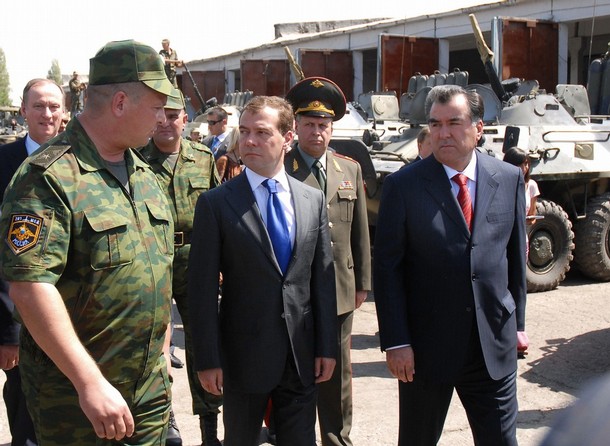 The announcement in Moscow on February 4, 2009 to activate the CSTO Collective Rapid Deployment Forces and transform them into a more viable, well equipped force structure akin to NATO's rapid reaction force concept masked underlying tensions within the CSTO. These relate to legal issues and the precise circumstances under which the new force structure could be deployed within Central Asia; those concerns are being voiced from two member states: Tajikistan and Uzbekistan.
Tajikistan's President Emomali Rakhmon reportedly hesitated before finally making his trip to attend the CSTO emergency summit, after a statement was issued saying he would not attend. Rakhmon is looking for more money from Moscow in return for the Russian base in Dushanbe which hosts the 201st Motor Rifle Division (MRD). At a bilateral meeting in November 2008, President Dmitry Medvedev explored the possibility of opening a second Russian base, at Ayni, which has been slow to transpire. Rakhmon is trying to maximize potential financial dividends from Russia, but there are also concerns in Dushanbe over the legal framework for the use of the CSTO forces stimulating a more cautious approach. Moreover, given the pressing economic problems facing Tajikistan, it will struggle to meet demands to enact the necessary legislation on the rapid deployment forces within the mooted three month period (ITAR-TASS, February 5; Asia-Plus [Dushanbe], February 6).
A nuanced approach was evident on the part of Uzbekistan, having secured a separate protocol restricting its participation in CSTO operations. Andrei Denisov, Russia's Deputy Foreign Minister said this only reflected Tashkent's "technical" rather than political concerns. "Uzbekistan's position is purely technical. The collective reaction force envisions interaction between different forces and means, including purely military ones, as well as emergency units, counter-terrorist forces, etc. Uzbekistan's statement is related to special components of this interaction in compliance with its national legislation," Denisov declared (Interfax, February 5).
Uzbek diplomats were, however, less forthcoming. The opt-out signed by Uzbekistan means they will only avail military forces for CSTO operations under certain circumstances, depending on a political decision taken at the time, though its participation in emergency operations or collective efforts to counter illegal migration are currently not on the agenda. Officially, this is rooted in the absence of pre-requisite domestic legislation corresponding to their use, which can be used by Tashkent as a means of adopting a ponderous case by case approach to its involvement in these operations. Its special services, Emergency Ministry and Drug Control Agency personnel are therefore currently excluded from the CSTO agreement. Consequently, CSTO spokesman Vitaly Strugovets said Uzbekistan's future participation in CSTO operations would need to be co-ordinated separately (ITAR-TASS, February 5).
CSTO General Secretary Nikolai Bordyuzha said CSTO members had reached broad agreement on the strategy for transforming the Rapid Deployment Forces and are considering forming a single command. They must be "mobile, versatile and capable of reacting to all, not only military, crises. Agreement was reached to set up a coordinating center that will, among other things, supervise the level of joint combat training. Finally, proposals were made to make relevant legislative amendments in the organization's member-states," Bordyuzha said. President Medvedev indicated Russia will contribute a division and brigade, showing Moscow's conception of the scale of the force. It could also be based in Russia, with other CSTO members attaching units to it. In the case of Uzbekistan, rather than sending these to Russia, they would designate units from its armed forces that would be effectively on standby. Bordyuzha stated that Moscow wants its CSTO partners to "attach mobile and air-mobile units to the rapid reaction corps to deal instantly with acts of terrorism in member-states." This will have profound implications for Kazakhstan, since its air-mobile forces form the backbone of the forces tasked with developing NATO interoperability and these receive most U.S. and NATO assistance; a process from which Moscow now wants to benefit (RIA Novosti, February 6).
A CSTO agreement reached in Minsk on 23 June 23, 2006 paved the way for the CSTO force crossing borders, movement of armaments and military hardware and medical aid. It allowed rapid deployment by the Collective Security Council at the request of one or several CSTO member states on the basis of proposals from the Defense Ministers' Council. Kazakhstan and Belarus have already ratified the agreement on the CRDF's prompt deployment, while Russia has sent the agreement for ratification to the Duma its legislative basis is currently absent amongst the other CSTO members (Nezavisimaya Gazeta, February 5). In the aftermath of the bilateral agreements reached between Moscow and Bishkek on loans and aid for the Kyrgyz economy as well as Bishkek's decision to close Manas, it seems only a question of time before this legislation is passed there. Dushanbe and Tashkent, on the other hand, could be holding out for greater rewards.
Tashkent may have reservations over the pressure to pass the required legislation to activate the CSTO rapid reaction forces, since it could also signal an interconnecting security dynamic between the CSTO and the SCO; something Moscow is keen to promote, and could be planning to announce at the SCO summit in Yekaterinburg, June 2009. The political direction of the CSTO, if hijacked by a Russian dominated agenda, will prove more than a source of technical friction in Tashkent.