Russia in EurAsEc: Imperial Largess from Dwindling Resources?
Publication: Eurasia Daily Monitor Volume: 6 Issue: 27
By: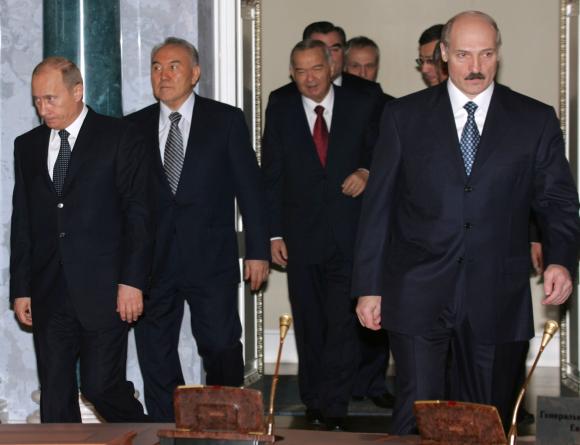 The presidents of Eurasian Economic Community (EurAsEc) member countries -Russia, Belarus, Kazakhstan, Kyrgyzstan, and Tajikistan, as well as observer country Armenia- held an extraordinary summit of that organization in Moscow on February 4, the day after the CSTO summit there (see EDM, February 5, 6). The presidents decided to create a Joint Anti-Crisis Fund with a capital of $10 billion, to finance anti-crisis measures in the participant countries. The Fund is to be capitalized "mainly" by Russia and Kazakhstan "at the initial stage." These euphemisms barely disguise the expectation that Russia and Kazakhstan would act as the only real donors while the other countries would merely be recipients (Interfax, February 4, 5).
The Eurasian Development Bank (EDB) will administer this Anti-Crisis Fund and will handle money transfers into the recipient countries' national budgets. The EDB is also authorized to credit inter-state projects with money from this Fund. The EDB operates under an oversight board comprised of the EurAsEc countries' finance ministers. The new Anti-Crisis Fund shall operate under its own supervisory council as well as the ministerial-level board of EDB. Each participating country shall hold a percentage of votes proportionate to its contributions to the Fund.
The presidents also decided to create an Interstate Center for High Technologies at the Moscow summit. They authorized the EDB also to disburse funds through this Center for (presumably) high technology industrial programs in EurAsEc countries. Russia is also pledging anti-crisis funding on a bilateral basis to governments selected on political considerations. What proportion of Russian funding would be channeled through the EDB and what proportion through purely bilateral channels seems entirely unclear at this point.
Belarus is receiving a Russian credit of $2 billion. Moscow issued a first tranche of $1 billion in December 2008 and confirmed during the Moscow summit the intention to go ahead with the second, $1 billion tranche immediately. In addition, Belarus is requesting a loan of 100 billion Russian roubles, which it hopes to use toward paying its bills for Russian oil and gas (Gazeta.ru, January 24; Interfax, February 4; Nezavisimaya Gazeta, February 5).
Moscow would grant that request if Belarus becomes the first country to accept using the Russian rouble as a currency for mutual settlements in the inter-state trade. A hard-pressed Belarus president Alyaksandr Lukashenka would accept this solution for oil and gas, but not in other trading with Russia, let alone in EurAsEc (interview with Euronews TV as cited by Belapan, February 5).
Armenia is about to receive a state credit of $500 million from Russia. The Russian ambassador in Yerevan, Nikolai Pavlov, as well as Russian Finance Minister Aleksei Kudrin confirmed this decision in connection with the EurAsEc summit. As it soon emerged, this low-interest stabilization credit comes with a four-year grace period and 15 year repayment period (Armenpress, February 9). For its part the Armenian parliament approved on February 3 the government's decision to join the EDB. The Armenian government and parliament had hoped for up to $1 billion from Moscow (Noyan Tapan, February 3; Interfax, February 4; PanArmenian.Net, Armenpress, February 4, 5).
Kyrgyzstan has received proportionately the largest anti-crisis package from Russia thus far. In the run-up to the EurAsEc summit and during it, Moscow pledged more than $2 billion, including: a non-reimbursable grant of $150 million; a soft loan of $300 million, repayable in 40 years; and another set of loans worth $1.7 billion. Cumulatively, this equals Kyrgyzstan's state budget for two years (its annual budget is worth $1.1 billion). In addition, Russia is writing off portions of Kyrgyzstan's debt arrears in return for ownership stakes in that country's ailing industry.
Russian officials claim that most of the package for Kyrgyzstan had been planned long in advance. Nevertheless, Moscow's official announcement of the package on February 3 prompted Kyrgyz President Kurmanbek Bakiyev to announce that same day his intention to terminate the agreement with the U.S.-led coalition regarding the Manas air base (Interfax, February 3, 4, 5; Izvestiya, Nezavisimaya Gazeta, February 5).
Cuba is becoming a significant recipient of Kremlin funding again. Just days before the EurAsEc summit, Cuban leader Raoul Castro held talks with Russian President Dmitry Medvedev in Moscow, resulting in a sudden and hefty increase of Russian financial support: $354 million in loans and aid, instead of the previously approved $20 million. The package for Cuba serves in part to subsidize certain Russian companies' exports there. The bulk of that sum is earmarked to support Cuban purchases or leasing of machinery for industry, agriculture, and construction from Russia (Interfax, January 30, 31; WPS Agency, February 4; Nezavisimaya Gazeta, February 5).