The Israel Factor as a 'Third Party' in Growing Tensions Between Iran and Azerbaijan
Publication: Eurasia Daily Monitor Volume: 20 Issue: 74
By: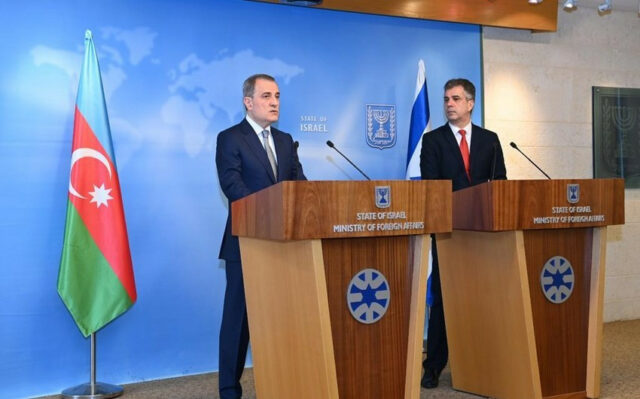 Israel is usually mentioned as a "third party" in the political literature of Iranian leaders and officials, especially when talking about Tel Aviv's influence on relations between Tehran and Baku. Even so, Azerbaijan remains adamant that Israel is not using its territory for military and intelligence purposes. For example, in December 2022, Khazar Ibrahim, the Azerbaijani ambassador to the United States, declared, "We will not allow Israel to attack Iran from our territory" (Haaretz, December 15, 2022). Indeed, after the publication of a report by Haaretz claiming that over 90 flights had been conducted from Israel to export arms to Azerbaijan (Haaretz, March 6), in his first interview after arriving in Tel Aviv, the new Azerbaijani ambassador to Israel, Mukhtar Mammadov, denied reports that Azerbaijan had prepared an airfield "meant to assist Israel if it attacks Iran's nuclear sites" and had allowed Mossad to establish a branch in Azerbaijan to "assist with intelligence gathering and monitoring of Iran" (The Cradle, March 10).
However, it seems that such statements on the part of the Azerbaijani authorities are unconvincing to Tehran, which resolutely believes that Israel poses a direct threat to the Islamic Republic from Azerbaijani territory and airspace. While the official recognition of diplomatic relations with Israel by other Islamic countries (Arab and non-Arab), including Jordan, the United Arab Emirates, Bahrain, Sudan, Morocco, Turkey, Kazakhstan, Uzbekistan and Turkmenistan, have not led to the termination of Tehran's diplomatic relationships with these countries, Baku's opening of an embassy in Tel Aviv has deepened the growing discord in Azerbaijani-Iranian relations. Notably, Turkey maintains close relations with Israel; however, Ankara has still been able to maintain relations with Tehran by staying out of bilateral matters between Iran and Israel (Haaretz, June 14, 2022). It seems that, overall, Iran's concerns regarding the strengthening Azerbaijani-Israeli relationship have been growing since the end of the Second Karabakh War in 2020.
Many in Iran believe that Israel's military, intelligence and security assistance to Azerbaijan has prepared the ground for the expansion of Tel Aviv's influence in the South Caucasus. Iran's concerns have been further exacerbated as Russia, Iran's close ally, does not hold a similar threatening perception of Israeli influence in the region. Even Armenia, which recalled its ambassador from Tel Aviv following the Second Karabakh War, began normalizing relations with Israel after only one year and appointed Arman Hakobyan as the new Armenian ambassador to Israel in December 2021 (Arka.am, December 28, 2021).
At that time, Iran began holding extensive military maneuvers along its northwestern borders for two consecutive years, including "Fatehan Kheibar" (Conquerors of Kheibar) in October 2021 (Mehr News Agency, October 1, 2021) and "Eghtedar 1401" (Power 1401) in October 2022 (Sharghdaily.com, October 13, 2022). The main goals of these exercises were to counter the change of international borders in the region and to prepare for Israel's growing military and security presence near Iran's borders.
In particular, Iran is highly sensitive to the presence of Israeli companies in the Zangilan, Jabrayil and Fuzuli districts, which were returned to Azerbaijan after the Second Karabakh War. Iran believes that, along this section of its common border with Azerbaijan, Israeli agricultural companies that are active in the "smart villages" project can spy and eavesdrop under the cover of economic activity. When Israeli Agriculture Minister Oded Forer visited the first smart village in Aghali in Zangilan district in May 20, 2022, he became the highest Israeli official to come that close to the Iranian border since the 1979 Islamic Revolution. During his visit, Forer specifically mentioned that he "appreciated the opportunity to visit the smart village near the border with Iran" (Middle East Monitor, March 20, 2022). Furthermore, when the Azerbaijani Ministry of Digital Development and Transport, in cooperation with Israeli institute Technion, established the Azerbaijani Cyber Security Center in Baku in March 2023, sensitivities intensified in Tehran (Turan.az, March 29).
Moreover, Tehran is highly concerned about the possibility of reconnaissance missions and attacks by Israeli drones being launched from Azerbaijani territory on Iranian nuclear facilities, similar to the alleged Israeli drone attack at the Natanz nuclear site in August 2014 as well as Mossad's theft of droves of sensitive nuclear files in 2018 (Al Jazeera, August 24, 2014; Haaretz, July 16, 2018). While any future preemptive Israeli attack on the Bushehr Nuclear Power Plant would have to be launched from the south, Tehran is concerned that any preemptive strike on nuclear facilities deep inside Iranian territory, including Natanz and Fardo, could be carried out from the north (Azerbaijan) and the west (Iraq's Kurdistan region). And ever since the armed attack on Azerbaijan's embassy in Tehran and its subsequent closure, the belief has been growing in Iran that Israel's possible use of Azerbaijani airspace to launch an attack on Iran is all but imminent (Irna.ir, January 27).
In these heated circumstances, the deepening of political, military and intelligence relations between Azerbaijan and Israel have added to Tehran's concerns. This bolstering of ties has been highlighted by the visit of Israeli Defense Minister Benny Gantz to Baku late last year (Irna.ir, October 8, 2022), the opening of the Azerbaijani embassy in Tel Aviv (Fars News Agency, April 5) and the visit of Israeli Foreign Minister Eli Cohen to Baku in April 2023 (Al-Monitor, April 19), before traveling to Turkmenistan where he inaugurated Israel's embassy there only 45 kilometers from the Iranian border.
Furthermore, during a joint press conference with his Azerbaijani counterpart Jeyhun Bayramov at the opening ceremony for the Azerbaijani embassy in Israel, Cohen announced that he "agreed with Bayramov in forming a united front against Iran" (Aa.com.tr, March 31). Tehran responded that it "will not be indifferent" to this "united front" and asked Azerbaijan for more specifics on its "strategic partnership" with Israel (Tasnim News Agency, March 31).
Yet, while the chance for direct military confrontation between Iran and Azerbaijan has been growing, in April 2023, the two sides tried to reduce tensions through three rounds of phone conversations between their respective foreign ministers (Ilna.ir, April 15). Even so, the "Israel factor" is sure to remain a sticking point for any true normalization of relations between Baku and Tehran.
In truth, overall, while one primary aspect of cooperation between Azerbaijan and Israel can be jointly confronting Iran, other reasons undergird this burgeoning strategic relationship, including the sale of Azerbaijani oil to Israel and the purchase of Israeli weapons and military equipment by Azerbaijan. Thus, for now, it seems that Baku and Tel Aviv are keen to continue expanding bilateral cooperation, and the "third party" will continue to influence relations between Tehran and Baku.