Armenian and Azerbaijani Foreign Ministers Hold Marathon Peace Talks in Washington
Publication: Eurasia Daily Monitor Volume: 20 Issue: 74
By: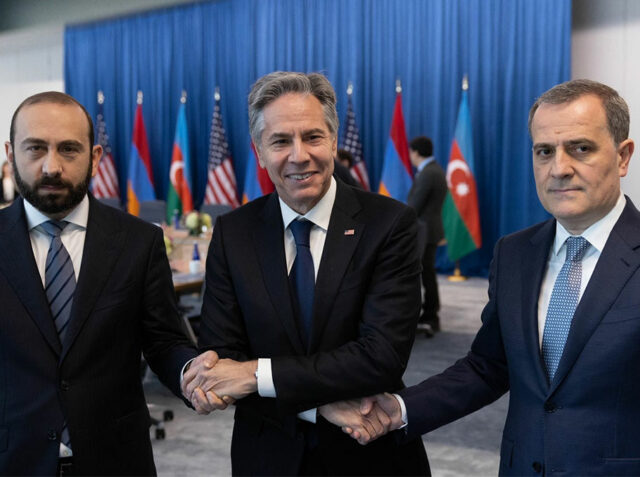 From May 1 to 4, the foreign ministers of Armenia and Azerbaijan, Ararat Mirzoyan and Jeyhun Bayramov, respectively, held four-day peace talks facilitated by United States Secretary of State Anthony Blinken in Washington (Mfa.gov.az, May 4). Reportedly, Blinken only attended the introductory and closing sessions of the negotiations, which were held bilaterally between the delegations of the two countries for the remainder of the talks (Mfa.am, May 1; State.gov, May 4). Mirzoyan and Bayramov also met with US National Security Advisor Jake Sullivan (Twitter.com/JakeSullivan46, May 4).
These talks, which represent the longest round of negotiations since the end of the Second Karabakh War in 2020, marked the third such ministerial meeting between Armenia and Azerbaijan as mediated by the United States since September 2022. Previously, the three sides met on September 19 and November 8 last year in New York and Washington, DC, respectively (Turan.az, September 20, 2022; Az.usembassy.gov, November 8, 2022). During that same period, the United States also facilitated a meeting between Azerbaijani Presidential Advisor Hikmet Hajiyev and Armenian Security Council Secretary Armen Grigoryan in Washington on September 27, 2022 (Azernews, September 30, 2022) and another between Azerbaijani President Ilham Aliyev and Armenian Prime Minister Nikol Pashinyan on the sidelines of the Munich Security Conference in Germany on February 18 (JAM-news, February 18).
This marks an important trend in the Armenian-Azerbaijani peace process: While the European Union took over the lead mediating role in negotiations following the decline of Russia's role in the process after its invasion of Ukraine, Brussels has failed to continue the process due to, among other issues, controversies related to France's alleged attempt to join the summit of the two leaders along with European Council President Charles Michel. In a similar way to the failed summit in December 2022, Brussels could not bring Aliyev and Pashinyan together in March this year either, though some preliminary agreements for such a meeting had been reached during the US-mediated meeting in Munich (JAM-news, February 18).
Hence, the recent meeting of the Armenian and Azerbaijani foreign ministers in Washington testifies to the fact that the United States is playing a greater role as a mediator in the peace process between Yerevan and Baku. The Washington meeting took place against the backdrop of stalled communications between the two sides over differences in what should be contained in the peace treaty as well as Azerbaijan's installation of a border checkpoint along the Lachin road on April 23. Later, on May 4, while the foreign ministers were still deep in discussion in Washington, Aliyev revealed that Yerevan only responded to Baku's latest comments about the text of the peace treaty after more than 40 days and just prior to the Washington meeting (President.az, May 4).
Furthermore, the Azerbaijani president stated that he is not optimistic about the current state of negotiations, as Yerevan, in its latest response to Baku's proposals, again made "attempts to question the territorial integrity of Azerbaijan; attempts to incorporate, in some way, Karabakh into a peace agreement between Armenia and Azerbaijan; and attempts to cross out our proposal of jointly combating terrorism, extremism, radicalism and separatism." Aliyev added that the "Armenians kept everything but crossed out separatism" in regards to the specific text of this section (President.az, May 4).
Notably, several days before the ministerial meeting in the United States, Pashinyan stated that Armenia fully recognizes Azerbaijan's territorial integrity and expects the same from Baku (Armenpress, April 18). Likewise, a day before Aliyev's aforementioned statement, Pashinyan confessed that his country needs to declare unequivocally that it has no territorial claim against Azerbaijan. He acknowledged that "the Republic of Armenia must declare that it has no territorial claims and will never have them. This is the only principle that will give us a chance to have a state" (Armenpress, May 3).
Despite these messages, which were largely interpreted in the region as a sign of Armenia's readiness to reach an agreement in Washington, the ministerial meeting did not deliver any official document, joint press statement or visible agreements on specific issues. In his remarks at the closing session, Blinked disclosed that "the two sides have discussed some very tough issues over the last few days and they've made tangible progress on a durable peace agreement" (State.gov, May 4). The US official added, "We really are within reach of an agreement." It is, however, unclear whether Blinken's use of "tangible progress" was indeed indicative of the peace process taking a step forward or simply political rhetoric. Retrospectively, similar progress was reported in the aftermath of the Munich meeting on February 18; yet, no visible breakthrough was observed in the peace process in the weeks that followed (JAM-news, February 18).
In identical statements after the talks in Washington, Mirzoyan and Bayramov stated that they "advanced mutual understanding on some articles of the draft bilateral Agreement on Peace and Establishment of Interstate Relations, meanwhile acknowledging that the positions on some key issues remain divergent" (Mfa.gov.az, May 4; Armenpress, May 5)—yet again, failing to provide any details on the substantive progress that was reportedly achieved.
Both foreign ministers are now expected to meet in Moscow in the coming days (Apa.az, May 2). This meeting will be critical as the Kremlin has been traditionally unhappy with the "intervention" of the West in the Armenian-Azerbaijani peace process. Russia has also signaled that it would not support a peace deal that is not agreed upon with Moscow and not built on the basis of statements from the tripartite ceasefire agreement brokered by the Kremlin in 2020 (Azatutyun.am, May 2; see EDM, May 18, May 31, 2022). Pashinyan himself is headed to Moscow on a working visit, which underlines Russia's remaining influence in the peace process (News.am, May 5). Hence, talks are now moving to the Russian capital as part of a delicate balancing act in these negotiations between growing Western influence and lingering Russian control—which leaves the future prospects for lasting peace and stability in the South Caucasus in a precarious position.